Bicyclist Killed By A Truck On Sterling And 6th Ave [Updated]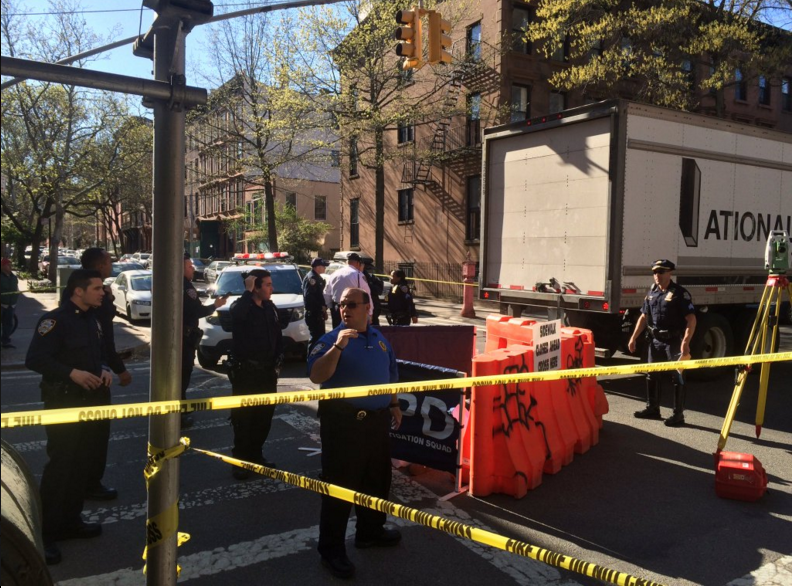 A bicyclist was killed by a truck this morning after he fell off his bike.
The 33-year-old man was traveling southbound on 6th Ave and Sterling Pl when he tumbled to the ground and then was struck by the rear wheel of a commercial delivery truck operated by a 47-year-old, a witness said according to NYPD.
The man was pronounced dead at the scene, according to cops.
Cops say the truck driver remained on the scene and that no arrests were made nor have charges been filed.
New Yorker editor Nick Thompson captured a photo of the scene and posted it to Twitter.
The name of the victim is being withheld pending family notification. An investigation is ongoing. We will update this post as we learn more.
UPDATE [3:30pm]: Police have identified the cyclist as James Gregg.
New details, reported by Gothamist, seem to imply that the truck driver was at fault:
Paul Steely White, Executive Director of Transportation Alternatives, said that while the details of the crash are still emerging, it does appear that the driver was acting illegally in perhaps two ways: first, by driving a truck longer than 55 feet (which requires a permit) on a non-truck route, and second, if a witness's report is correct, by driving with headphones on. (Neither police nor the FDNY could confirm the latter.)
"Hopefully all of the responding officers are not engaging in irresponsible speculation until the investigation is done," White said. "That's something we've seen time and again, is that kind of early bias against pedestrians and cyclists, that they somehow had it coming or were engaging in risky behavior, when more often than not it was a lawless driver who was responsible."