Berardelli Campaign Launches Anti-Fidler Site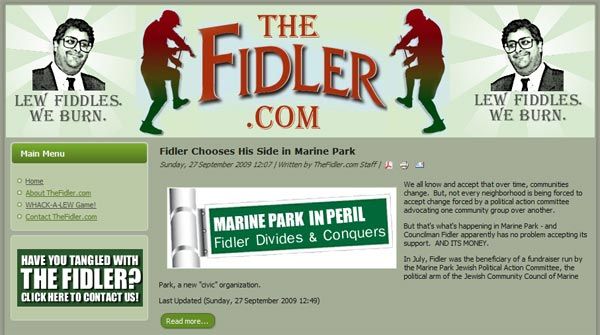 City Councilman Lew Fidler (46th District) gets a raw deal in the world of web publishing. He's got at least two nosy, noisy bloggers in his district. And as the Assistant Majority Leader and the so-called "King of Discretionary Dollars", he draws a lot of fire from the citywide digerati where lesser-known foes would go under the radar. To his credit, he's far more active in the online community than his colleagues, a noble feat that often invites more flogging than flattery.
Poor Lew. His suffering knows no end. Republican opponent for City Council, Gene Berardelli, has unveiled a new website with an ingenious name: TheFidler.com. Decorated with a perfectly comic motif of dancing fiddlers, a bobble-head-esque Fidler, and the apocalyptic "Lew Fiddles. We Burn" tagline – the site is owned and operated by the Berardelli campaign. It features articles from around the internet criticizing Councilman Fidler on a variety of issues, from sources including Room Eight and NYC Council Watch.  So far articles have focused on his involvement with LawCash, pork-barrel spending, profiting off of the housing crisis, and failing to engage in a public debate. It also includes satirical photos and a "Whack-a-Lew" game where visitors can tase the good councilman's nipples.
Apparently, TheFidler.com has its own contributors that produces editorial content, and Berardelli says in his release that anything he writes will bear his name. So far though, all original posts are labeled "TheFidler.com Staff". While Berardelli notes in the release that he's "responsible enough to stand behind all content on this site, even if not written by me" – we're still pleading for him to make contributors reveal themselves. Anonymous posting is questionable enough on blogs; elected politicians (and those who aspire) shouldn't meddle with such muck.
Overall, though, the site is an obvious attempt to goad Fidler into a confrontation. It pokes fun at the councilman and is begging for a response. From the campaign's inception, Berardelli has issued several challenges to his incumbent opponent to meet for debates, but the councilman has been dodgy. Berardelli closed his press release by writing, "If the Councilman has a problem with the characterizations, he can come see me – I'm no shrinking violet myself."
We'd love to see that scene. How 'bout it, Lew?