Bensonhurst's 18th Avenue Bakeries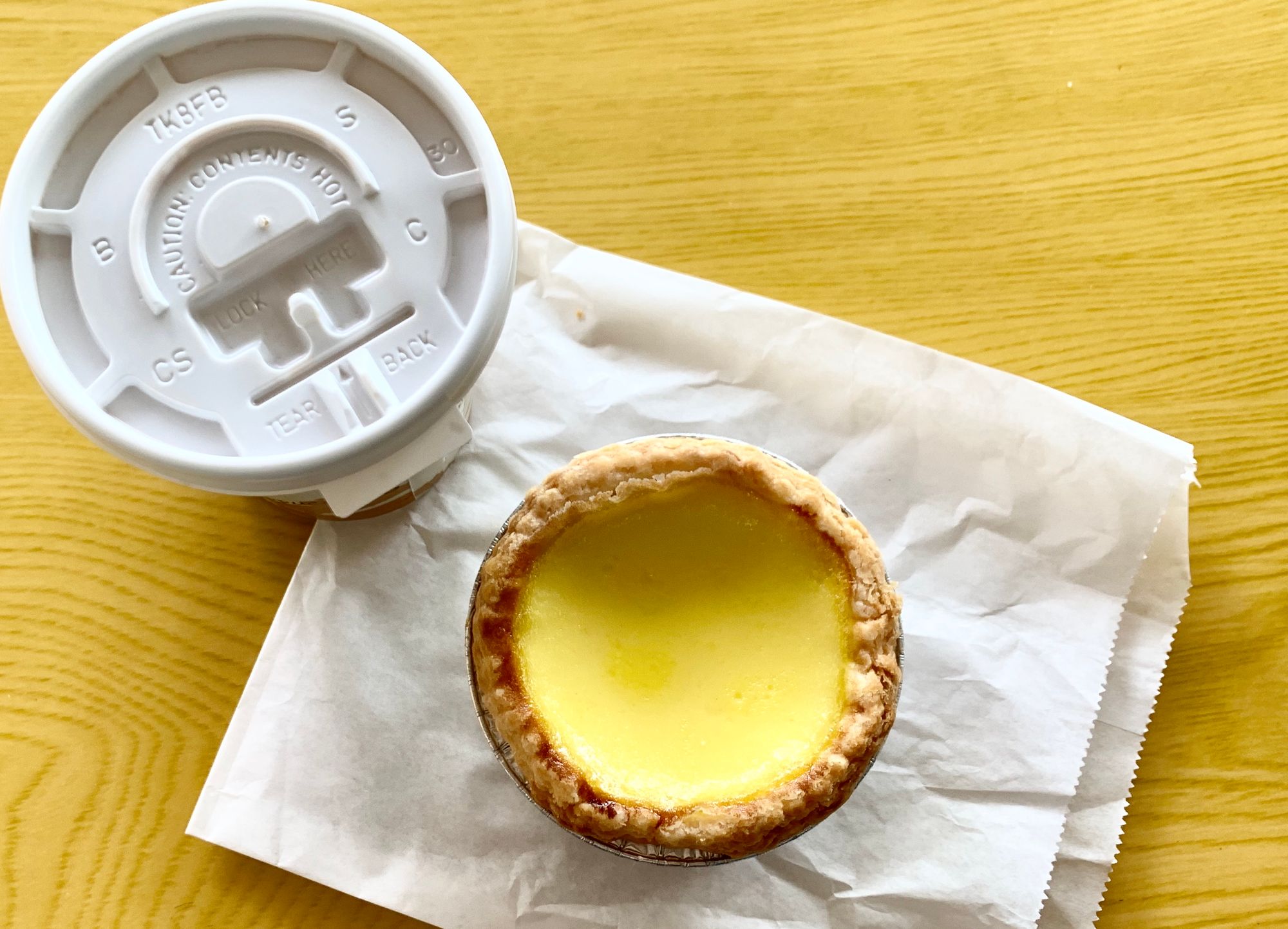 BENSONHURST – 18th Avenue in Bensonhurst is home to a uniquely wonderful pairing of cultures. These cultures, Chinese and Italian primarily, manifest themselves in a sweet, flaky, and delicious way at the bakeries that line the avenue. In honor of the Santa Rosalia festival, which is on until the first of September, we walked the length of 18th Avenue and tried every bakery we could find.
There was something to like at every single one, whether it was the espresso-drinking men chatting by the picturesque marzipan creations at Villabate, or kids playing video games at Best Bakery. Each had a distinct and friendly community hanging about inside, each was full of those who knew each other, and each is worth its own trip.
18th Ave Bakery
1606 18th Avenue, between 60th and 61st Streets.
This Italian bakery is one of the oldest in the area, and has been in business for years – 117 years to be exact. The fogged display cases were full of treats with overflowing custard and cannoli cream, bread stacked pleasingly in the window, and madeleines with ridges like a mini Grand Canyon.
There's no space to eat inside here, as it's a galley-style counter situation, but as one of the farthest from the festival, walking with your treat can't hurt. That's what we opted to do- taking our first nite of cannoli while crossing the street, only to pause in delight and almost get hit by a car. It's an excessively classic take, but is done right, with a floury aftertaste and just a hint of a kick in the cream. The custard filled cream puff was worth a try as well – although some fans of the classic will wish it a tad crispier.
Hong Bao Bakery Inc.
6317 18th Avenue, between 63rd and 64th Street.
Next, we sat down at one of the yellow tables at Hong Bao, watching people get off the bus and come straight in to chat with the (extremely kind) women behind the counter. A good portion of these people ordered the egg tart, so we got one too, and a coffee. Total, we were out only $2.00, and we had gained a surprisingly good, flavorful coffee, and a lovely tart.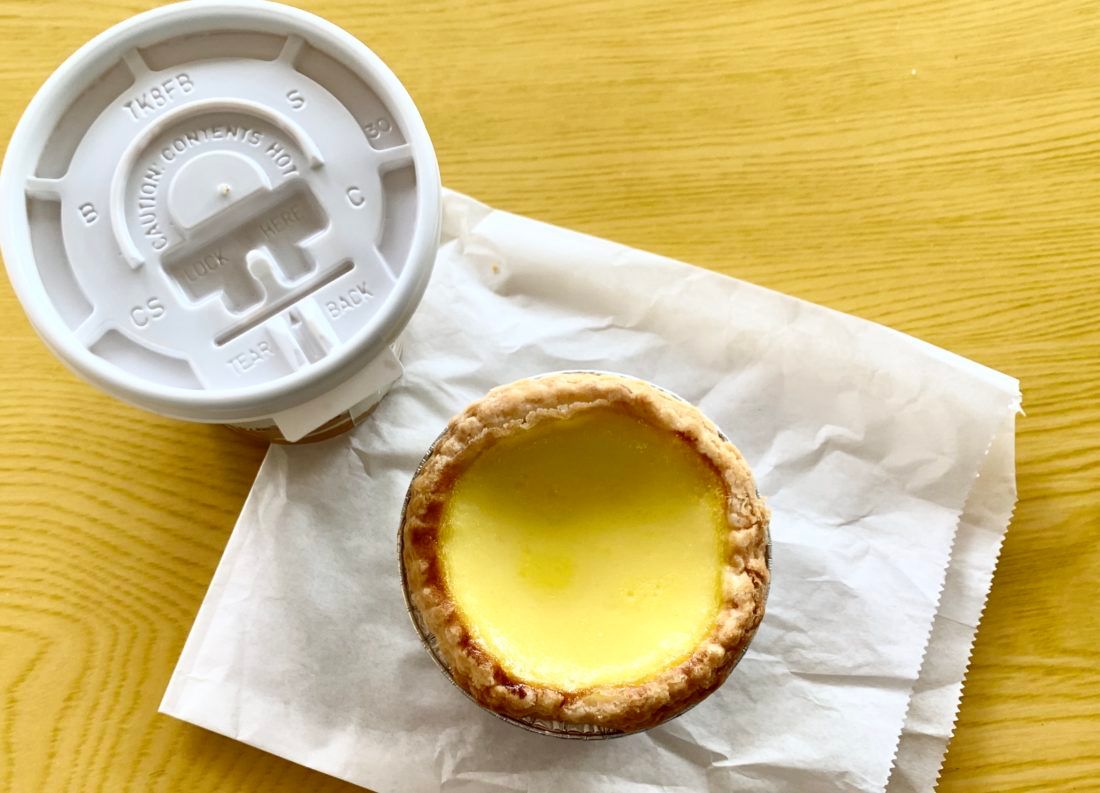 The crust here was very flaky and buttery, but less crisp than some we've had in the past. The custard was extremely eggy and flavorful, and looks-wise it was the prettiest one we tried. We had a lot of trouble saying no to the roast pork buns (also only $1.00), but there was lots more eating to be done.
Best Bakery Inc.
6915 18th Avenue between Bay Ridge Avenue and 70th Street.
From there we arrived at Best Bakery. Part of what we loved about the 18th Avenue bakeries was the lived-in, classic feel they all had – you won't necessarily find that here – it was the shiniest of the Chinese bakeries we visited.
We decided to stick with the egg tarts, but here you pull it yourself out of a grocery-store style case, and then bring it to the counter to pay. There were lots of people inside, all sitting at the shiny wooden tables chatting with each other and drinking coffee. The window counter here is the spot to be if you're by yourself, as you can watch the people go by as well as the festival happening right under your nose.
The egg tart here had a substantially thicker crust, and was definitely a bit crisper in comparison.  We couldn't even wait to take the picture before we took a bite.
Villabate Alba
7001 18th Avenue, between 70th and 71st Streets.
If you know, you know. Villabate is a staple of the 18th Avenue and offers one of the most beautiful collections of sweets we've ever laid eyes on. The cakes are works of art, as are the lifelike marzipan fruits right at the front. The counters stretch overwhelmingly all the way around, and you just know you're in a place where nearly everyone already knows what they want without having to look.
The employees here are friendly, and willing to help those of us who can't think straight upon seeing so much sugar. The best part about Villabate is the customers – older men with shirts tucked into khaki shorts, drinking espresso at the standing bar and speaking loudly in Italian with themselves and the women behind the counter.
We order a lobster tail in a panic, without thinking very much about it, since we know if we did "One of everything!" would come out of our mouths and we'd have to take out a small loan. It was stuffed completely with custard, and just sinfully sweet. Predictably, it's the most expensive of the places we visit, but still not insane with the total for our pastry being $4.00.
18 Bakery Inc.
6820 18th Avenue, between 68th Street and Bay Ridge Avenue.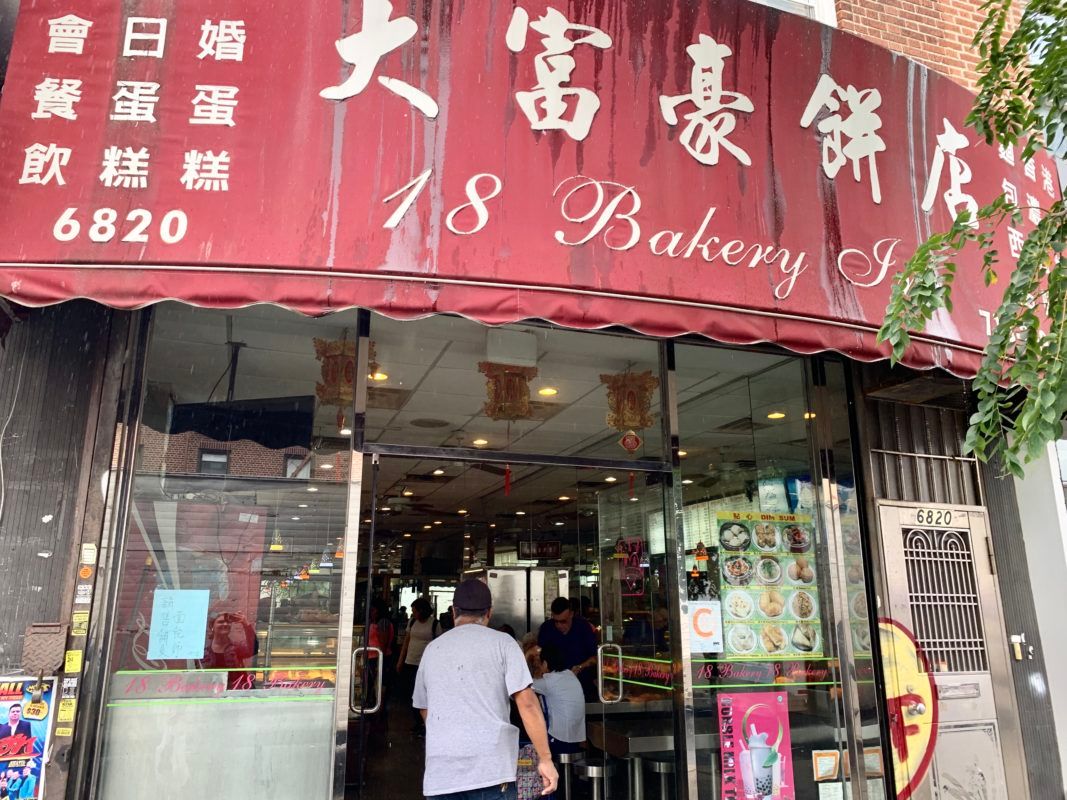 The last spot we tried was one of the most crowded. Women spoke Chinese to each other at the metal tables, men chatted with the cooks who frequently came outside the kitchen to help with the small line that was forming.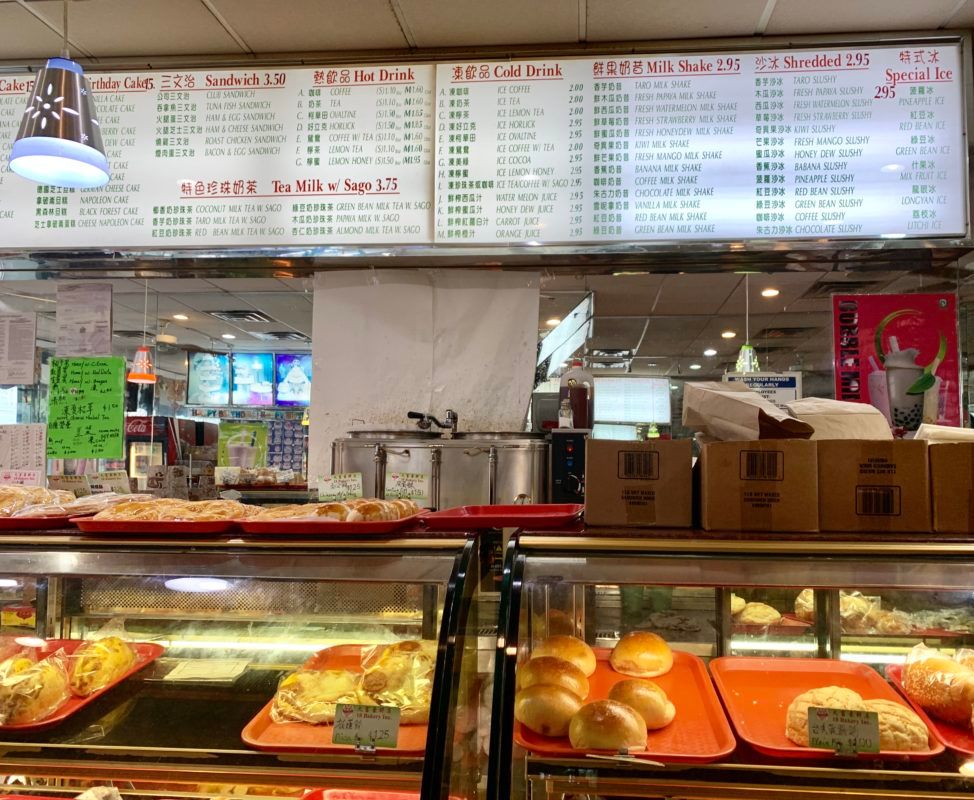 18 Bakery felt like a diner, and boasts a small offering of Chinese lunch specials as well as the baked goods.
We got (another) egg tart, and a sesame bun (which we'd never had before). The egg tart here was less eggy than the others we tried, and definitely slightly more savory than sweet. The crust was the crispest of the ones we tried today, and was flaky and lardy to perfection. The sesame bun, a gooey, fried, paste-filled wonder, was a great surprise- we licked the oil off of our fingers and finished the whole thing, even though we'd already eaten a small family's share of treats.
Be ready for people to cut in front of you in line, and make sure you wriggle your way into one of the seats to watch the show go on.
Like we said, there was something to love at all the places we went. The avenue was just setting up for the festival when we were there- the carnival rides took up most of the street, and the smell of sausages cooking was rising in the air. Maybe we could go for just one sausage…