Beijing Gifts "Friendship Archway" To Sunset Park's Chinatown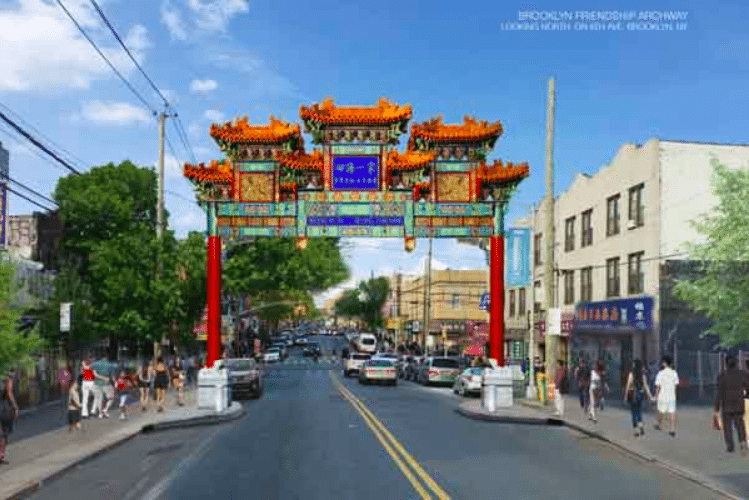 SUNSET PARK – Mayor Bill de Blasio announced last Friday, October 27, that Sunset Park's Chinatown will receive a forty-foot-tall "Friendship Archway" as a gift from the Chaoyang District in Beijing.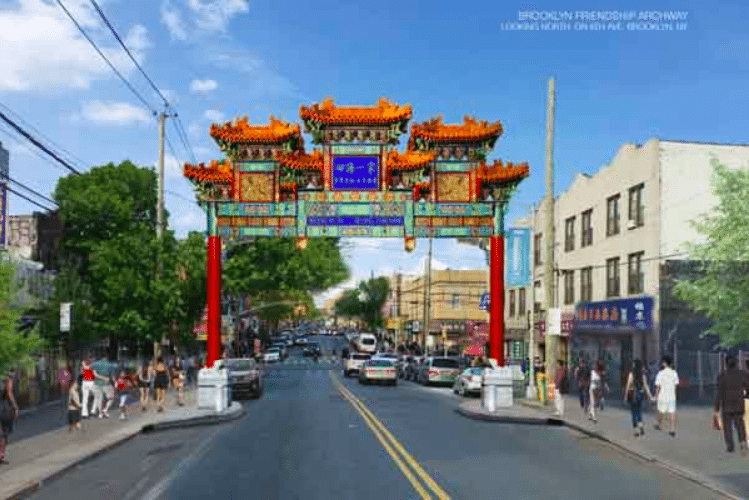 In Chinese culture, archways traditionally mark entry to major urban streets, according to a release announcing the gift. They are often situated at significant sites such as temples and government offices.
"I want to thank our friends from Beijing's Chaoyang District for the generous gift of the Friendship Archway," Mayor de Blasio said. "We look forward to this archway giving Sunset Park the recognition it deserves—serving as an everlasting bridge between New York City and Beijing, two of the world's great cities."
The first of its kind in the city, the Brooklyn Archway will stand more than 40 feet high, 12 feet wide, and span across Eighth Avenue between 60th and 61st Streets—the heart of Brooklyn's Chinatown. The elaborate design features two pillars supporting nine roofs and will have indigo glazed tiles with sculptures of mythical creatures. The arch will showcase a painting of a golden dragon and revolving floral motif. Across the center beam of the arch will be a Chinese inscription reading "One Family Over Four Seas" as well as an English inscription reading, "Brooklyn – Beijing Chaoyang." Solar shingles have been proposed to sustainably power the arch's lighting.
In 2015, Community Board 7 announced its unanimous support of the archway, writing in a letter to Brooklyn Borough President Eric Adams, it "would make a beautiful addition to our community and could potentially promote local tourism." Adams allocated $2 million in capital funds to the project. The NYC Public Design Commission approved the archway's design in July, and the installation will be managed by the NYC Department of Transportation (DOT).
"Bringing New York City's first-ever Friendship Archway to Brooklyn has been a labor of love," Adams said. "Our sister city, the Chaoyang District of Beijing, has generously and graciously gifted us with a nine-roof archway that reflects the robust dynamism of our growing Chinese community. I have no doubt that it will be an enduring source of pride as well as an attraction that brings people from around the world to enjoy all that Sunset Park has to offer."
Sunset Park and Bensonhurst combined make up one of the largest Chinese-American populations in New York City—second only to Flushing, Queens. "The Chinese population growth here is the highest among all five boroughs in New York City," said Paul Mak, President of the Brooklyn Chinese American Association. "The Brooklyn Friendship Archway is extraordinarily meaningful to all people in our community, and it will also stimulate the development of local economic growth, tourism, cultural and entertainment industries."
Though the archway's completion date has not yet been determined, in conjunction with its development, DOT will conduct a pedestrian and vehicular traffic safety study for Eighth Avenue between 39th and 65th Streets, according to the Mayor's office.