Beach Watch: Sharks, Rip Currents, and 100 Years of Splinters
If you've lived here any length of time you know there is no better way to cool off than heading to the beach (sorry Prospect Park). However, if you've been on a beach after a storm, you may have discovered all kinds of stuff floating in the waters, making you wonder if it's a good idea to splash around after all. Oh, and you may have heard about the sharks.
Let's clear that one up. Every summer there are shark sightings all along the shorefront – always very exciting events – but they usually do not cause a beach to be closed. That said, Rockaway Beach was closed twice last year because of them, but sharks are very much part of life around here and no, they are not out there to get you, and chances of you being attacked are miniscule.
You are better off worrying about rip currents, those cause 80% of lifeguard rescues. Would you know what to do if you were caught in one?
Now you do.
But beaches are more often closed for the more prosaic reason that water is just too shitty to be recommended, and remember, we are not swimming in Blue Flag beaches to begin with.
To keep us informed, the city issues two kinds of warnings – well, a warning it's not a good idea and closing the beach – the latter involves removing lifeguards and posting signs.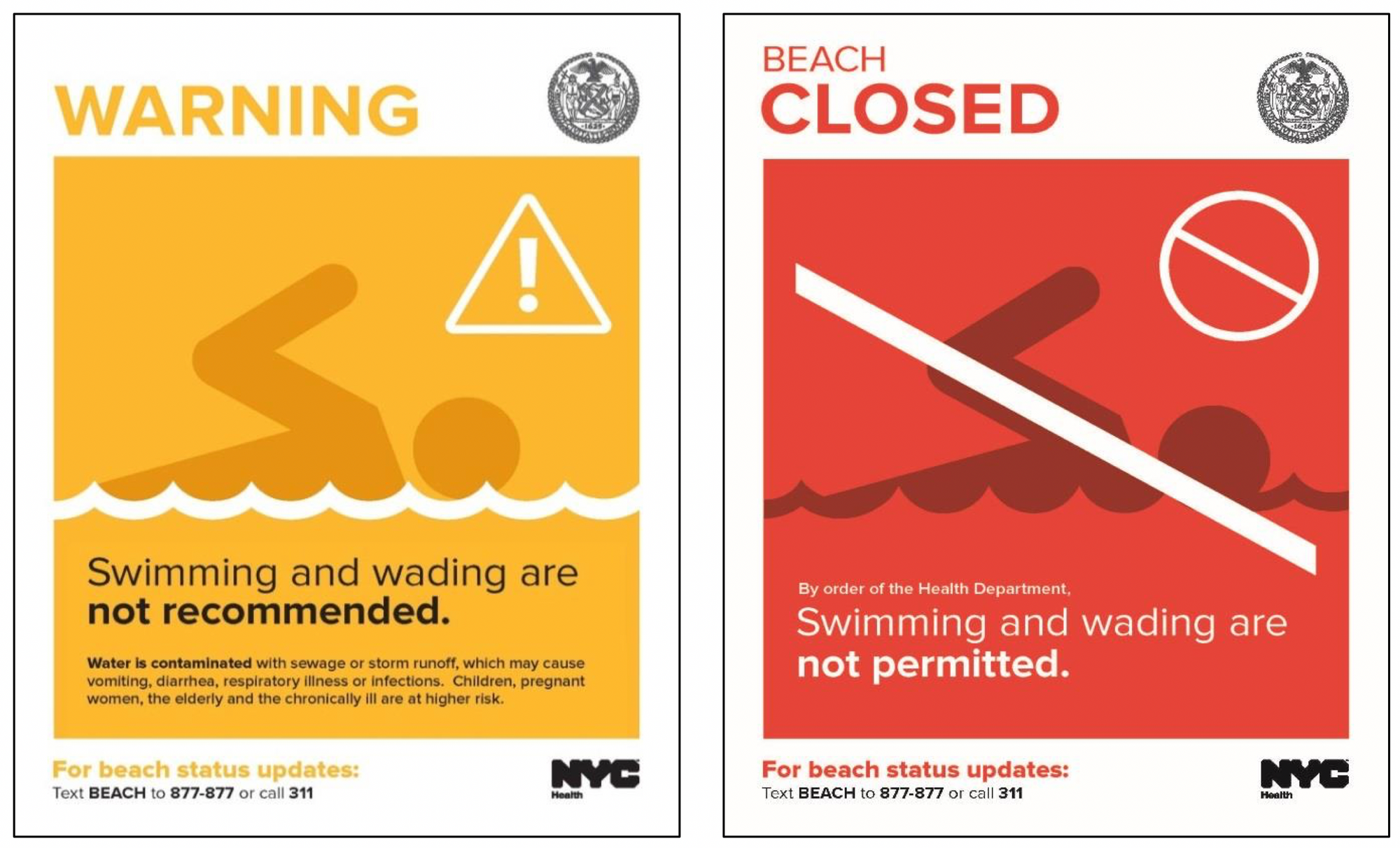 We are in this situation because the city has combined sewers for waste and rainwater runoff. When they overflow – as it happens during heavy rains –  it all goes right into the waters all around us.
Beachgoers were already told it was not a good idea to wade into the waters of Manhattan Beach just last week, however, our two public beaches are generally better than the rest (the city has 8 public and 17 private beaches): Coney Island had no warnings or closures last year during its 107 beach days, while Manhattan Beach received two warnings lasting a combined 20 days that swimming was not recommended.
The city says it did not receive "any specific beach water quality or illness complaints" in 2022.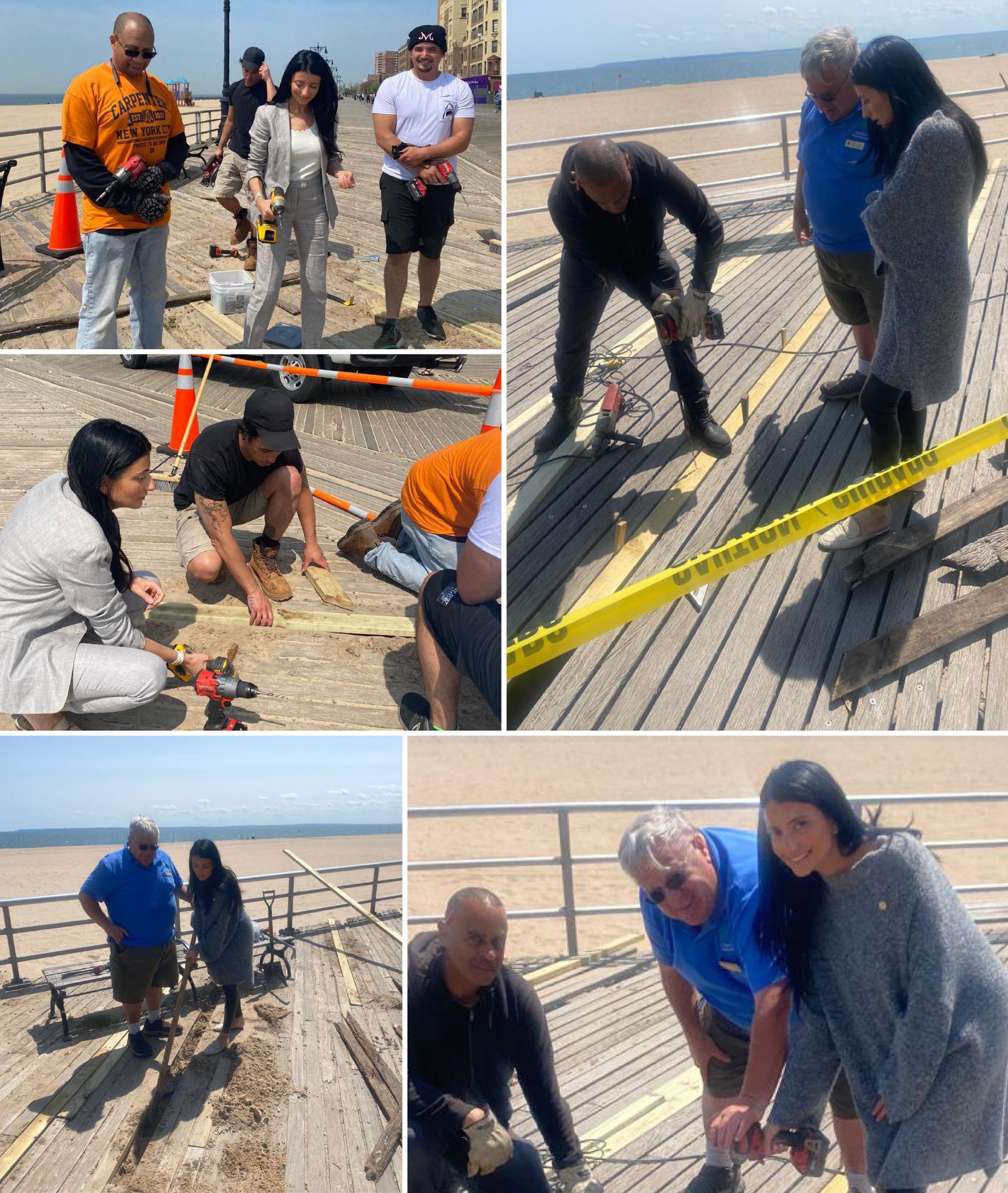 However, I'd bet the city has heard plenty from patrons who stubbed toes and twisted ankles on the Riegelmann Boardwalk last year.  
The Boardwalk that was designated a Scenic Landmark in 2018 turned 100 on May 15 and is finally getting some fresh wood along the 2.7-mile stretch to celebrate it.
The oldest section of the boardwalk is between Ocean Parkway and West 37th Street, and it is that which formally opened on May 15, 1923. It took another two years to extend the Boardwalk to Coney Island Avenue, and the last bit – an additional 1,500 feet to Brighton 15th Street – was added in 1941.
The Riegelmann Boardwalk: Past, Present, and Future is on view at the Coney Island History Project, curated by its director Charles Denson, who is also the author of Coney Island: Lost and Found, and offers a wealth of information you did not know you needed to know.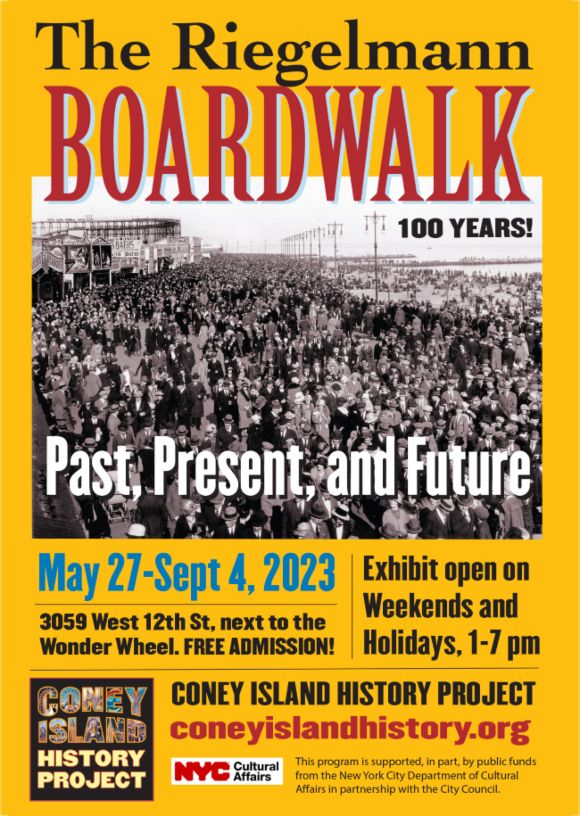 The Riegelmann Boardwalk: Past, Present, and Future is on view through September 4, on Saturdays, Sundays and holidays, from 1:00 PM- 7:00 PM. Admission is free of charge.