Bay Parkway Merchants Thank Captain Taylor: 'We Can Open Our Doors Again'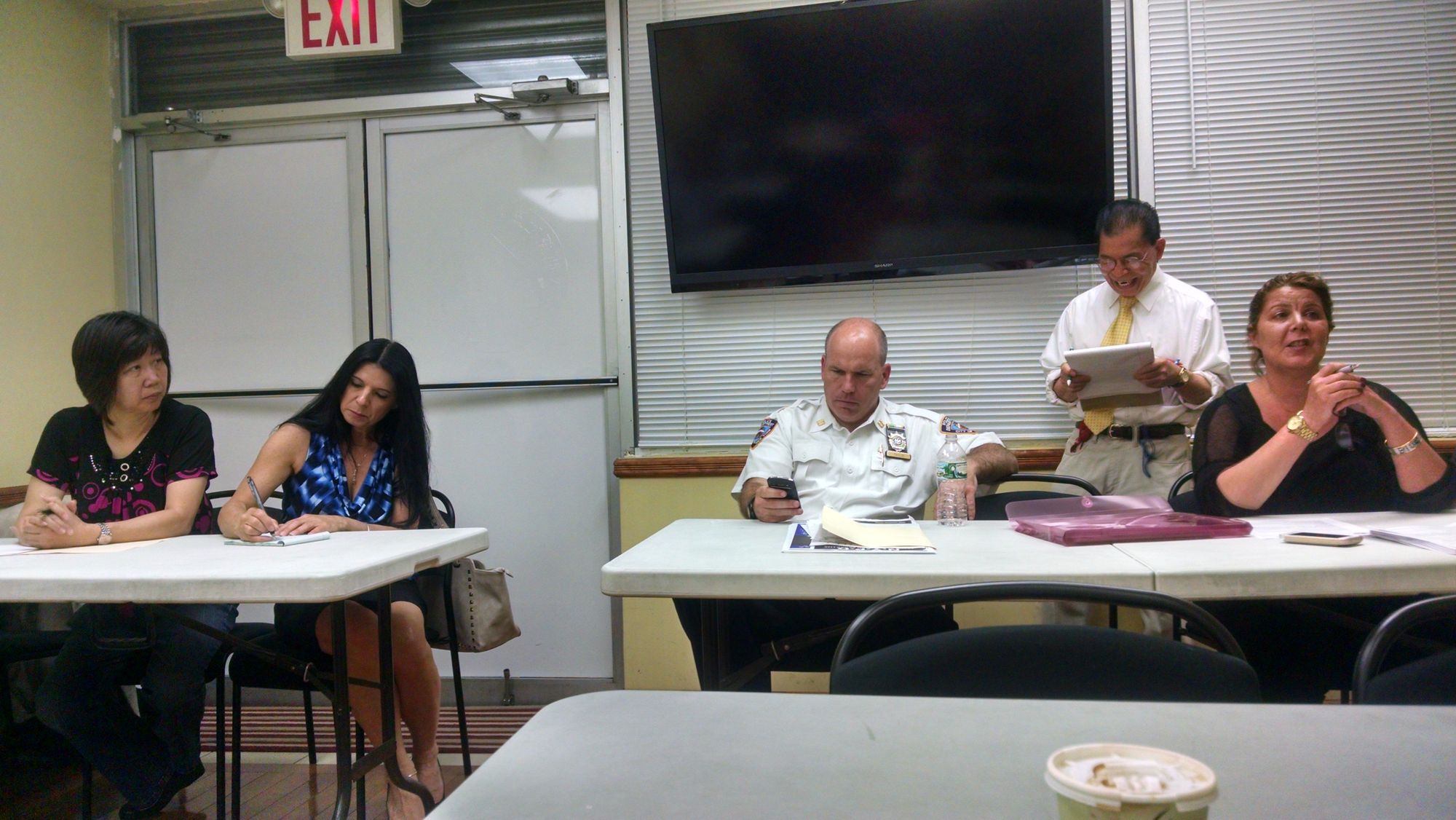 Peace and quiet has returned to Bay Parkway, say business owners on the commercial strip.
The merchants commended Captain William Taylor and members of the 62nd Precinct Monday at a meeting at the Asian Senior Daycare (6506 Bay Parkway) for swiftly apprehending the rowdy teens who were wreaking havoc in their shops for over a year — forcing them to keep the stores under lock and key.
"For first time, in the past few days, we are opening our doors. We are very, very happy," said Tao Huang, the owner of SYJ Trading, a Chinese dry goods store at 6914 Bay Parkway. "We thank you and the other officers."
Dr. Tim Law, a community liaison and translator, helped facilitate the discussion on neighborhood safety between Chinese-speaking merchants and seniors and city officials, which included District Leader Nancy Tong, Jeannine Cherichetti from Councilman Mark Treyger's officer, and Community Board 11's district manager, Marnee Elias-Pavia,
"Many of you may not know this, but under the leadership of Captain Taylor and the men and women of the 62nd Precinct, we are one of the five safest neighborhoods in New York," said Elias-Pavia.
Taylor announced the arrests of two teens who were caught on surveillance video committing crimes, as well as two juvenile reports filed for the eighth graders accused of harassing seniors in Seth Low Park last week. The 62nd Precinct has also increased patrols near high schools and middle schools at dismissal time, Taylor said.
"I don't think you are going to have problems with these particular kids anymore, but if you do — or if there is anyone else that comes along — you have to let us know right away," said Taylor.
Taylor thanked merchants for sharing surveillance tapes and photos which led to the arrests and urged them to continue to be vigilant and communicate any future problems to the precinct through community liaisons.
"Keep those videos rolling, if you are able to snap a picture safely without getting yourself in trouble, I guarantee you — 99 times out of 100 — someone who works for me is going to know who that kid is, it's not going to be their first encounter." said Taylor.
Merchants asked if it would be possible to set up two security cameras on stretch of Bay Parkway where the incidents occurred, one at 65th Street and another on 72nd Street. Elias-Pavia said she would research the matter.
One merchant, who owns a supermarket on Bay Parkway, asked Taylor if he was allowed to restrain the minors when they steal food off the shelves. Taylor said he wouldn't recommend it, but if a crime is committed in the store, merchants can perform a citizen's arrest and restrain the person until police arrive.
"If it's one of the kids we've been dealing with — these are not hulk hogans here — and you have the physical wherewithal to detain them, then by all means," the police captain said.
Warren Chan, executive director of Asian Community United Society (ACUS) suggested setting up a Civilian Observation Patrol — a neighborhood watch — and asked Taylor if they could acquire a marked car to patrol along Bay Parkway.
Taylor said he would help Chan start the process for a neighborhood watch, but vetoed the marked car idea.
"The Jewish people have marked cars," noted Chan, referencing the Shomrim, a community watch program that oversees Brooklyn's Orthodox Jewish communities.
"You can't just get a marked car. The Jewish people have gone for training. They've gone to the academy. They've gotten certified," said Taylor.
Elias-Pavia also spoke briefly of quality of life concerns on Bay Parkway, including problems with the Department of Sanitation (DOS), encouraging business owners to reach out to the Community Board.
"For example, I see on 66th and Bay Parkway that it hasn't been serviced by the Department of Sanitation. What we need from you is for you to reach out to me through Dr. Law and let me know that it wasn't swept," said Elias-Pavia.
She handed out information sheets with DOS trash disposal regulations translated into Chinese.
Joseph Rizzi, Director of External Affairs at Federation of Italian American Organizations (FIAO) also addressed the storeowners, suggesting that they make more of an effort to cooperate with non-Asian vendors on Bay Parkway, and to participate in projects to beautify and enliven the commercial strip.
Correction: An earlier version of the article misspelled Warren Chan's last name.