Bath Beach Man Busted With 3,236 Cartons Of Black Market Cigarettes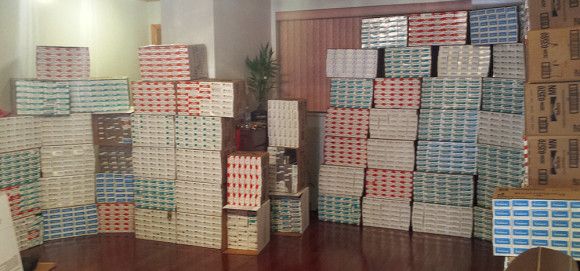 A Bath Beach man was one of two people arrested yesterday after authorities seized 3,236 cartons of contraband cigarettes from his home and a Borough Park stash house, the New York State Department of Taxation and Finance announced yesterday.
Ji Long Chen, 37, was cuffed by the department's Cigarette Strike Force and taken to the 62nd Precinct alongside alleged co-conspirator Mohamed Kassim, 27.
The department said they seized 3,236 cartons of cigarettes, 3,795 counterfeit tax stamps, and more than $130,000 in cash following a raid on two properties associated with Chen.
Chen has been charged with four felonies, including criminal tax fraud, and the possession and transport for sale of illegal cigarettes. Kassim, who lives near Eastern Parkway, was charged with possession or transport for sale of unstamped cigarettes.
According to authorities, department investigators raided a stash house at 940 43rd Street in Borough Park yesterday, where they seized nearly 800 Virginia-stamped cigarette cartons, and discovered the phony New York stamps. Kassim was at the stash house at the time of the raid, and was arrested there.
Meanwhile, investigators followed Chen to his Shore Parkway home near Bay 41st Street. There they found the rest of the cigarette cartons and $75,000 in cash. They executed a search warrant and searched two bank safe deposit boxes connected to the pair and seized additional cash they believe came from the sale of the illegal cigarettes, bringing the total to $131,763.
The two have been released on their own recognizance and a court appearance has not yet been set.