Bath Beach Fire A Blow To Local Businesses
BATH BEACH – Early this morning, a three-alarm erupted in a commercial building in Bath Beach, at the storefront of Universal Tile.
Firefighters received the call at 3:46 am, said the FDNY, responding to 2162 Bath Avenue, between Bay 29th Street and Bay Parkway, where the first floor of a two-story commercial building was on fire.
The call was ultimately raised to a third alarm, said the FDNY, with 33 units and more than 138 firefighters responding. The FDNY had the fire under control by 7:25 am.
No civilian injuries were reported, though two firefighters suffered injuries and were transported to nearby hospitals, said the FDNY. The severity of their injuries could not be confirmed.
While the FDNY spokesperson stated the fire was limited to the first floor of 2162 Bath Avenue—Universal Ceramics—others have stated that damage was suffered by the surrounding businesses:
A picture posted to Twitter by Councilmember Mark Treyger (D-47) shows broken windows, and, at the very least, serious smoke damage to surrounding buildings: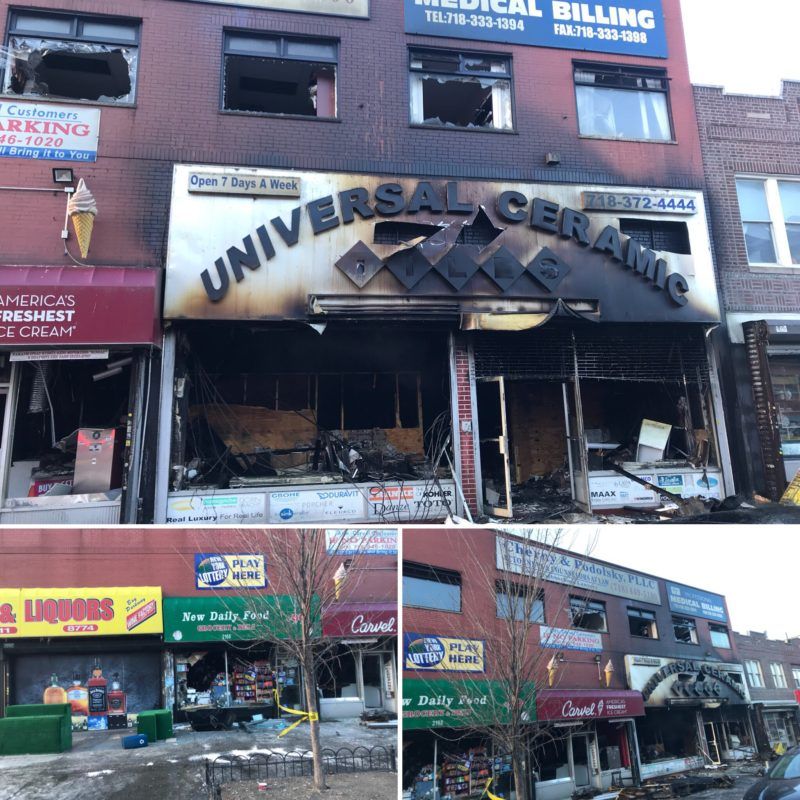 "Our thoughts are with the two firefighters who sustained injuries, but thankfully no lives were lost. I commend FDNY, the NYPD 62nd Precinct, NYC Emergency Management, and all of the emergency service workers who responded," said Councilmember Mark Treyger in a statement.
Via Twitter, the Councilmember thanked nearby Councilmember Justin Brannan (D-43) and City Council Speaker Corey Johnson (D-3) for reaching out with messages of sympathy and offers of support for his district.
"Local businesses are part of the lifeblood of our community, and my office will work to connect proprietors with relevant city agencies to make sure they receive the necessary support. We will rebuild and recover," said Councilmember Treyger.
The cause of the fire is under investigation.