Bare Buns: Baked Pork Bun Off – The Bite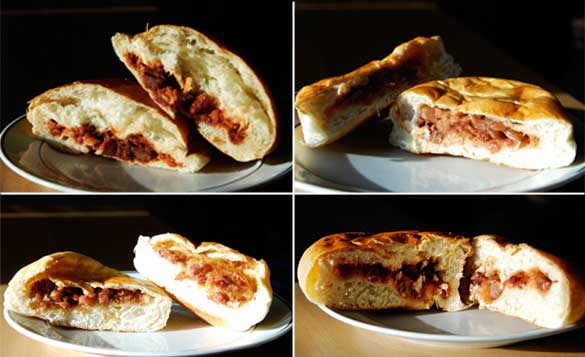 THE BITE: This week the Bite breaks new ground and lets you take a peak into the sausage factory. Usually we spend the week sampling various foods for the Bite and try to only bring you the best the neighborhood has to offer. Today, we bring four of the neighborhood's Cha siu bao offerings, better known as the pork bun, into the office for a showdown.
Let's meet the four contenders..
Bing Bakery – 1415 Gravesend Neck Road – $0.80.
Bliss Bakery – 1412 Avenue U – $1.00.
Good Family Bakery – 1317 Avenue U – $0.90.
L & U Bakery – 1405 Avenue U – $0.70.
Before we get started, let's set some ground rules here. One: this is not a definitive guide to Cha Siu Bao. Not every Chinese bakery in the neighborhood will be represented. There'e no bias here. These buns were purchased in the normal course of my day, while conducting other important business for Sheepshead Bites. If I passed a Chinese bakery, pork buns were purchased. Two: all of these pork buns were purchased on Tuesday afternoon around 3:00 p.m. A few of the bakeries were sold out of Cha Siu Bao by that time. Three: the Chinese Bakery owners and staff were not aware of this impending shoot out.
Once back at the office, all of the buns were weighed, sliced open, photographed and tasted. Now, here at the Bite, we're not experts in Chinese food, but we know what we like. So here's what we're looking for: a light, chewy bun with a texture very similar to hallah. The pork filling should be tender, moist and bursting with flavor – after all, the diced pork is usually mixed into a syrupy mixture of oyster sauce, hoisin sauce, roasted sesame seed oil, rice vinegar, shaoxing wine or dry sherry, soy sauce, sugar and cornstarch. The bun should have a nice meat-to-bread ratio, with meat in every bite.
Up first is L & U Bakery. This bun weighed in at a paltry 2 ounces. It was a well baked dough, flavorful and moist, nicely glazed in an egg wash finish. As we stated in our last review, "Ever have a Brioche? Then you know the bread of a L & U pork bun." We really liked the meat the last time L & U appeared in the Bite, but this time, not so much. While there was a good meat-to-bun ratio, the meat was inconsistent. The chunks of meat varied greatly in size and flavor. Some packed a huge wallop of salt which over powered all other tastes. L & U's filling also contained a large amount of onions that added a little bite to an otherwise sweet and salty bun.
Up next was Good Family Bakery. Weighing in at a huge 5 ounces, this Cha siu bao is the heavy weight of the group, but it was deceiving. Good Family bulks up its bun with bread, not with fillings. This thick bun was barely stuffed with a tasty mixture of meat and onions that was very nicely balanced. However, the texture of the meat varied greatly from butter-like to crunchy. Once again a very tasty egg white glazed bun.
Following Good Family Bakery, the Bing Bakery enters the challenge. Weighing in at 3 ounces, this pork bun's weight was right in the middle of the pack. Once again, we are treated to an egg white glazed bun, but this dough is a little different. While sweet like all the others, the flavor Bing's dough is better balanced with the sweet and savory flavors of its stuffing. The meat in the bun is chopped nicely, with most of the chunks uniform in size. This meat is tender but has little fat. Very nicely done.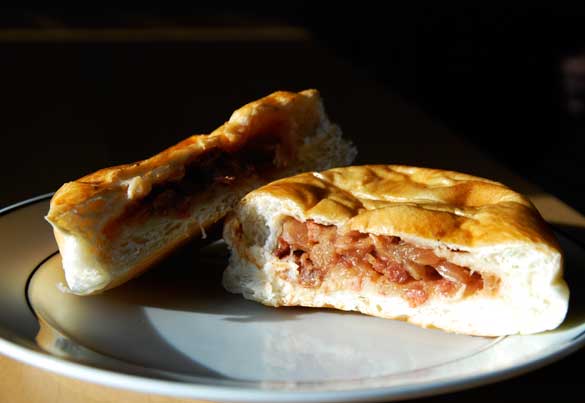 And last but not least, Bliss Bakery takes its stance. With Bliss, we're back in the lightweight category, as this bun weighed in at only 2 ounces. Here the dough is completely different from all others. This bun reminds me of a typical white bread hamburger bun you'd find at a summer picnic. Looking into the meat, I could see many onions, but not much pork. There was some other unidentifiable vegetable in there as well.  Picking up the bun, I noticed an odd smell. Was that Sherry? Whatever it was, it was off-putting. Taking a bite, I began to chew. All I could think of was dog food. Not that I know what dog food tastes like, but it sure smelled and I assumed tasted like the can of Mighty Dog's pulled pork that I fed my dog that morning.
So, by now you know the loser, but who has the best Cha siu bao in Sheepshead Bay? The winner by far was Bing Bakery. I greatly enjoyed their pork bun. It's certainly worth the trip to Gravesend Neck Road. After that, it's a tos- up between L & U and Good Family, but Good Family has the edge. I'd rather have crunchy meat than over-salted.
Did I miss your favorite Chinese Bakery? Let me know; I'd love to do this again!
The Bite is Sheepshead Bites' weekly column where we explore the foodstuffs of Sheepshead Bay. Each week we check out a different offering from one of the many restaurants, delis, food carts, bakeries, butchers, fish mongers, or grocers in our neighborhood. If it's edible, we'll take a bite.