Tonight: Celebrate The Solstice With Shakespeare At The East 4th Street Garden
Join local performers at the East 4th street community garden for an evening of family-friendly Shakespearean merriment!
To celebrate the Summer Solstice, the East Fourth Street Community Garden will present scenes from Shakespeare's classic comedy A Midsummer Night's Dream on Monday, June 20 at 7:30pm and on Saturday, June 25 at 7pm. Come at 6:30pm on Monday (tonight) for the summer-themed children's craft fair and cookie potluck table before the show.
The production's all-volunteer cast is made up entirely of garden members from the Kensington-Windsor Terrace area, with children playing the littlest fairies. The performance features music by Joel Shatzky and vocal performances by Ilana Abramovitch and Lisa Guernsey.
The garden sits astride the Kensington-Windsor Terrace border, on East 4th street between Fort Hamilton Parkway and Caton Avenue, and tucked behind the wrought-iron fence. (F train to Ft. Hamilton Parkway) Admission is free, but please bring cookies to share.
The cast will be using a modified script that preserves the spirit of the original language while making the story accessible to a wider audience. Audiences will delight in the antics of Oberon, Titania, and their mischievous fairy friends, and be charmed by the garden's beauty.
About the show:
A Midsummer Night's Dream is one of the Bard's most beloved tales. In this abridged version, fairy queen Titania (Danielle Trupiano-Rodriguez) has had a falling out with fairy king Oberon (Ilana Abramovitch) over a human boy Titania has changed into a fairy. Titania would rather keep him for her fairy court.
In revenge, Oberon plans a cruel joke on Titania: He enlists his impish henchman Puck (Molly Sullivan) to find a magical flower that will make Titania fall in love with the first vile creature she sees. At the same time, a band of humble players wanders into the woods to rehearse a play. Puck casts a spell to turn one cocky actor, Nick Bottom (Erik Schneebeck), into a donkey. Titania wakes and instantly falls in love with Bottom. Oberon and Puck watch with laughter as the hilarious events unfold.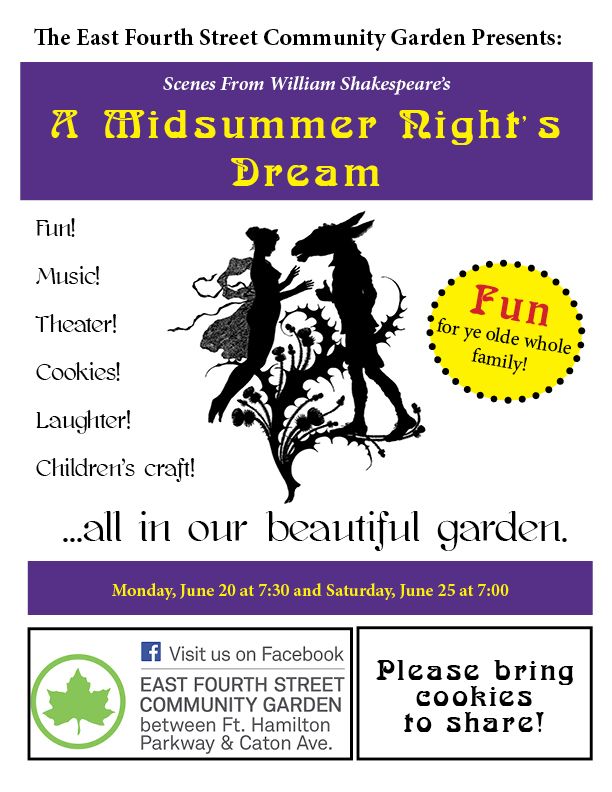 Scenes From A Midsummer Night's Dream is sponsored by Silver Fern B&B, your home away from home in Brooklyn (silverfern.bnb@gmail.com; Jane Wong, proprietor.)