Banyas Of Brooklyn: Where To Get Your Shvitz On This Winter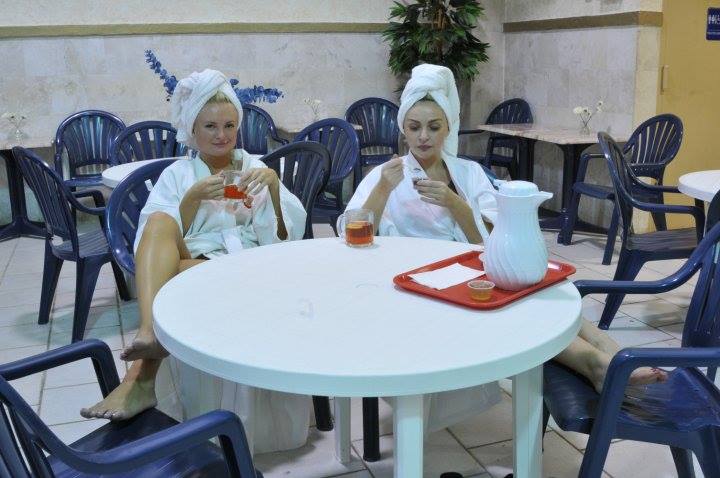 If you do one thing in 2016, it should be to round up your friends and head to the banya.
A banya is a Russian-Turkish bathhouse that typically includes a sauna, a steam room, and a freezing cold pool of water. In the Old Country, they'd call it "the shvitz," which literally means to sweat.
The banya experience is whatever you make of it. It may involve taking a beating with platza branches (for your circulation, they'll tell you), getting rubbed down with mud, or just lounging around, sweating out those toxins. Usually there is hearty Russian food, vodka, and black tea available for purchase. But mainly, banyas are social places to de-stress, gossip with friends, and wear a swimsuit in the dead of the winter.
Fortunately for us, Brooklyn has quite the hopping banya scene. Savvy bath goers know not to pay full price, as there are often Groupon deals and group discounts available. But not all banyas are created equal; Brooklyn's big four vary widely in price, ambiance, and appeal.
Sandoony USA
Where: 1158 McDonald Avenue
What: This mega-spa offers three types of saunas: Russian, Turkish, and Finnish. Russians prefer wet heat, Finnish saunas offer dry heat, and the Turkish booth is made out of tile rather than wood, creating a humid steam room effect. There is also a Turkish steam room and jacuzzi for good measure. When you're feeling nice an cleansed, head next door to Sandoony's restaurant Ocean Grill, which boasts wide range of Russian, Japanese, and French dishes.
How much: $30 – $35, $10 for kids,
More Info: (718) 951-9000
Brooklyn Banya
Where: 602 Coney Island Avenue
What: Ranked among the best indoor activities in New York City, this cozy spot on Coney Island Avenue is clean, quiet and has a family-owned feel to it. Since it's on the smaller side, it's less likely to have kids running around, which — let's be honest — can be quite pleasant. The banya has its quirks. With a large flat screen television playing Russian music videos and an elaborate mural of Roman baths accentuated by mood lighting, it feels sort of across between a spa and your Russian grandmother's living room. Finally, there is a rooftop deck for smokers, and if you get really chummy with the owners, shots are on the house.
How much: $35, $15 for kids under 12
More Info: (718) 853-1300
Russian Baths On Neck Road
Where: 1200 Gravesend Neck Road
What: While the decor is stuck in the 1980s, this grand, family-friendly bathhouse is popular among the locals, and gets quite crowded on the weekends. During the day, its walls are packed with families and seniors, and in the evenings it appeals to a younger, tipsier crowd. The banya boasts two Russian saunas, a Turkish steam room, and a "men's only" sauna where swim trunks are optional. The restaurant is hockey-themed, with jerseys and memorabilia decorating the walls, and we are told the food is excellent.
How much: $40 for regular admission, $30 for seniors, $20 for kids
More Info: (718) 332-1676
Mermaid Spa
Where: 3703 Mermaid Avenue
What: Located beyond the metal wall that surrounds Sea Gate, this bathhouse is a little hard to access, but Mermaid loyalists say it is worth the trip. Its tranquil setting is also the most spa-like and luxurious of the bunch. The food is pricy, so you may want to eat before you go, but Mermaid's spectacular platters embody post-Soviet decadence. Reviewers say the scowling woman who mans the place hates kids, but that those platza guys will give you a brutal whipping, leaving your skin soft and smooth as a baby's bottom. Children under 8 are banned.
How much: $45 for adults, $40 for kids, $40 for seniors
More Info: (347) 462-2166