Bank Robber Busted After Boasting On Facebook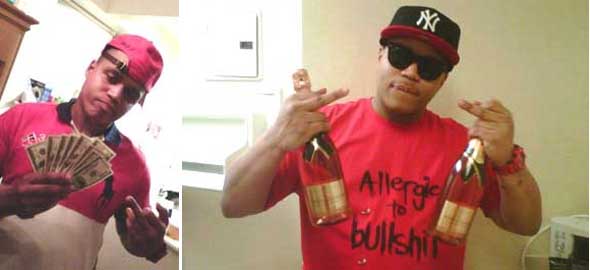 You know how there's always a guy in every heist movie that chides his newbie partner for spending excessively after committing the crime? You know, the calm, experienced guy, perhaps played by George Clooney, who slaps his partner upside the head for not keeping a low profile?
Well, 23-year-old Jesse Hippolite really could've used a George Clooney in his life.
Instead, the man allegedly responsible for a string of bank robberies around New York City – including several in our area – boasted of his exploits on Facebook, even changing his online alias to that of one of history's most infamous stickup artists.
Authorities busted Hippolite last week and charged him with robbing two local banks and a third in Queens, and he's suspected of robbing 16 other banks dating back to December with a net haul of $32,000.
Locally, Hippolite is accused of attempting to rob the Chase Bank on 2909 West 17th Street in Coney Island on August 15, but fled before obtaining money. A day later, he allegedly robbed the Capital One branch at 2123 Avenue U in Sheepshead Bay. In both instances, as well as several others Hippolite is believed to be connected to, the robber passed the teller a note saying a variation of "GIVE ME ALL YOUR MONEY OR EVERYONE DIES."
According to court papers, a bank teller during one of the instances gave FBI agents the partial license plate number of the getaway car, which authorities tracked down to a buddy of Hippolite's, with whom he had been arrested before. After obtaining warrants, the agents placed a GPS tracker on the car – but the real damning evidence came from Hippolite's public Facebook page.
In at least one incident on July 1, Hippolite posted a status update 47 minutes before a robbery, stating "I Gotta Get That $$$$$ Man!!!!"  A few days later, he posted photos of himself waving a stack of $100 bills, and, if that wasn't enough, began implying that some of his buddies ought to get with his game.
"What If We All G0t Fed Up With This Recessi0n And Started Running Inside Every Fucking Bank T0 Give Us The M0ney That Bel0ng T0 Us???" Hippolite posted on Facebook. "Niggas Ain't Willing T0 Go That Far And That's Why The G0vernment Ain't Never G0nna Respect the Pe0ple Because We All Ain't Wildin 4 Respect!!!"
As if looking for a cherry to put on top of his self-incrimination sundae, he then switched his profile name to "Willie Sutton Jr.," an apparent tip of the hat to legendary bank robber Willie Sutton, who once famously answered a reporter's question about why he robbed banks by saying "Because that's where the money is."
Hippolite has since made his Facebook page private, but not before The Smoking Gun had a look. They noted a worthwhile detail:
A further examination of Hippolite's Facebook reveals that the alleged bank robber may have spent some of his ill-gotten gains on pedicures and manicures (the FBI was polite enough not to mention this).
Hippolite is being held without bail at the Metropolitan Detention Center in Brooklyn. He was previously arrested for turnstile jumping and assault with intent to cause physical injury.