Banco Popular Undergoes Rebranding; Now Known As "Popular Community Bank"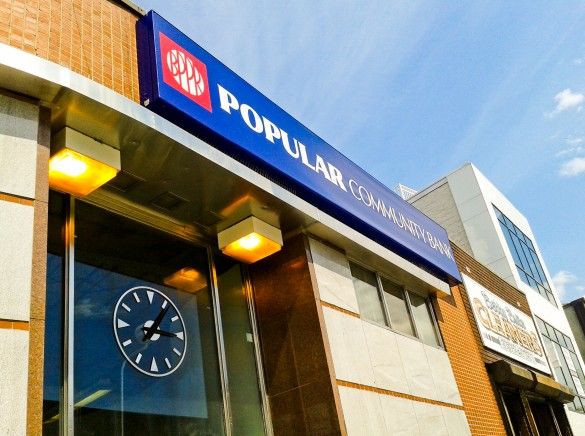 Banco Popular, the venerable Puerto Rican-based financial institution whose presence is a longtime mainstay at two Sheepshead Bay locations, underwent signage and rebranding changes throughout the New York Metropolitan area virtually overnight to reflect "an increasingly diverse customer base."
Banco Popular is now known as Popular Community Bank and the name change became official June 4, at 32 branches in New York City and seven in New Jersey — and,  impressively, on the massive, seven-story high NASDAQ screen on Broadway and 43rd Street.
What do these changes mean for Banco Popular customers? Fortunately, not a whole lot, according to New York Region Executive Brian Doran, who reassures us that: "We are changing in name only. Popular Community Bank remains committed to delivering superior customer service and staying actively involved in the communities where we do business."
According to a press release on the bank's website:
"The rebranding sends a clear message that we are a bank with the personal service of a community bank, deep roots in our communities and the capacity to meet the lending needs of any business," said Richard Carrión, Chairman and CEO of Popular.
The rebranding of the New York Metro branches completes the rebranding of Popular's U.S. banking operations that was successfully initiated as a pilot program in Illinois in 2010 and simultaneously rolled out to California and Florida in 2011.
In our area, Popular Community Bank is located at both 3851 Nostrand Avenue and 1619 Sheepshead Bay Road. You can visit their website or check them out on Facebook to learn more.