Watch B'Hurst Middle School Kids Ask The Tough Questions At Mayor's Town Hall [Video]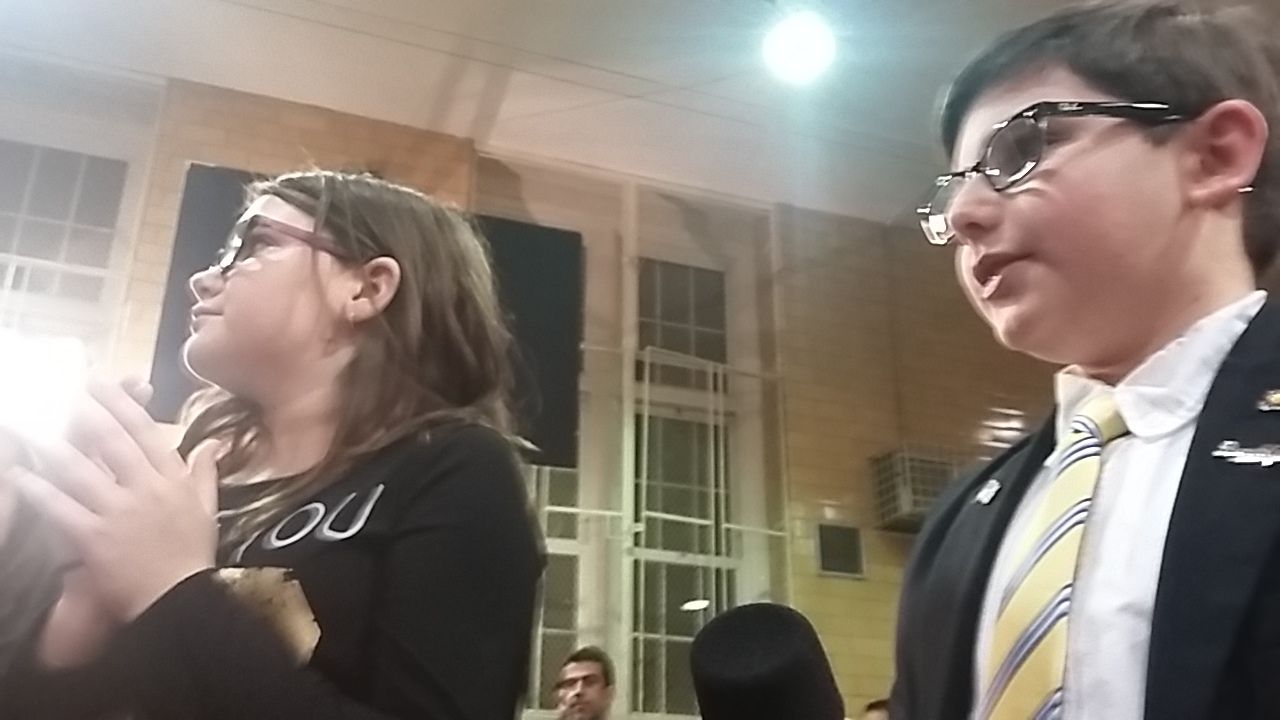 Last night hundreds filled the auditorium at Fort Hamilton High School in Bay Ridge for Mayor Bill de Blasio's first-ever town hall in southern Brooklyn.
As the mayor fielded questions from community members for two hours, he addressed many important issues including affordable housing, transportation, hate crimes, southern Brooklyn's heroin problem, sex shop "spas," hookah bars, school overcrowding, illegal home conversions, and more. Some of the most insightful observations came from three young people in the audience — two of them 6th graders at Bensonhurst and Dyker Heights middle schools.
The youngsters charmed the crowd with articulate, hard-hitting questions about student government, District 20 school overcrowding, and volunteer opportunities for teens. They are a testament to the excellence and rigor of local public schools, and surely made their peers, parents, and teachers proud. Check it out:
Preston Ferraiuolo, 11, 6th Grader at IS 187 The Christa McAliffe School [37:15]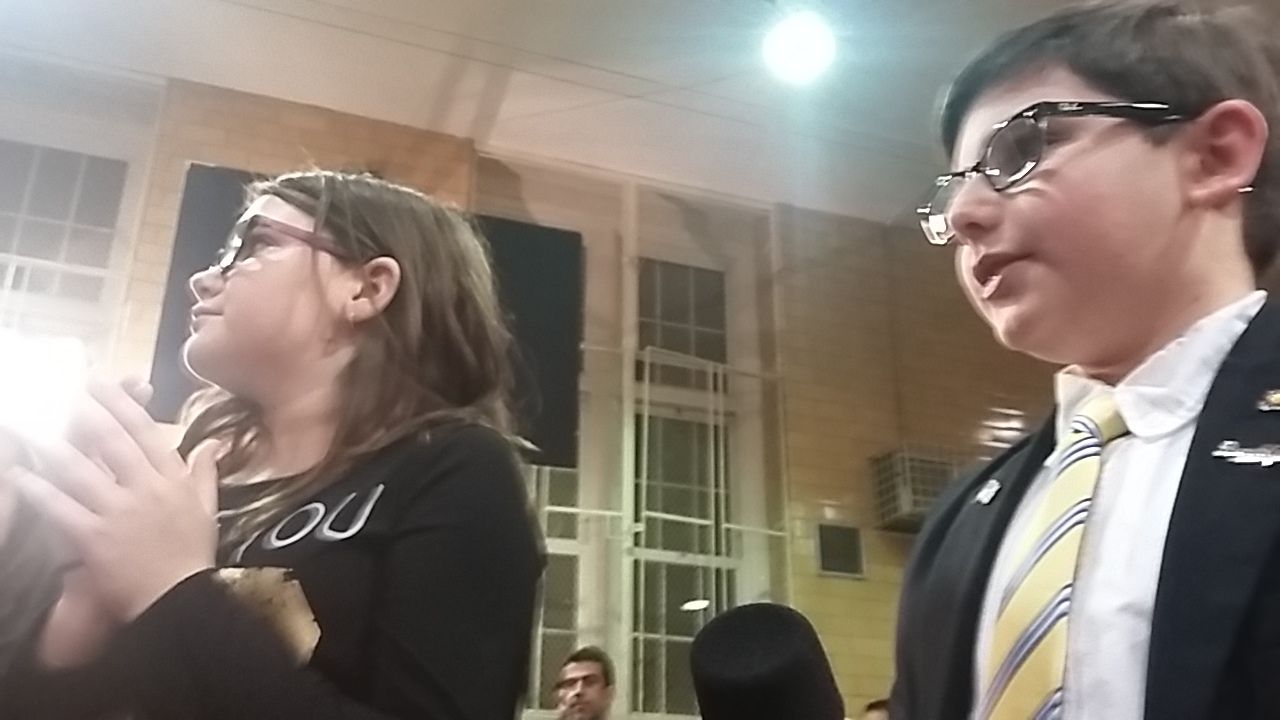 This precocious 11-year-old pressed the mayor on why some schools in District 20 have a student council, while others do not.
"My elementary school had no student government and other elementary schools did in District 20. And now my middle school has no student government," said Ferraiuolo. "Don't you want every student in New York City student to have access to one day be in your position?"
The mayor first complimented the sharply dressed boy's sartorial choices.
"First of all, Preston, I want to know why you are wearing a nicer suit than me," said de Blasio jokingly. "That's very alienating to me."
"Yes, student government is a very important thing," he continued, promising to follow up with Ferraiuolo's school to fix the situation.
Mary Elhakam, 16, 10th Grader at NYC iSchool [1:21:22]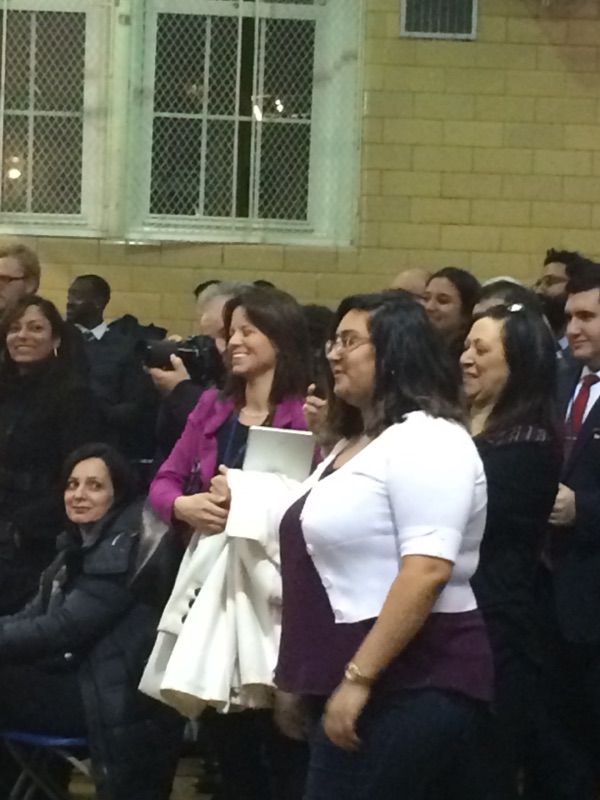 This high schooler made the trek from Pelham Parkway in the Bronx to ask the mayor her question. Elhakam, whose mother was an interpreter at the event, inquired how young adults could have more opportunities to volunteer and participate in civic life.
The mayor responded graciously, offering the teen an internship at City Hall.
"It is a night of articulate poised young people here in Bay Ridge," he said. "Again, I have certain responsibilities, but I also have certain powers, and I'd like to extend you an internship at City Hall this summer. As I can tell already, you are absolutely ready for it."
We confirmed with Elhakam that a representative the mayor's office followed up with her after the event about that job offer.
"The mayor's response caught me completely off guard, but I'm definitely excited and honored to be able to have the opportunity to serve the city that I live in and be a part of something great," she told us via email. "To have the offer come directly from the mayor is an honor."
Anthony Butsikares, 11, 6th Grader at Brooklyn School of Inquiry [1:36:24]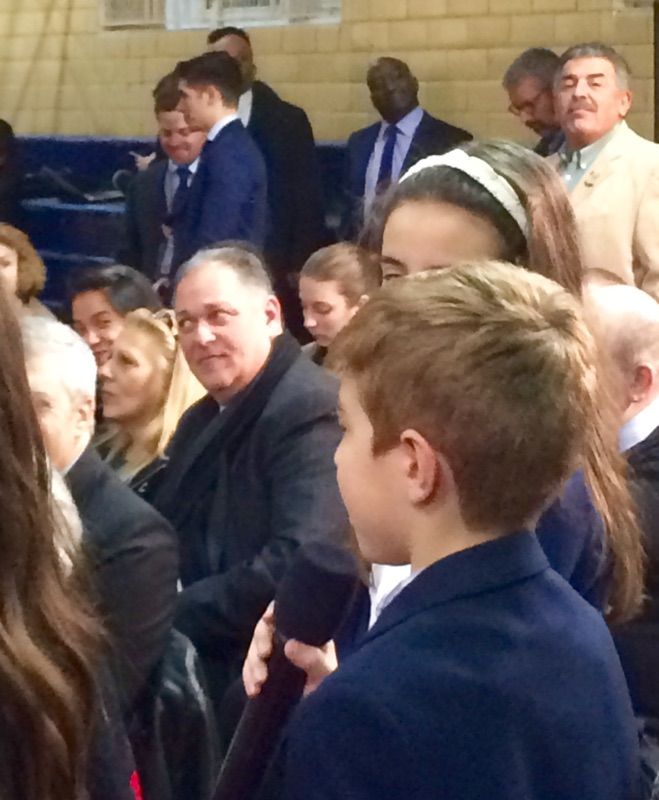 Perhaps the loudest applause was in response to this precocious 6th grader, who raised the problem of school overcrowding in District 20.
"I would like to ask about classroom sizes, because in the school that I go to, we have 33 kids in our class, and we have a pretty small building," said Butsikares. "And we have four floors in our building, plus a cellar and plus a basement, with three schools in our building so, it's pretty stuffy in there."
His keen observation drew a hearty laugh from de Blasio and applause from the audience.
The middle schooler continued, "So I think if we had bigger classrooms, and less kids in each classroom — like less than 30, at least — it will benefit our learning, because teachers will be able to have conferences with more students, rather than having only a few conferences a day with the students that need extra help, and leaving out the students who are doing well, and forgetting about them."
The mayor commended Anthony for his articulate framing of the problem, and noted that the money to create more schools in District 20 is available, but the challenge is finding adequate sites to build them in.
"Anthony, if only most of the adults I work with were as reasonable as you," said de Blasio. He then directed the question to the president of the city's School Construction Authority.
Additional reporting by Benjamin Cohn.