Attention Business Owners: Counterfeiter On The Loose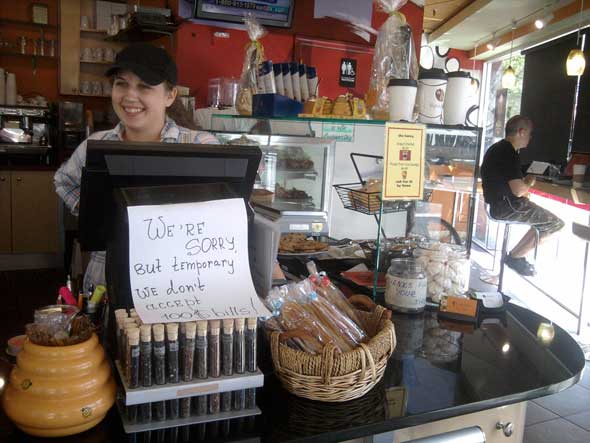 We stopped by Tête-à-Tête Café (2601 East 14th Street) late last week for a bite, and spotted this new sign on their register. Apparently, they're not taking $100 bills, which is sad, because I, of course, had a pocket full of them (not really).
We asked owner Dmitriy Nadelson what was going on, and he said they've been hit a number of times in recent weeks by someone passing off phony $100 bills. According to Nadelson, they're really good fakes, passing just about every test they subjected them to, and even the bank had a tough time spotting it. He said the only way to identify them is with a UV scanner (which they installed this weekend).
Tête-à-Tête Café received a couple of the bills on different days, and other local businesses are likely receiving them, too. So we're putting out this warning for all to see: check your bills. Here's a list of tests you can put to your paper currency. Print it out, and advise your counter clerks.