At First Bite: Tacos & More At Aroma A Mexico Taqueria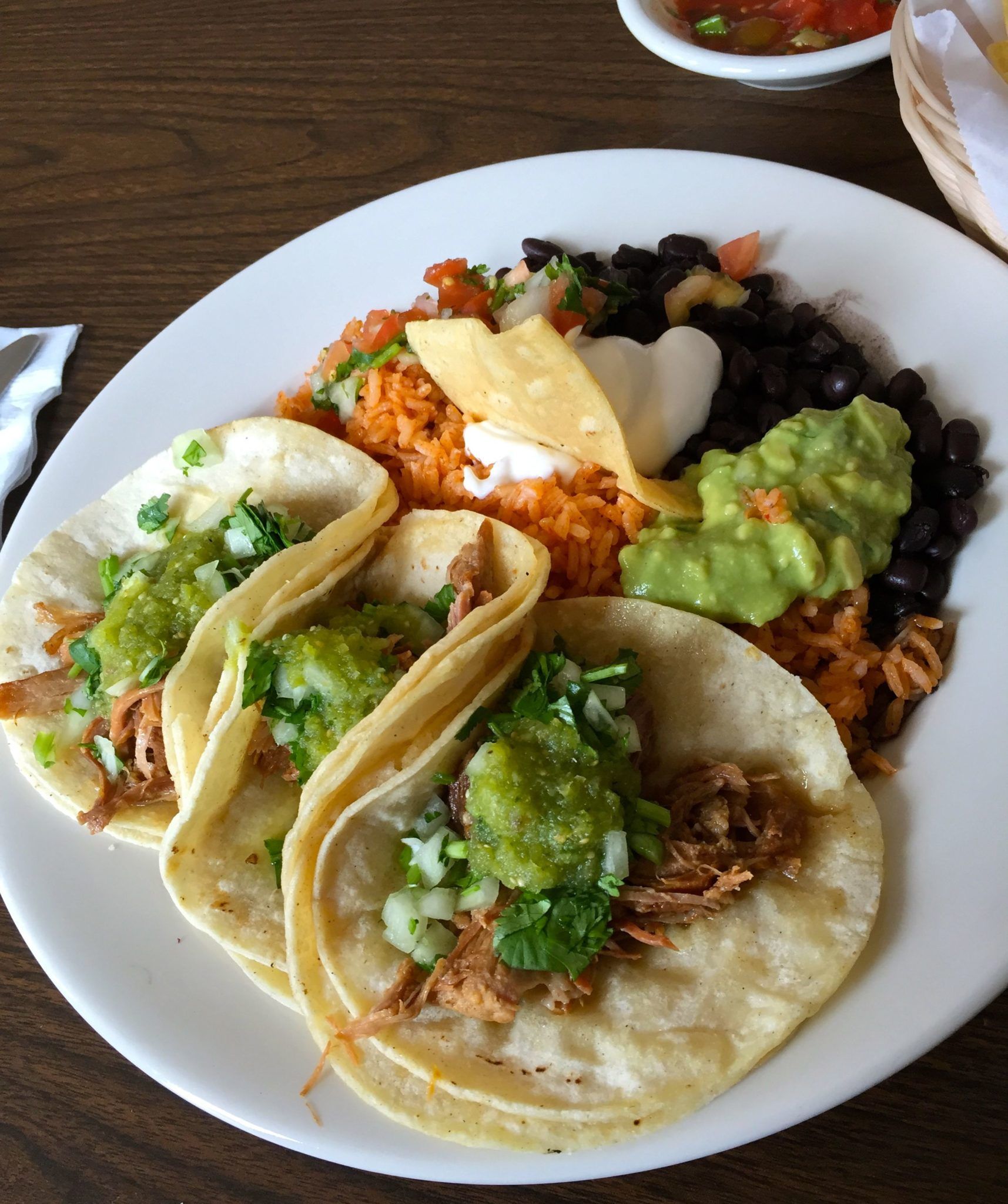 Another restaurant is making a go of it on the corner of 4th Avenue and 16th Street, and if their tacos are any indication, this could finally be the place to stick.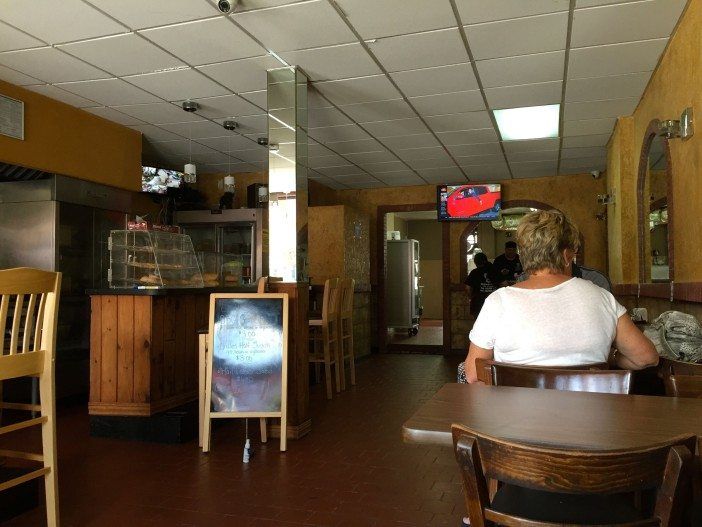 Aroma a Mexico opened at 568 4th Avenue last week, in a space that has seen three businesses come and go in the past year — first, the very good taco joint Country Boys closed up shop, then Boqueroncito gave it a go, and finally 2 Brother's. The interior has stayed basically the same throughout those changes, and while it's not the kind of place you're going to bring the in-laws for a fancy dinner, it's a totally decent spot for rolling up your sleeves and digging into some hearty Mexican food.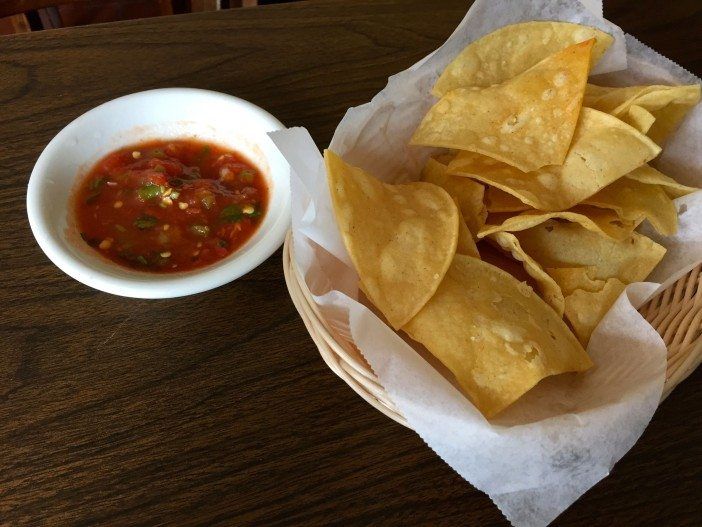 If you dine in, chips and salsa come to the table on the house. The salsa is fresh and has some good heat to it — not too spicy, but it's got a kick, which we appreciate. When we stopped in, some of the chips were unfortunately a tad stale, but hey, free chips, it's hard to complain — a different story, of course, if you're ordering them, as they are on the menu as a side.
The menu is pretty extensive, offering everything from breakfast in the mornings (including chilaquiles, egg sandwiches, and more) to tacos, burritos, grilled half chicken, and more. They don't serve alcohol, but they did have some fresh lemonade which looks like it will be a good option on a hot summer day.
As pretty big taco fans, that's often our measure of a Mexican joint. We opted for the combo platter, which gets you three tacos with your choice of filling, plus a side of rice and beans or French fries. The tacos are small, but come stuffed with meat — we got the carnitas, and the seasoned, roast pork is topped with onions, cilantro, and a tomatillo salsa. Very flavorful, totally juicy, and just a little spicy, this was some of the best carnitas we've had in a while in the area. The rice and beans — you can choose between black, pinto, or refried — were also perfectly cooked and seasoned. And for $8.50, a pretty good deal.
We're definitely looking forward to trying some more, and are excited to have another good delivery option in the area. At least one neighbor agrees — Amy reached out to us and shared her enthusiasm for the new spot on Facebook.
"Went there today and the food is fantastic!" she wrote. "They even have Churros!"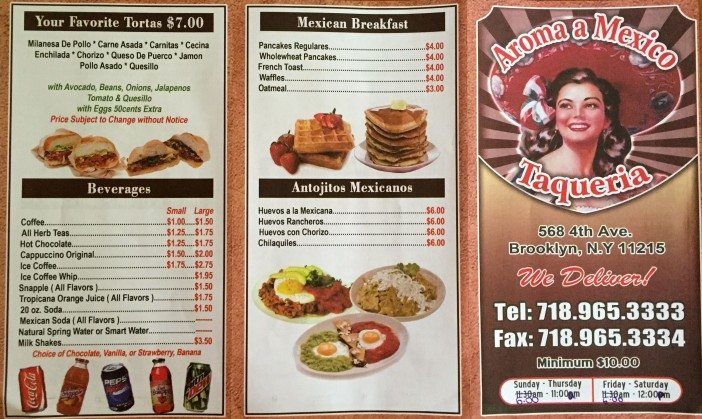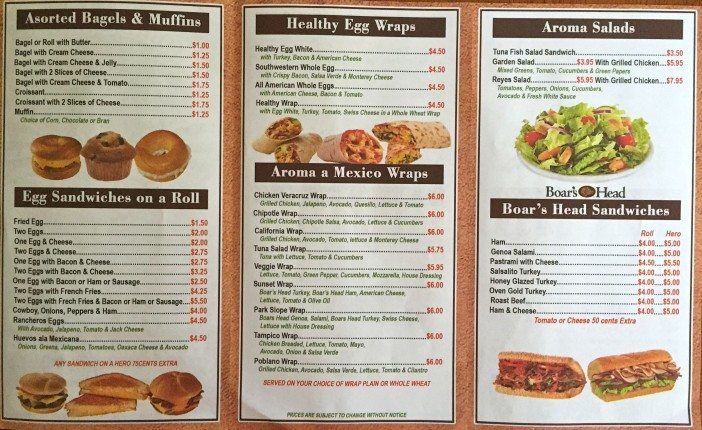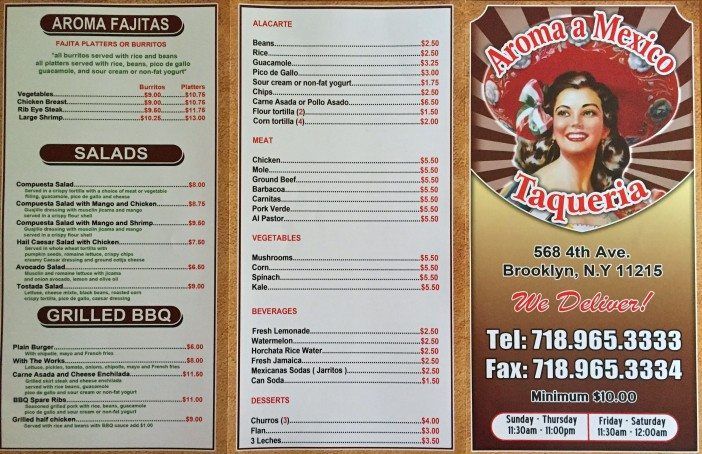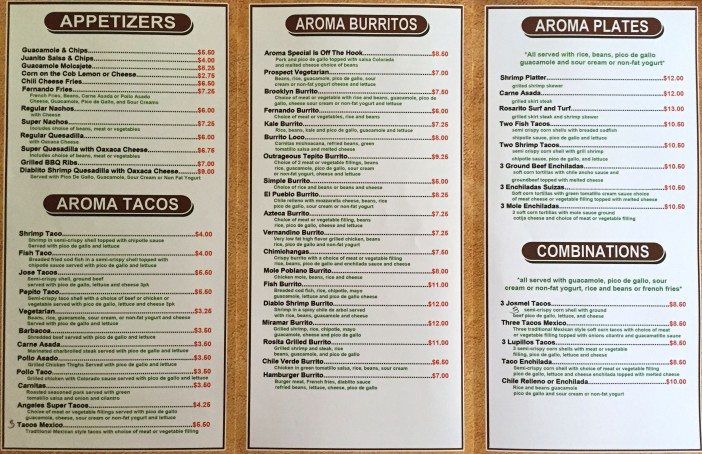 Based on those tacos, we're pulling for them — but Country Boys had super tacos too, so why did they, and the two other restaurants, close? One issue, perhaps, is that the location is just too tricky at the moment. It's a particularly busy stretch of the traffic-heavy avenue, located a block away from the exit ramp of the Prospect Expressway; and there aren't many similar businesses on this stretch, with auto body shops and mostly residential buildings, so it may not be the first though as a dining destination. But, of course, still more apartments are on the way, with a 13-story condo coming to this same block, plus another down the street, and yet another just down 4th, so if Aroma can hold out, and all those new people are hungry for tacos…
Check out the menus above. They're serving breakfast Sunday-Thursday 6am-11am and Friday-Saturday 6am-12pm, then lunch and dinner Sunday-Thursday 11am-11pm and Friday-Saturday 12pm-12am. They offer delivery ($10 minimum), just call 718-965-3333. And note that it's cash-only.
Have you been yet? If so, what did you think?