From Assemblywoman Rodneyse Bichotte's Inauguration, Narratives Of Overcoming Barriers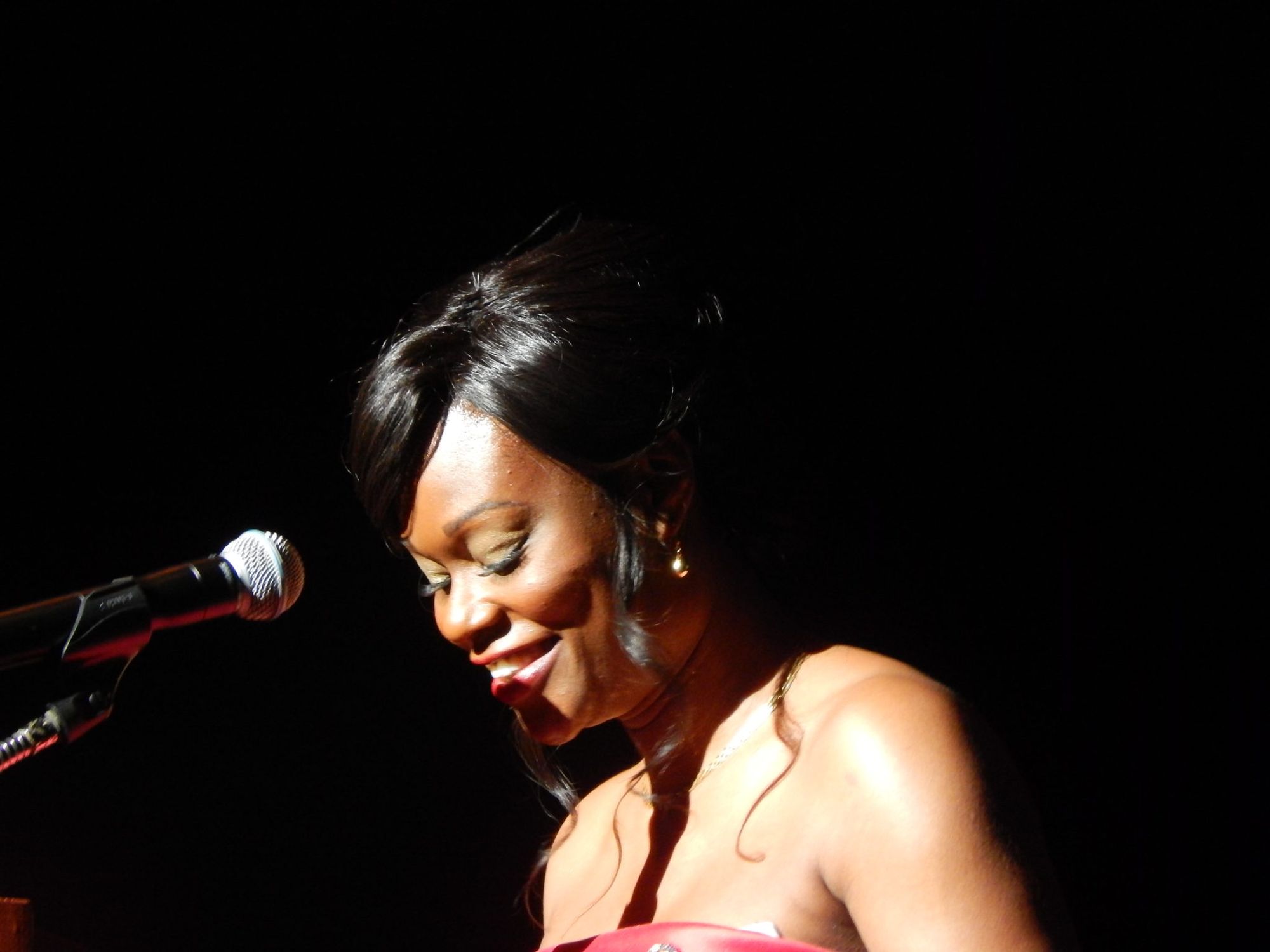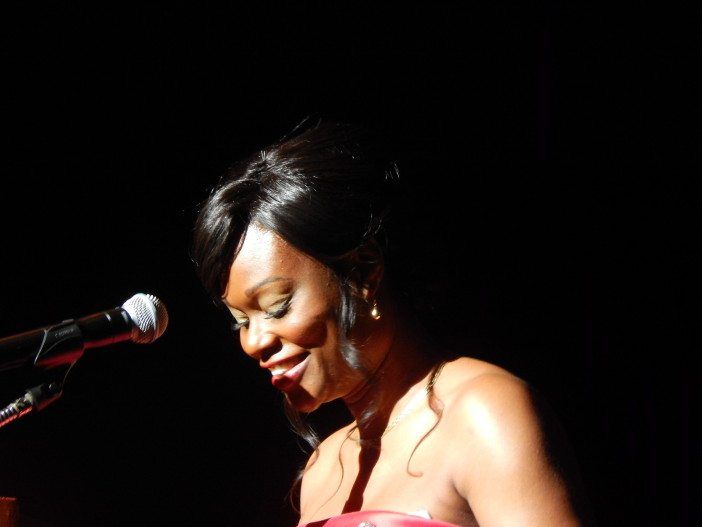 When Assemblywoman Rodneyse Bichotte was 10 years old, she was hit by a car barreling around the corner at E. 45th Street and Farragut Road. The accident left her bedridden and reliant on the help of a family friend, who took care of her day in and day out for months while her mother, a Haitian immigrant, worked two jobs to support her family of four children.
It was a tough recovery, leaving the young Bichotte to essentially have to teach herself how to walk all over again, as well as with permanent arthritis – but "she took that pain, and it added to her resolve" to succeed, Mayor Bill de Blasio told a packed auditorium at Brooklyn College's Walt Whitman Theatre during the newly elected legislator's inauguration ceremony Sunday evening.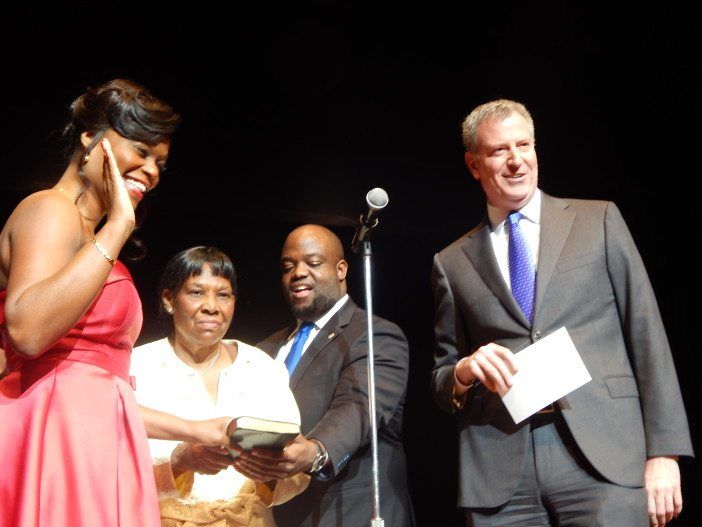 "She went to school, studied hard and traveled the world – but her heart was in Brooklyn, making lives better," de Blasio said of Bichotte, who, prior to becoming a lawmaker representing the 42nd Assembly District (which includes Ditmas Park), worked such jobs as a public school math teacher and an engineer in Japan and China – and who holds an MBA from Northwestern University and an MS in electrical engineering from the Illinois Institute of Technology.
This story – the one of her faltering and then succeeding – seems, in one way or another, to resurface throughout Bichotte's life – not as dramatically as a life-altering car accident, perhaps, but the narratives that emerged from the inauguration ceremony were ones centered around themes of strength and persistence. Numerous elected officials, including U.S. Sen. Chuck Schumer and de Blasio, emphasized Bichotte's place as the first Haitian-American woman from New York City to be elected to the state Assembly.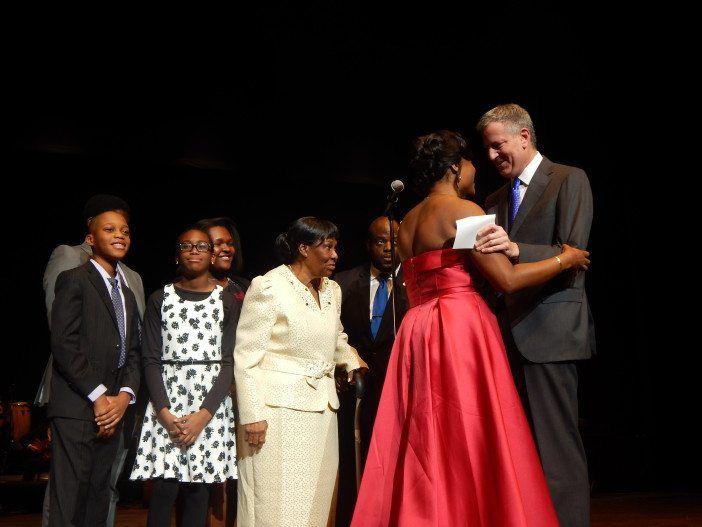 "Rodneyse is making history today – she represents the growing strength of the Haitian-American community," de Blasio, who led the swearing-in procession, said, garnering roars of approval from the crowd.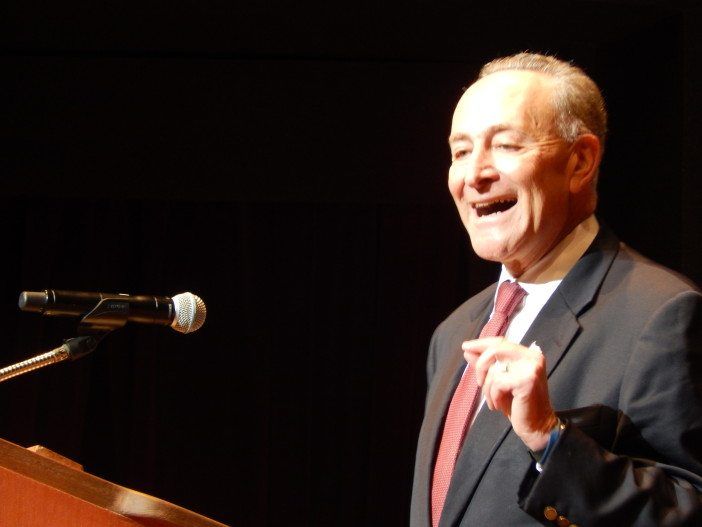 Schumer too emphasized the hurdles Bichotte has had to cross, saying that, "success doesn't come easy when you're a woman; success doesn't come easy when you're an immigrant; success doesn't come easy when you're black – Rodneyse had all three."
In her political career, Bichotte too has jumped hurdles, and she has not always had the kind of support shown at her inauguration – attended by the union leaders who've long backed her career, including her failed bid against former Assemblywoman Rhoda Jacobs (who just retired after a tenure of nearly 40 years) in 2012, as well as members of Brooklyn's political establishment who lent their weight to Jacobs in the 2012 election.
"After 2012, in the spirit of what we do in Flatbush, she went back and won," Councilman Jumaane Williams, who emceed the inauguration, said.
It's no secret that Bichotte has ruffled feathers among the district's political elite, having launched her career in politics by ousting longtime Democratic leader for the 42nd Assembly District Mary Hobson in 2010 and going on to challenge Jacobs two years later. The former Assemblywoman has not lent much support to Bichotte, and, as far as we could tell, she was not at the inauguration. Additionally, in the final newsletter that Jacobs sent to constituents, she made no mention of Bichotte, but she did include seven photos of herself with L. Rickie Tulloch, who worked for Jacobs and ran against Bichotte in what became a contentious Democratic primary that included a candidate being edged off the ballot and an explosive lawsuit.
Additionally, in the same newsletter, Jacobs included a list of individuals constituents could call for assistance after she left office and included only state senators whose districts touch the 42nd Assembly District, but made no mention of Bichotte.
However, the new legislator has received support from high profile politicians across the city, such as Mayor Bill de Blasio's backing early on in her bid for the 42nd Assembly District – as well as from a slew of other elected officials, including one of her most vocal supporters, Councilman Jumaane Williams. And while Jacobs was not at the inauguration, the event was almost a nonstop procession of elected officials, from, as we said before, the mayor and Schumer, as well as state Comptroller Thomas DiNapoli, city Comptroller Scott Stringer, Public Advocate Letitia James, U.S. Reps. Yvette Clarke and Hakeem Jeffries, state Sen. Kevin Parker, and more.
Many of those who spoke during the inauguration stressed the need for affordable housing and access to good-paying jobs – ideas that Bichotte briefly touched upon in a celebratory speech, most of which was dominated by thanking individuals and groups.
"We believe in a city where everyone can afford to be here," de Blasio said. "When I talk to Rodneyse about affordable housing… it's very personal for her."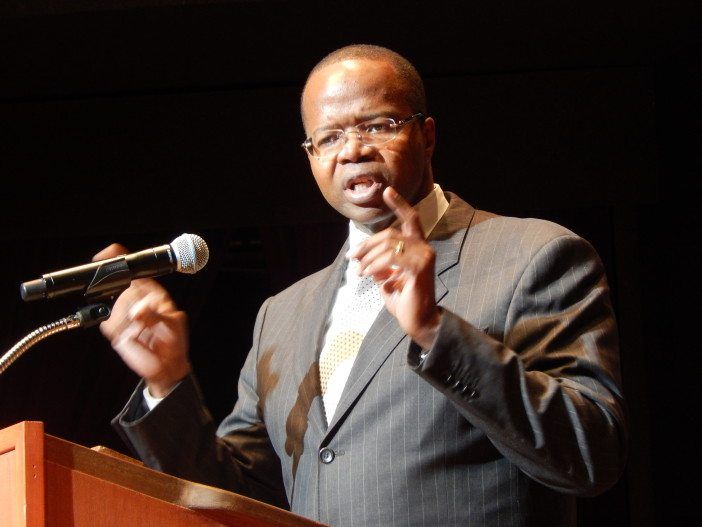 Brooklyn District Attorney Ken Thompson, who lauded Bichotte's victory as "something extraordinary that should be celebrated from Port-au-Prince to Flatbush," said that "fighting for affordable housing … to voting rights, all of those issues and more she's been in the front lines."
Speakers, including the mayor and Bichotte, particularly emphasized the "need to bring police and community together" following tension between the NYPD and parts of the public, including the mayor's office, in light of massive protests after a Staten Island grand jury's decision to not indict a police officer in the chokehold death of Eric Garner and the deaths of two police officers last month.
"I had support from the [Patrolmen's Benevolent Association] – I'm proud to say I had support from the police union," Bichotte said. "My thing is to bring people together – let's bring community and the police together."
"I want to thank the 67th and 70th Precincts," Bichotte continued, referring to the precincts that cover her district. "I want to build a strong community-precinct relationship."
Touching upon affordable housing, Bichotte got the crowd to jeer as she spoke about skyrocketing housing costs in Flatbush.
"I'm going to be an advocate for stronger communities," Bichotte said, adding that she hopes to work to bring resources to area schools and work on creating jobs.