Assemblyman Colton And Transportation Improvement Coalition Mark The Return Of The B64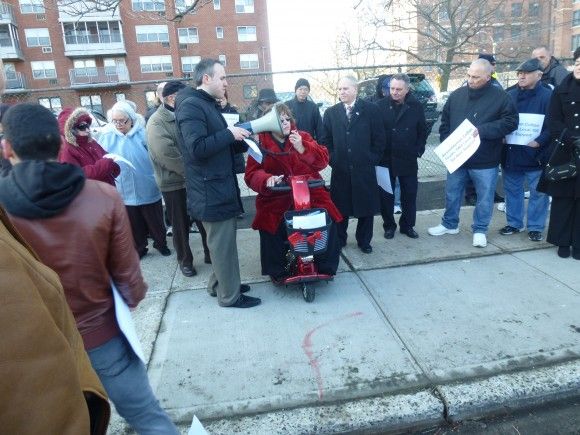 From the offices of Assemblyman William Colton:
Declaring the B64's return to Southwest Brooklyn a "victory we can all be proud of," Assemblyman William Colton (D-Bensonhurst) and his Transportation Improvement Coalition Co-Chairs Mark Treyger and Priscilla Consolo have organized a Celebration Rally to mark the first day of the bus line's return to Bensonhurst, Bath Beach, and Coney Island. The community celebration is scheduled for Sunday, January 6, 2013, at 11 A.M., on the corner of Bay 50th Street and Harway Avenue. Colton's coalition is celebrating the MTA's July 2012 decision to completely restore B64 service in Southwest Brooklyn, which was partially eliminated in 2010 due to budget cuts and sparked community uproar. The 2010 MTA cuts eliminated B64 service from 25th Avenue in Bensonhurst to Mermaid Avenue in Coney Island, which negatively impacted thousands of riders and the local economy.
The Brooklyn legislator is helping organize the victory gathering to show his appreciation to the enormous support the successful B64 fight received from community leaders, groups, and residents. "Together with the help of countless individuals and community organizations who fought hard to restore B64 service in Southwest Brooklyn, we proved that there is truly strength in numbers," asserted Assemblyman Colton. "Our formula of success was having families, children, seniors, small businesses, community groups, and concerned residents work together toward accomplishing a common goal, added Colton. "This victory marks the beginning, not the end, of our work ahead to ensure further transportation improvements in Southern Brooklyn," Colton went on to say.
"The B64's complete restoration is a victory that solely belongs to the families and small businesses of Bensonhurst, Bath Beach, and Coney Island," insisted Co-Chair Mark Treyger, who along with Co-Chair Priscilla Consolo, assisted in organizing residents against the MTA cuts. "The MTA often loses sight of the impact its reckless decisions have on families, children, disabled persons who rely on public transportation, and small businesses. To have cut service from Bensonhurst to Coney Island, especially at a time when Coney Island's amusement district is being revamped, was an unconscionable decision made by the MTA. I am so proud of our community for coming together and successfully pressuring the MTA to reverse course," added Treyger.
"The restoration of the B64 is a victory for the entire neighborhood to celebrate. With the return of this vital bus line, the lives of many people, ranging from students to senior citizens to the disabled to working people, will have their quality of life improved. Restoring the B64 will mean residents will be able to travel easier and more people will have access to public transportation," stated Co-Chair Priscilla Consolo.
From collecting thousands of petition signatures, to holding rallies, to even requesting the federal Justice Department's intervention on behalf of people with disabilities, Colton and his coalition did not relent in their successful fight to restore bus service for Southwest Brooklyn residents. Additionally, they are determined to keep this alliance in tact to make further transportation improvements that are greatly needed.
Some of the organizations involved in helping make this victory possible include; Most Precious Blood Roman Catholic Church, Transport Workers Union, United Progressive Democratic Club, Jewish Community House of Bensonhurst, Bensonhurst West End Community Council, Harway Terrace Apartments Board of Directors, Contello Towers residents, Our Lady of Grace Roman Catholic Church, Castellammare del Golfo, Aidone Social Cultural Association, ASU of New York, Community Education Council – District 21, NIA Community Services Network, Southern Brooklyn Democrats, and the United Chinese Association of Brooklyn.