Assembly Member Carroll To Host First Annual Brooklyn Answer Fair, May 19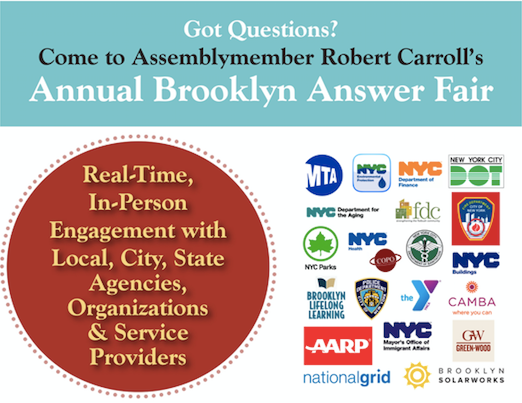 WINDSOR TERRACE – Assembly Member Robert Carroll will host the first annual Brooklyn Answer Fair on Sunday, May 19 at P.S. 130, The Parkside School (713 Caton Avenue).
During his three years in office Carroll has regularly hosted community service events along with an individual city or state agency or non-profit organization. He decided to hold a "one-stop shopping" event this spring to "put everyone together in one room" and make it easier for constituents with multiple concerns to meet with various officials, he explained.
A "slew of different service providers" will be at the event, Carroll noted, with many  "experts in different areas" available to assist attendees with questions.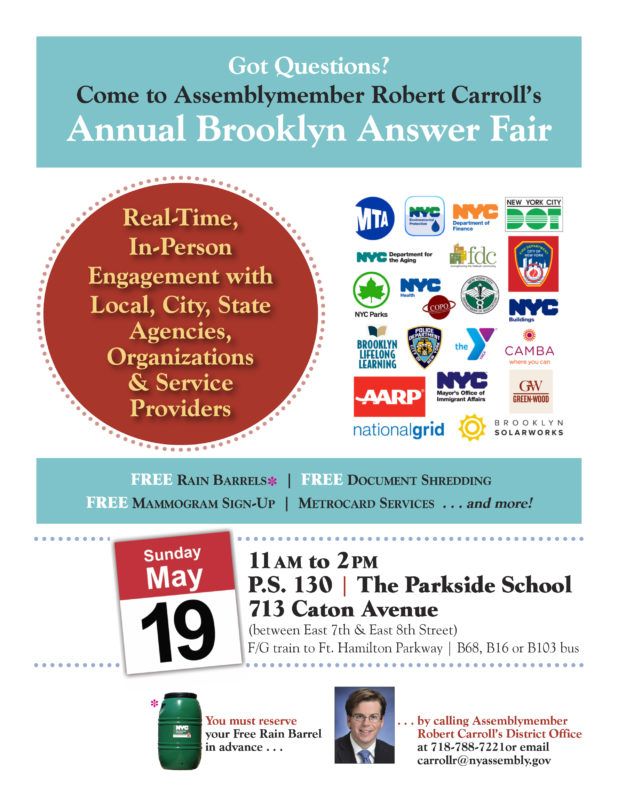 Representatives from city and state agencies, non-profit groups, as well as service providers, will be on-hand at the community resource fair to meet with residents. The list of participants includes:
AARP
Brooklyn Lifelong Learning
Brooklyn Public Library
Brooklyn Solar Works
CAMBA
ConEdison
Council of Peoples Organization (COPO)
FDNY
Flatbush Development Corporation
Green-Wood Cemetery
MTA
National Grid
NYC Board of Elections
NYC Department for the Aging
NYC Department of Buildings
NYC Department of Education
NYC Department of Environmental Protection
NYC Department of Finance
NYC Department of Health
NYC Department of Homeless Services
NYC Department of Parks & Recreation
NYC Department of Sanitation
NYC Department of Transportation
NYC Office of Immigrant Affairs
NYPD
Office of the New York City Comptroller
Office of the New York State Comptroller
YMCA
The event will also offer free document shredding and free mammogram appointment sign-ups. The first 100 people to RSVP to the event will receive a free rain barrel. To reserve a rain barrel call the Assembly Member's office at 718.788.7221 or email carrollr@nyassembly.gov.
The First Annual Brooklyn Answer Fair will take place at P.S. 130, in the middle of the Assembly Member's District 44 which covers sections of Borough Park, Ditmas Park, Flatbush, Kensington, Midwood, Park Slope, Victorian Flatbush, and Windsor Terrace.
"We're hoping a lot of people will turn out," Carroll said, "and that we can keep doing it for years to come."
Brooklyn Answer Fair
Sunday, May 19, 11am to 2pm
P.S. 130, The Parkside School, 713 Caton Avenue
(between East 7th & East 8th Streets)