Asian American Orgs Condemn Support Of Officer Liang, Call For Justice For Gurley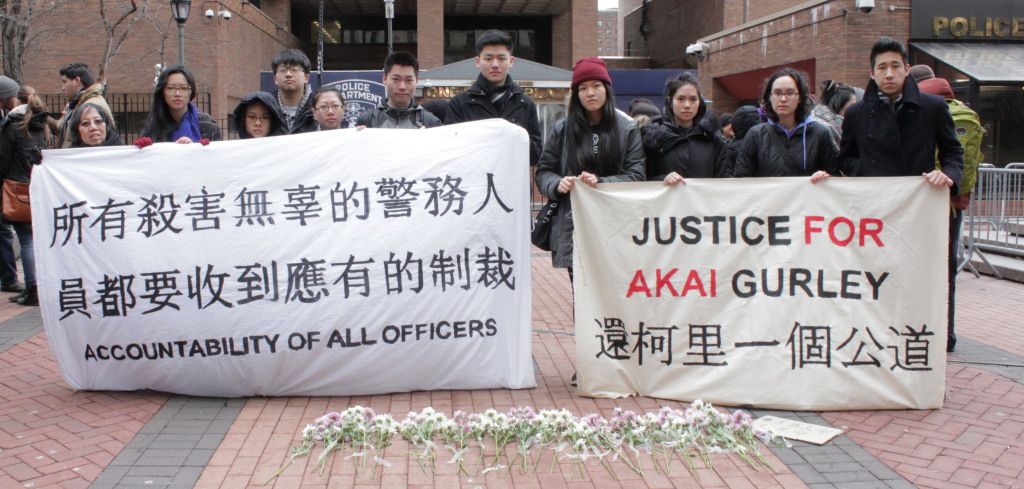 In the wake of calls for justice for indicted NYPD Office Peter Liang, more than fifty Asian American and Pacific Islander (AAPI) groups from across the country have released an open letter calling for justice for the man he killed.
Officer Liang, who is from Bensonhurst, was patrolling the Louis H. Pink Houses in East New York on November 20, 2014 when he accidentally fired a shot into a dark stairwell and his bullet ricocheted, killing 28-year-old Akai Gurley. While the response to the indictment of Officer Liang has been divided, some Asian American activists accuse prosecutors of scapegoating the rookie cop, condemning what they see as unduly harsh treatment, and calling for multi-city protests across the nation.
The latest letter — which is signed by more than 200 prominent Asian Americans, including MacArthur "Genius" and activist Ai-jen Poo, award-winning author Jeff Chang, and blogger and Youtube personality Phil Yu — strongly condemns such calls and expresses support for Akai Gurley's family and all families impacted by police violence:
We strongly oppose calls coming from some members of the Asian American community to drop charges against NYPD Officer Peter Liang for the death of Akai Gurley.
This demand is misguided and utterly hurtful to Akai Gurley's family and to communities that have been subjected to discriminatory and often deadly policing practices across the country.
We stand with Akai Gurley's family and all those who have lost loved ones to police violence.
We firmly believe that Peter Liang must be held accountable for his actions.
Organizations that signed the letter range from national organizations like Asian Americans Advancing Justice and Asian Law Caucus, the nation's oldest legal Asian American civil rights organizations, to grassroots community organizations such as Khmer Girls in Action in Long Beach, CA and Desis Rising Up and Moving (DRUM) in New York.
"Our organizations have released this letter to make clear that there is broad support for Akai Gurley's family and police accountability in the Asian American and Pacific Islander communities, including the Chinese American community," said Cathy Dang, executive director of CAAAV Organizing Asian Communities in New York. "Efforts calling for charges against NYPD Officer Peter Liang to be dropped are divisive, hurtful, and misguided. We should all be standing with Akai's family, who have lost a beloved brother, son, and father, and should be fighting to reform policing practices so that more families won't have to suffer the pain they are going through."
Fahd Ahmed, executive director of the DRUM emphasized that confronting racism in other communities benefits all minorities.
"As South Asian communities, we know that we live in a racist society, in which we often are at the receiving end of racism, and sometimes we benefit from the racism. But the only solution to ending such racism is to fight for justice for all communities, not just only when it harms our communities," he said.
The letter concludes:
There is broad support in the Asian and Pacific Islander community for #JusticeforAkaiGurley and for the systemic overhaul of policing practices and other institutional policies that chronically defund and destabilize Black communities.
This is a flashpoint for Asian and Pacific Islander communities to come together and oppose police violence. In this moment, we stand together to show support for Akai Gurley's family, other families who have lost loved ones to police violence, as well as the broader police accountability movement.
Read the full letter here.