Ashes Of Marvel Comics Editor Scattered Over Captain America Statue In Prospect Park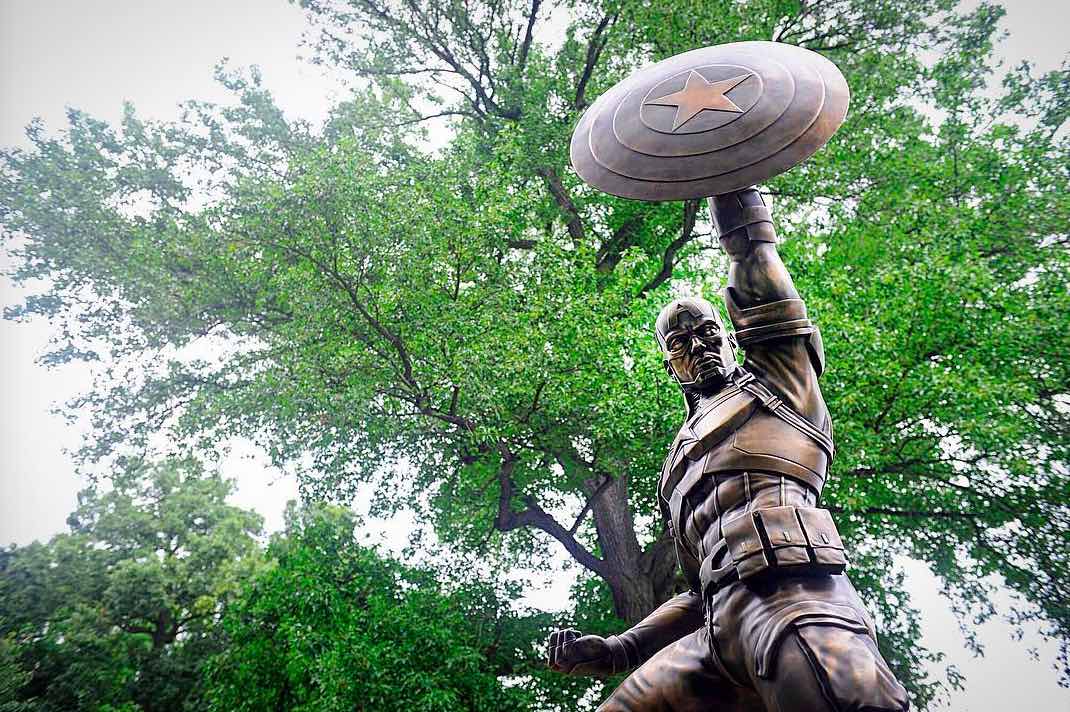 Captain America arrived in Prospect Park yesterday — in the form of a 13-foot tall bronze statue which weights about a ton. And the base of the statue received a dusting of Marvel Comics history.
The fanfare brought out both the curious and faithful to a rainy ribbon cutting near the carousel at the Children's Corner of Prospect Park. The event was presided over by Brooklyn Borough President Eric Adams, who spoke about the character's significance.
The late Marvel Comics editor and writer Mark Gruenwald, who died almost exactly 20 years ago, now has his ashes spread on the iconic character, the New York Post reports.
Following the ribbon cutting ceremony, some of Gruenwald's ashes were scattered by 62-year-old Catherine Schuller-Gruenwald, widow to the the writer.
Schuller-Gruenwald told the Post that her husband "threw himself into his work, literally." The widow referred to his remains as "two scoops of Gru" and dusted the sculpture.
This is not the first time Gruenwald's ashes have been used in a ritualistic way to celebrate his work. According to the Post, he "famously had his ashes mixed with printers ink for a paperback comic-book collection."
Schuller-Gruenwald was stopped by security during her first attempt to spread them. "At first no one cared and then security came over," 30-year-old stepdaughter Sara Gruenwald told the Post. "Obviously Marvel doesn't want dead ashes on their property." But Schuller-Gruenwald was successful in doing so.
The statue has roots of its own in the county of Kings: artist David Cortes is based in Gowanus, reported DNAinfo. He was responsible for the 3-D model of the statue.
"I'm just a kid from Brooklyn" adorns the statue, quoting the erstwhile Steve Rogers in Captain America: The First Avenger.
2016 marks the 75th anniversary of Steve Rogers' creation by Joe Simon and Jack Kirby. The statue heads to Barclays Center next, followed by its tenure in Sunset Park in October.