As Crime Dropped, Anti-Semitic Hate Crimes Soared: NYPD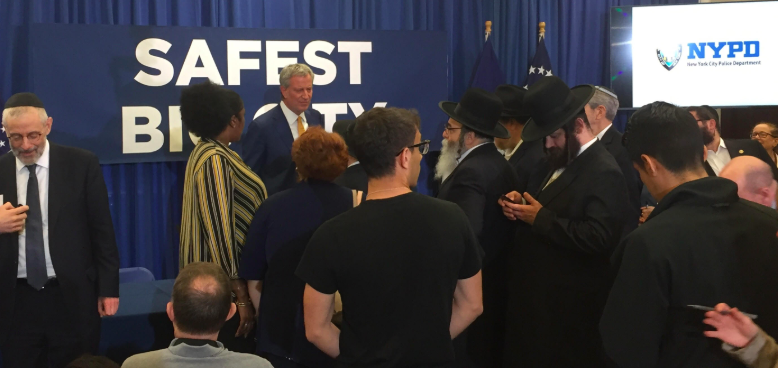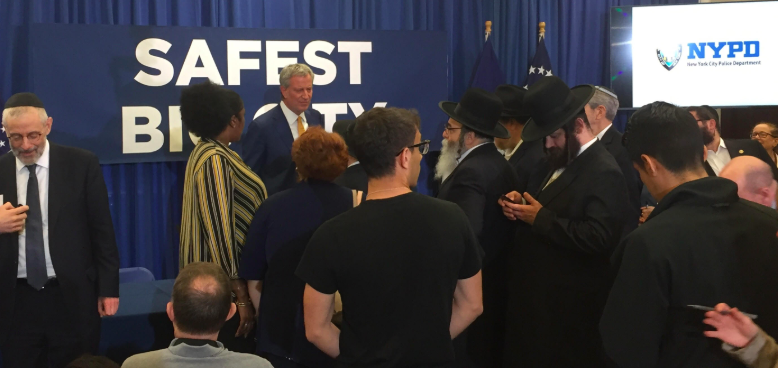 BUSHWICK – While overall crime in the city continues to fall, the NYPD on Tuesday announced hate crimes are up again this year so far, particularly against Jewish people.
As of May 2018, there were 58 reported hate crimes directed at Jews that year, while 2019 as of the end of May has seen roughly double that amount—110 anti-semitic hate crimes—according to NYPD statistics. Hate crimes overall were up 64 percent, the NYPD says, and 60 percent of the total hate crimes were against Jewish people—particular in areas home to many Orthodox Jews. Crime overall dropped through May by about 7 percent from last year.
"One of the areas that we are concerned about deeply is the increase in hate crimes," said Mayor Bill de Blasio at a press conference in North Brooklyn attended by leaders by various Jewish leaders. "In this recent period, the Jewish community has born the brunt, especially."
The mayor also noted that hate crime arrests are up 19 percent compared to as of May 2018.
The NYPD acknowledged there were certain pockets of the city—the 94th and 71st precincts, Williamsburg and Crown Heights, respectively—that have seen a disproportionate amount of anti-Semitic hate crimes. Police officials also said Tuesday that the perpetrators of the hate crimes present no consistent pattern in their ethnicity, ideology, age or criminal history.
"When you look at who we are arresting it runs the gamut," said Chief of Detectives Dermot Shea.
"We definitely see some precincts spiking and taking a disproportionate share of those crimes," he said. "So there are hotspots, if you will, but that's not to say that it's confined solely to that. Over time you tend to see it in certain neighborhoods more often, but in any given year you will see ebbs and flows."
Shea went on to say that there are small instances spread across the city, including the 19th precinct on the Upper East Side.
In addition, Mayor de Blasio noted that while the national political environment, where right-wing white nationalism is ascendant, is distinct from what's happening in New York City, it still affects what happens in the city.
"I think here it's a different reality in some ways, but that national backdrop sure doesn't help," said de Blasio. "I think it's put a lot of people on edge and it's created a lot of division."
More broadly, de Blasio, in response to a question about a supposed uptick of anti-Semitism on the left, said the right both historically and today is the driving force behind anti-Semitism worldwide.
"The ideological movement that is anti-Semitic is the right-wing movement," said the mayor.
The press conference came as the mayor announced in a press release that Office for the Prevention of Hate Crimes will be open this summer.
"The Office for the Prevention of Hate Crimes will work to root out hate and make our streets safer, which is why we're moving up the timeline and opening the office months ahead of schedule," de Blasio said in the release. "We will never stand idly by while our fellow New Yorkers are targeted because of their race, religion, sexual orientation or any other quality that makes them who they are."
Additional reporting by Olivia Oldham.