Arts for Transit Rocking Chairs Installed at Avenue H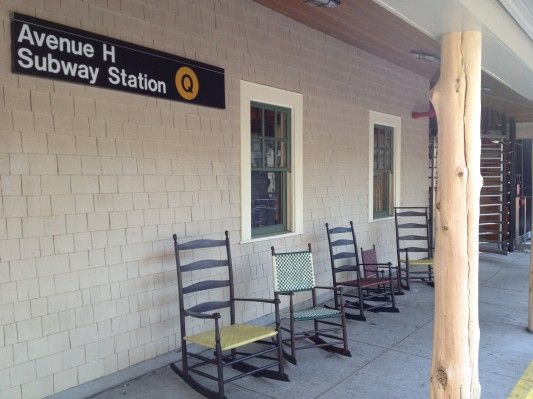 The five stationary rocking chairs of the Arts for Transit installation called "Brooklyn Bucolic" by artist Ed Kopel are finally in place on the porch of the landmarked Avenue H station house. And yes, you read that right, they are non-rocking rocking chairs. That's not the only fake-out – while the chairs look like they're made of wood and wicker, they're actually completely bronze.
When the installation was first proposed, several neighbors raised concerns that the chairs would invite people to loiter, leave trash and cause trouble.
"Hanging out has been an issue for the 70th Precinct, with people loitering and sometimes doing less than legitimate things," neighbor Fred Baer told the Brooklyn Daily in 2010.
One indication of what kind of police activity goes on in that area already is the stop and frisk map that WNYC put together, which shows that in 2011, in the block where the station house is, from the train tracks to E 17th St, 180 stops were made – a higher number than most blocks in the area, which is typical of blocks near subway stations in our neighborhood.
When we passed by, people were already enjoying the chairs, there didn't seem to be any litter, and one child was a little annoyed when he realized they don't rock (they stand still because of "safety concerns"). We have to admit they look pretty cool, and they fit nicely with the beautifully renovated house. Have you been by to see them yet, and what do you think of them?
There was some talk about a ribbon cutting ceremony for the station house once the rocking chairs were installed – we'll let you know if and when that is scheduled to happen.