Artist Explores Biblical Themes Through West African Storytelling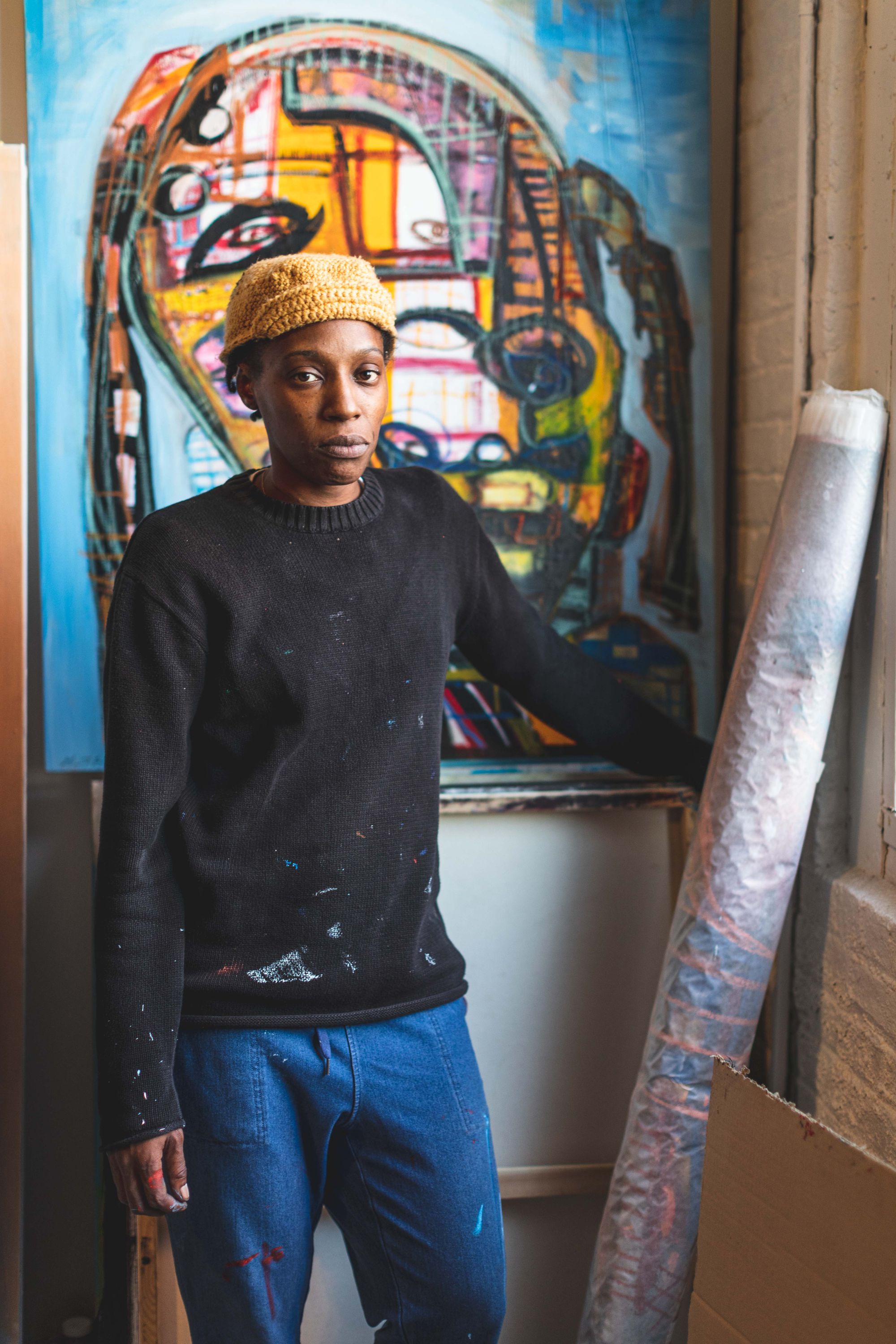 BEDFORD-STUYVESANT – It's hard not to notice the synergy between artist Genesis Tramaine and gallery owner Richard Beavers. They share a spiritual faith that God's hand is guiding their individual life journeys, which led their paths to cross. Their unusual first meeting nine years ago has resulted in a successful collaboration.
Nearly a decade before Tramaine's rising star status, she attended an exhibit at Beavers' gallery and struck up a brief conversation. Mid-sentence, she fainted, and Beavers caught her in his arms, he recalled during our interview. Tramaine's friends whisked her out of the gallery before he learned her name or that she was an artist.
Nine years later, Beavers noticed on Instagram that a client purchased one of Tramaine's paintings and posted it on the social media platform.
"The painting immediately grabbed me," Beavers reminisced. "I reached out to her, not making the connection that she was the same person who fainted in my arms nine years ago. This is all divine intervention. Maybe nine years ago I was not ready for her truth."
Beavers was impressed after seeing Tramaine's body of work at her studio. That led to a successful first solo exhibit at his gallery of Tramaine's "God is Trans" series, in which she explores the all-encompassing nature of God and challenges the traditional idea that God has gender. Now the duo has teamed up for a second time.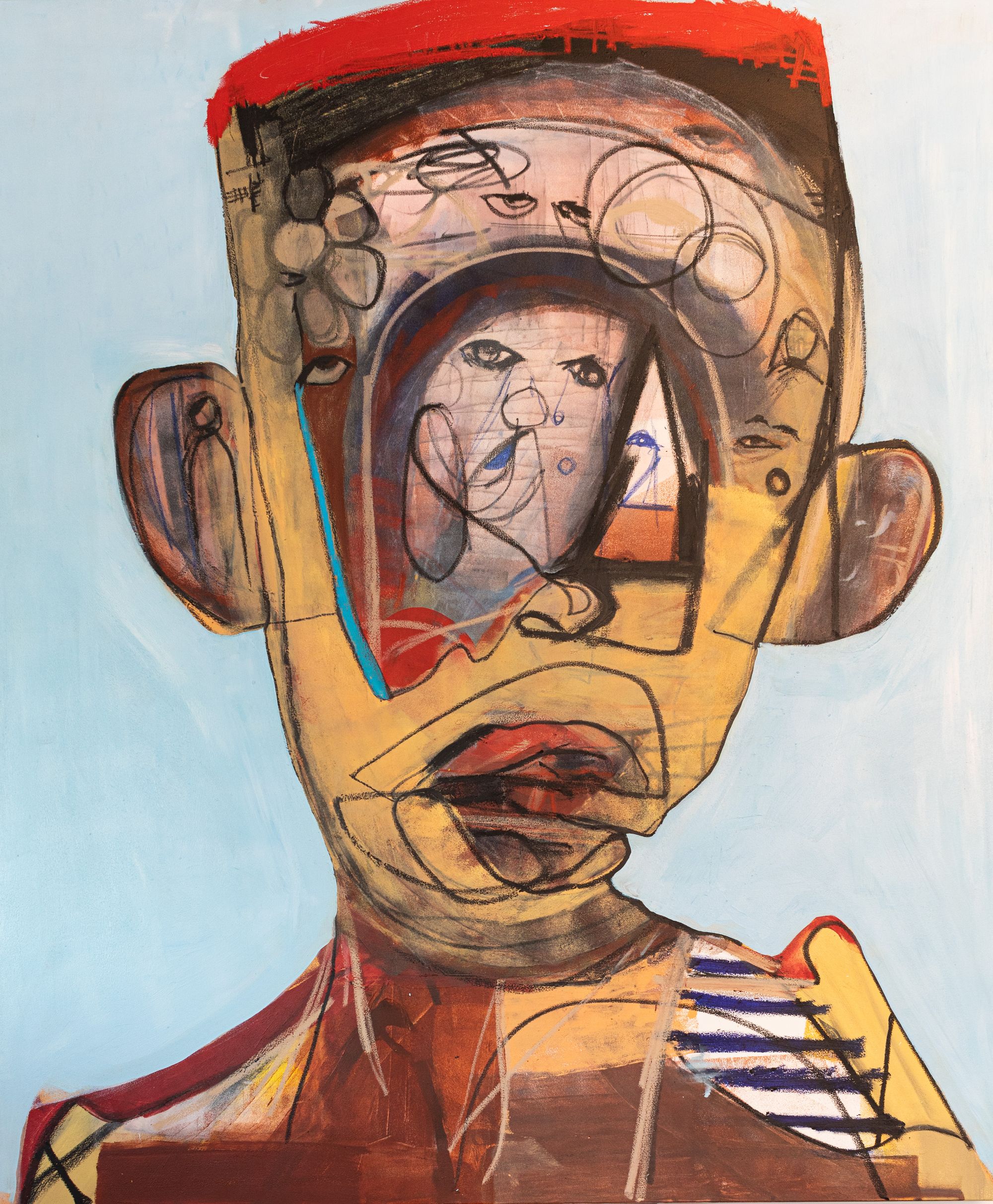 On November 9, the Richard Beavers Gallery in Bed-Stuy, one of the relatively few Black-owned galleries in the nation, will host a solo exhibit of Tramaine's paintings titled, "Hebrew Boys: Portals of Faith."
The collection explores the story in the biblical book of Daniel about Hananiah, Mishael, and Azaria (later and better known as Shadrach, Meshach, and Abednego). According to the story, through God's intervention, the faithful young men emerged safely from Babylonian King Nebuchadnezzar's fiery furnace after refusing to submit to idolatry.
In this new series of abstract paintings, Tramaine visually examines the trio's faith. She illustrates their perseverance through what she calls "portrait portals" – windows into one's collective history that determines one's future. Tramaine uses traditional West African storytelling techniques and symbolism to convey her message.
The urban contemporary artist grew up in Brooklyn's Lafayette Garden Housing project. In October, Tramaine made her international debut at Paris' Almine Rech Gallery in a group exhibit. Her domestic resume includes exhibitions at Governors Island and a solo show at SCOPE Miami Beach in 2018.
An integral part of Tramaine's method includes staying in constant contact with God through prayer.
"I only paint when my prayers tell me to. A painting doesn't always come out of prayer. The prayer is to be a vessel. The prayer is to be of use to God," said the artist whose first exposure to fine art came as a child looking through her grandmother's Bible which had images of artwork depicting biblical characters.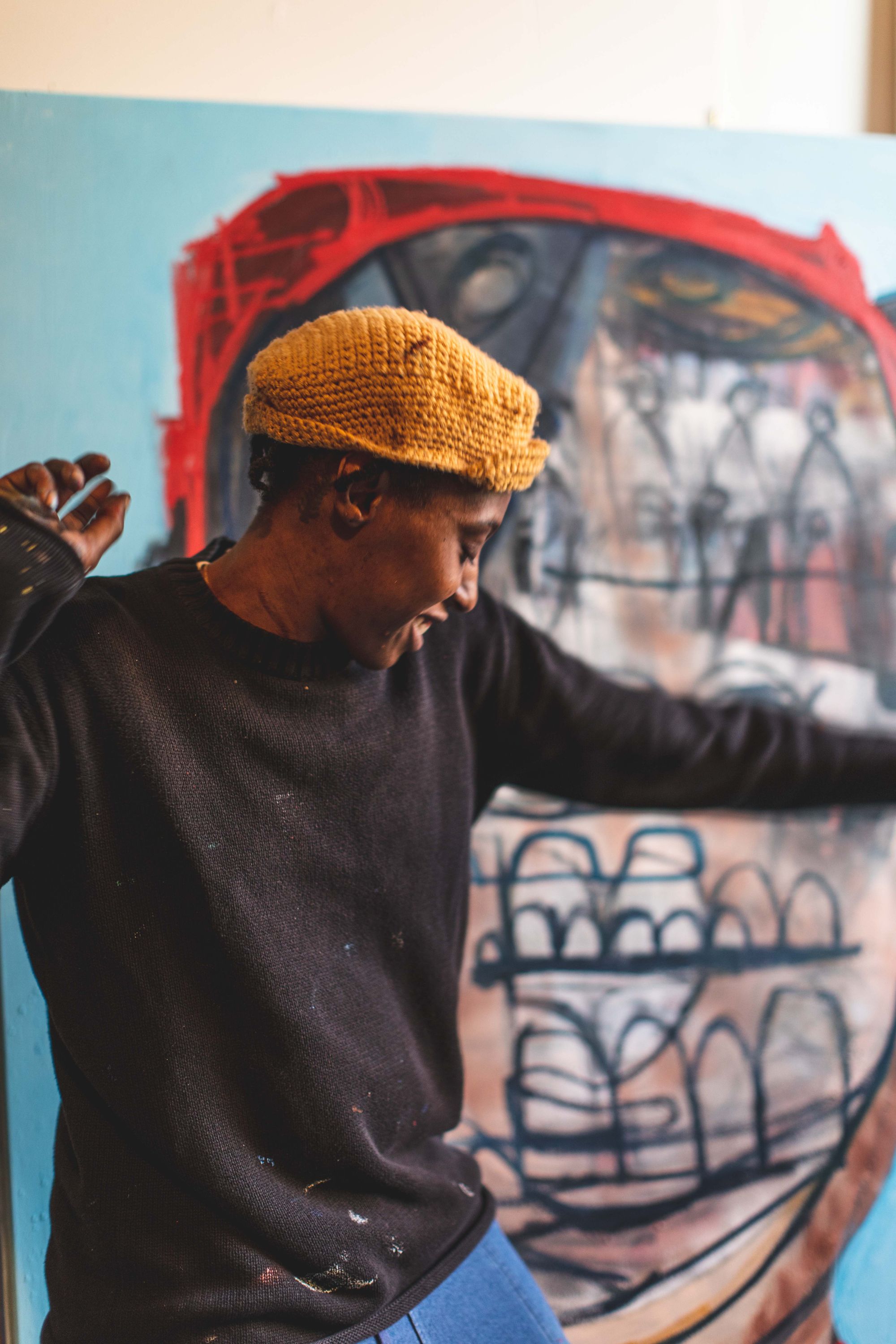 While thumbing through those images, Tramaine recalled asking herself, "Where are the Black people?"
"I would ask, where are the Black people Nana? She would say, 'look a little closer, they must be in there somewhere,'" Tramaine said, remembering a conversation with her grandmother.
Since childhood, Tramaine said she has been creating biblical-themed artwork that speaks to and connects with African-Americans.
A devastating fire in Tramaine's home inspired the Hebrew Boys collection, she explained. In her prayers, Tramaine demanded to know from God why he allowed the blaze that destroyed nearly everything except her paintings and her cat.
"I had to go back to the Bible on this," she said, "and pull up all references to fire." In the end, she created a series of paintings that testify to the faith and resiliency of the Hebrew young men in the king's furnace.
"Genesis' message and using biblical figures and to tell the stories of the Bible was something that I had never encountered before in an artist," Beavers said. "So, I'm always looking for what artists are doing uniquely and distinctively different. Aside from her being a brilliant painter and technician, her work has a message that really resonates with me."
Hebrew Boys: Portals of Faith opens on November 9, from 6 p.m. to 9 p.m. and continues through December 14. An artist talk is scheduled at the gallery for November 17 at 3 p.m.
Richard Beavers Gallery is located at 408 Marcus Garvey Blvd., at the corner of Halsey Street.