Be Tantalized At Aqualina Cafe, Crab & Seafood Bistro (Sponsored)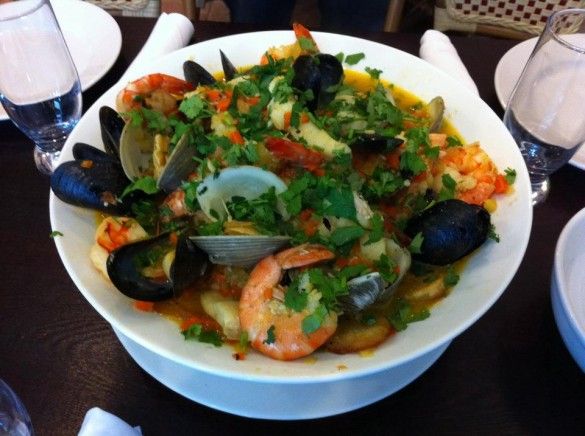 This is a paid announcement from Aqualina Cafe, Crab and Seafood Bistro.
Aqualina Cafe, Crab and Seafood Bistro, located at 181 West End Avenue, is Manhattan Beach's newest cafe. Executive chef Paul Grafman takes the eclectic cuisine of his Russian, Greek, Ukrainian and French roots, and uses classic French techniques to add a sense of comfort food to each bite.
Chef Grafman comes from generations of remarkable cooks, whose eclectic cuisines were taught to him at an early age. This allowed him to embrace his family's multi-cultural influences in his own cooking. Grafman spent his early years studying his family's vast library of cook books  from world renowned chefs, and mastered  his family's closely guarded recipes. Now, using his classical French training, Grafman adds his own flair by imprinting his style on every dish.
After graduating from LaSalle Military Academy and venturing off on many business pursuits, Chef Grafman realized his greatest passion in life was in the culinary arts. He awakened his dream by graduating from The French Culinary Institute in New York City in 2009. There, Chef Grafman was taught classic French cuisine by the "creme de la creme" of chefs. In August 2009, partnered with his family, Chef Grafman opened his first restaurant; the much honored Buccaneer Crab House in Freeport, Long Island.
Today, Chef Grafman is tantalizing palates at Aqualina Cafe, Crab and Seafood Bistro, taking the finest cuisine, reinterpreting it into heavenly, comfort, gourmet food, by building a haven of culinary delights, one delicious meal at a time. Aqualina's menu includes amazing dishes such as Fisherman's Stew (pictured), Soft Shell New England Clam Chowder, Baked Whole Bronzini, Braised Short Ribs, Seared Duck Confit, their world famous Crabs ad of course fabulous desserts. Come, have dinner with us!
Aqualina Cafe, Crab and Seafood Bistro, 181 West End Avenue, (718) 676-5939.
The above is a paid announcement by Aqualina Cafe, Crab and Seafood Bistro. Sheepshead Bites has not verified the claims made in this advertisement. If you own a business and would like to announce a special offer to tens of thousands of locals, e-mail us at advertising [at] sheepsheadbites [dot] com.