Another Potential NYC Landmark On The Chopping Block: Coney Island's Pumping Station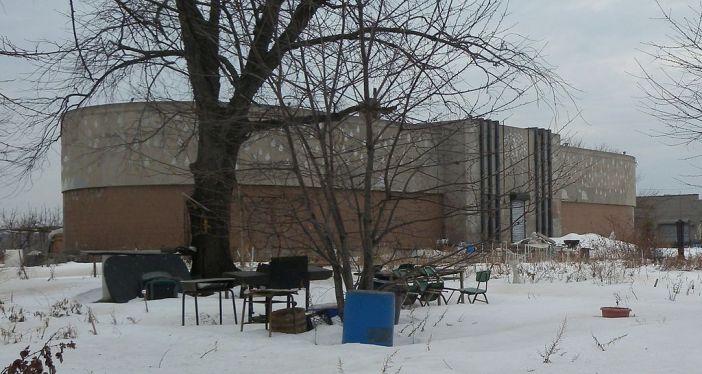 The city's Landmarks Preservation Commission (LPC) had planned to remove 98 sites from its list of potential landmarks this week – an effort to clear a backlog of applications. On the list was the historic Lady Moody's House in Gravesend, which has been around almost as long as Gravesend itself.
Fortunately, thanks to pushback from politicians and preservationists, the vote was postponed until after January.
But there is a lesser-known historic site at risk of demolition in our backyards: The Coney Island Pumping Station.
The fire station (located at 2301 Neptune Avenue) is a rather neglected, oval-shaped building made of pinkish limestone that borders Coney Island Creek on Neptune Avenue. The pumping station was designed in 1938 in a distinctively Moderne style by famed architect Irwin Chanin, who is best known for impressive landmarks like the Century and Majestic apartment buildings on Central Park West. Most eye-catching are the prismatic, jewel-shaped windows, made from nickel, silver, steel, aluminum, and granite, that trim the building's outer walls. Matching black, granite columns line the front door.
The facility was once flanked a pair of twin prancing Pegasus statues, also made of limestone, but they were moved to the Brooklyn Museum in the 1980s.
Initially, the station was built with the intention of combatting the fires that were a common occurrence at Coney Island's Dreamland in the early 1900s.
The station was shut down in the 1970s due to its outdated pumping design and has remained abandoned ever since. Not for lack of trying, though. In 1980, the Coney Island Pumping Station was brought before the LPC for landmark consideration, but by that time the pumping station was overgrown, and vandals had stolen pieces of the windows and chipped away at the building's exterior. After someone ripped the ears off of the stallions, Charles Savage, who was the director of the Landmarks Commission's architectural salvage program at the time, had them moved to the Brooklyn Museum.
In 1990, the city designated $23 million of capital funds to revive pumping station and turn it into homeless shelter, but nothing came of the plan. Most recently, Charles Denson, director of the Coney Island History Project, proposed using the property for a "constructed wetland" bio-filter demonstration project on Coney Island Creek, as part of the city's  participatory budgeting initiative.
"This project would demonstrate the benefits of natural filtration as a way to clean Coney Island Creek's storm sewers using natural methods of wastewater treatment," he wrote in his proposal.
Let's hope someone finds a use for this rare gem of building, lest it be forgotten for good.