Another Chance To View Space Shuttle Enterprise, Will Give Waterfront Show As It Travels By Barge To Intrepid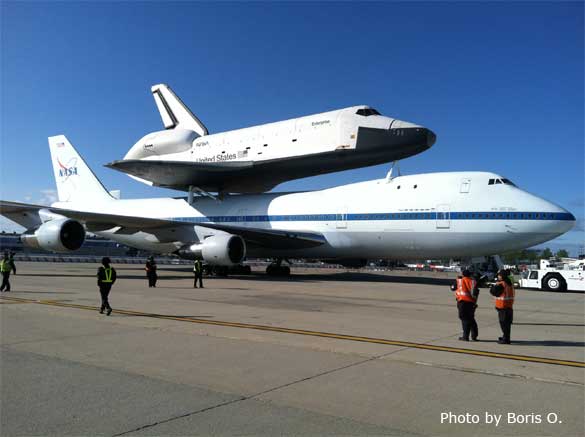 For those of you who missed the Space Shuttle Enterprise as it flew over Manhattan and Brooklyn strapped to a Boeing 747 in April, don't despair! Sheepshead Bay and other Brooklyn waterfront communities are being treated to a very special show, as the shuttle makes its way by sea from John F. Kennedy International Airport to the Intrepid Sea, Air and Space Museum.
The journey is actually a five day event, having started this morning and continuing until Tuesday. But the real show for the public is on Sunday, when it travels through Jamaica Bay, around Floyd Bennett Field, underneath the Marine Parkway – Gil Hodges Bridge, past Kingsborough Community College through the Rockaway inlet, around Gravesend Bay and underneath the Verrazano Bridge.
It kicks off on Sunday at 7:45 a.m., as a barge carrying Enterprise will depart JFK Airport, towed by a tugboat, and will travel along the shore of Queens and Brooklyn, passing the Gil Hodges Memorial Bridge at 3:30 p.m.; Coney Island at 4:19 p.m.; and under the Verrazano Bridge at 5:34 p.m.
All times are approximate, and depend on tides, rain and wind.
Today at 7:00 a.m., the Enterprise was moved to a spot near the water on the grounds of JFK Airport, rolled on the trailer it was placed atop after being demated from the 747. It stays there until tomorrow at 4:00 p.m. when the Enterprise will be lifted by a crane and placed on a barge over the course of three hours.
On Sunday, it makes the trip noted above, and after passing under the Verrazano Bridge, it heads – gasp! – to Port Elizabeth, NJ, where, well, it just chills for a while. All through Monday, actually. Maybe they want to give the shuttle a bit of appreciation for New York City by making it suffer such an awful fate for a day and a half. Who knows.
Anyway, the journey resumes on Tuesday at 9:15, as the barge and shuttle leave New Jersey, passes the Statue of Liberty at 9:50 a.m., the World Trade Center at 10:40 a.m. and up the Hudson River to the Intrepid Museum at 11:30 a.m.
A crane will lift the shuttle off the barge and onto the flight deck, facing it towards the Hudson River.
The Enterprise will be on exhibit to the public beginning July 19.