Another Blizzard! Here Is Your Cancellation Roundup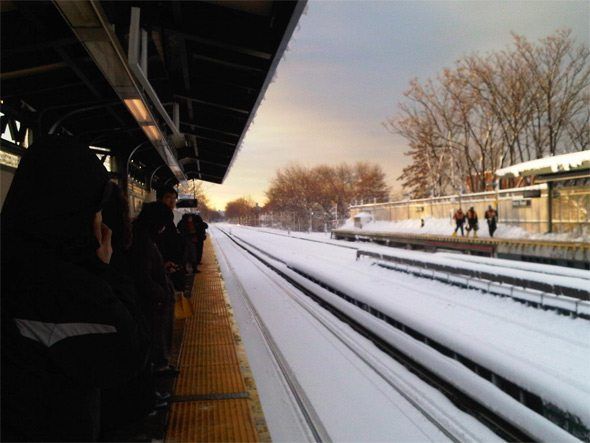 UPDATE #2: Tiffany now reports that – an hour after the MTA's original notice that the Q is running – it is finally doing just that, and in both directions, too!
UPDATE: One reader is telling us that, despite what the MTA says on its website and through its alert system, the subway is not up and running. Tiffany Y. writes:
I am so frustrated with the MTA!  I get to the station and no trains are running at all even after when I got the below emails from the MTA:
On Thu, Jan 27, 2011 at 8:02 AM, Subway-Bus@alerts.mta.info <Subway-Bus@alerts.mta.info> wrote:
N & Q train service has resumed with residual delays.
On Thu, Jan 27, 2011 at 8:01 AM, Subway-Bus@alerts.mta.info <Subway-Bus@alerts.mta.info> wrote:
B train service has resumed residual delays.
That's so not true!!  I showed the email to the station agents and they told me that it's BS because only test trains are running on the tracks and that's only to clear the snow, but they're not ready to fill the train with passengers!! How is the MTA going to send email and text alerts that's not true?? I have also attached pics for you.
Has anyone had any luck with the train?
Original article:
Well, here we go again.
The MTA has suspended all bus and Access-a-Ride service due to the blizzard, and the city continues to ask that you do not attempt to drive today.
Subway service has been restored as of 8:00 a.m. today, showing a quick turnaround. The Q line had been suspended between Stillwell Avenue and Prospect Park throughout the early morning.
As most are already aware, schools are closed today.
And, of course, with crazy weather comes crazy photos. Send you Sheepshead Bites blizzard photos to nberke [at] sheepsheadbites [dot] com!