ANNOUNCING: A Taste Of Sheepshead Bay (Oct. 27)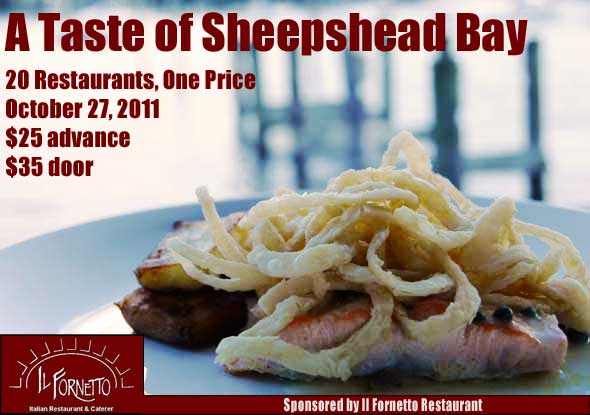 Sheepshead Bites is proud to present A Taste of Sheepshead Bay, the first time in recent history that residents and food critics will be able to sample offerings from 20 local food establishments in one place for one price, while also enjoying live entertainment and affordable drinks.
Our mission is clear: to put Sheepshead Bay back on the map as one of the city's most diverse and delicious culinary hotspots.
The event is designed to keep to the overarching philosophy at Sheepshead Bites that strong democracies are built on strong neighborhoods, and strong neighborhoods are built on strong local businesses. A Taste of Sheepshead Bay will shine a spotlight on the neighborhood's best restaurants, by exposing residents and the city's food critics to the varied but unheralded food establishments spanning our community, increasing their profile and bolstering local commerce.
The event will include:
Samplings of dishes from local restaurants
Live music throughout the evening
Full cash bar
Free valet parking
Limited edition restaurant guide, featuring the event's participants
And more!
The event is sponsored by Il Fornetto, Sheepshead Bay's premiere waterfront restaurant, and will feature other neighborhood staples like:
Chicken Masters
Liman Restaurant
Randazzo's
Arbuz
Coney Island Taste Peruvian Restaurant
Anthony's Place
Jay & Lloyd's Kosher Deli
Top Brgr
and many more.
Attendance for the event is limited to 250 and tickets are now available here.
SPECIAL OFFER:
The first 50 customers to buy tickets online will receive a $5 discount per ticket, reducing the price to just $20 for 20 restaurants! SOLD OUT!
After the first 50, the remaining tickets can be purchased online for $25, or at the door for $35 (cash only at the door).
EVENT DETAILS – TASTE OF SHEEPSHEAD BAY
WHEN: October 27, 2011 at 7:00 p.m.
WHERE: Baron DeKalb Knights of Columbus (3000 Emmons Avenue)
COST: $25/advance; $35/door