Anatolian Gyro: Octopus Salad – The Bite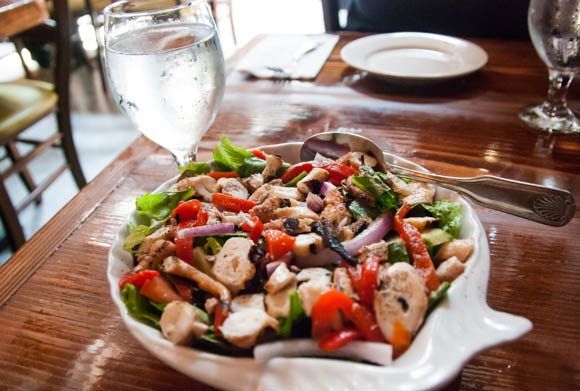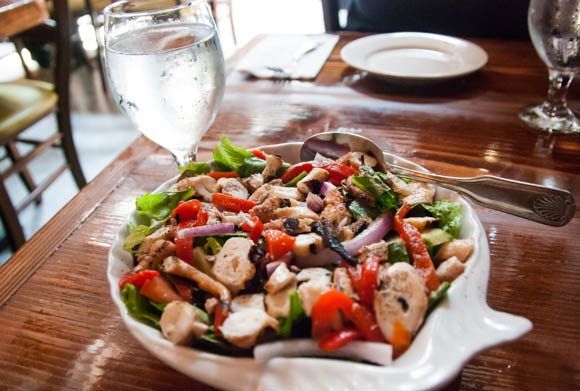 THE BITE:
Most people know by now that Anatolian Gyro has moved off of Sheepshead Bay Road, around the corner to East 16th Street. What many might not realize is that they've also added a few new items to the menu.
Among them? The octopus salad ($13.50), sure to become a staple of this writer's diet.
Anatolian Gyro will be one of the 21 delicious restaurants at The BITE, the new name for A Taste of Sheepshead Bay, taking place on Thursday, May 28, 2015. Get tickets now!
Let's back up to the new digs. We don't usually write about a restaurant's physical space on The Bite, but the storefront deserves some attention. It's very industrial chic, with bare cement floors, natural lighting and spartan decor.
Some might call it "Williamsburg-esque," but I – and the restaurant's owner, Metin Turan – call it pragmatic. Flooded out during Superstorm Sandy, Turan went for the hardscrabble look not just because it's what passes for cool, but because it'll be easy to clean out and restore if another flood occurs, allowing him to get back to business that much faster. Other local business owners should take note; pragmatic, flood resilient design should be the new normal around here.
With the location change, Turan has also moved around some staff, swapping talent here and there between Anatolian and his other area business, the Amberjack dinner-cruise ship.
That's where the octopus salad and other menu changes come in. I ate it once shortly after the Amberjack's opening and have craved it since. However, the Amberjack switched to a chartered operation, which means I couldn't just walk in and demand my tentacled delight unless I had a bar mitzvah to celebrate or something.
Fortunately, it's now available for landlubbers at whim at Anatolian – and it was just as good as I remembered.
Served in a large, deep dish and hearty enough to be a meal by itself, the salad isn't just tasty, it's a visual treat. Mixed greens are tossed with tomato, cucumber, purple onion and red peppers – and all the colors pop. An entire char-grilled octopus is sliced and spread over the top. It's finished off with a proper dousing of vinegar and olive oil, with some fresh lemon juice and black pepper to boot.
The star here is, of course, the octopus. It was perfectly cooked – not chewy, not mushy; the large and mid-sized chunks a tender treat infused with a smoky flavor from grilling over hot coals. The tiniest of tentacles charred over the flames provided all the crunchiness in this dish, and it was marvelous. Croutons need not apply.
The whole thing is lent additional flavor by the vinaigrette. It's a pretty standard dressing, but the freshness of the pepper stood out and was complemented by the fresh lemon juice, and both tamed any overpowering flavor of char from the octopus without wiping it out. It also seems the restaurant's chefs have gotten the portion size down to a science. When I finished the last bits on my dish, there was not a drop of the dressing stewing at the bottom, a common faux pas at establishments looking to compensate for a lesser salad.
But Anatolian? No, nothing to compensate for here.
Anatolian Gyro, 2623 East 16th Street, between Avenue Z and Sheepshead Bay Road,  (718) 769-4754.
The Bite is Sheepshead Bites' weekly column where we explore the foodstuffs of Sheepshead Bay. Each week we check out a different offering from one of the many restaurants, delis, food carts, bakeries, butchers, fish mongers, or grocers in our neighborhood. If it's edible, we'll take a bite.