An Author Visits Maurice Sendak's Childhood Home And Asks, "Where The Wild Things Were?"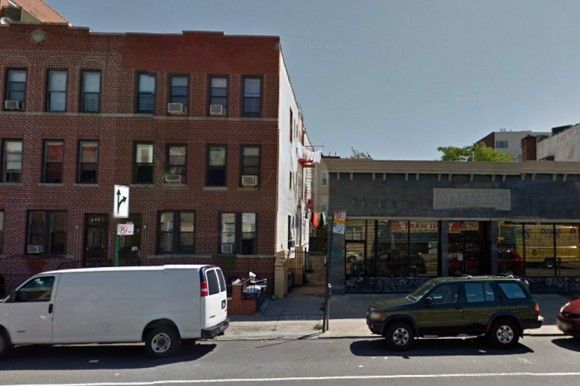 Bensonhurst (or Gravesend)-born creative legend, Maurice Sendak passed away earlier this year. The art and literary world were abuzz with recollections of Sendak's humility and great talent. One such writer, albeit unintentionally, went a step further.
Celia Blue Johnson and her young family were looking to escape a lead paint-filled apartment in Park Slope and moved to a little place on Bensonhurst's residential streets, just a few blocks away from Sendak's childhood home at 1717 West Sixth Street.

Prior to the move, she had the fortune of interviewing Sendak for Slice Magazine. Later, when she realized just how close she was to his home, she chronicled parts of her stay there.
She wrote evoking the imagery Sendak used to tell his tales, in the hopes of discovering where the wild things actually were.
Every great story has to start somewhere, and Sendak's started on West Sixth.
"They might easily have taken a bite out of us," he told Celia Blue Johnson and her co-author for the Slice piece. He was referring to his relatives arriving for Sunday night dinner. Turns out, according to Johnson, the wild things were Sendak's aunts and uncles. Originally, they were going to be horses, but Sendak couldn't draw horses at the time.
His editor asked him, what is wild in your life? Sendak answered in that way that only someone with a great sense of humor could.
"Relatives," he said referring to the stampede of family members that marched through his home for their weekly get-togethers.
Johnson, on a venture to the steps of Sendak's Brooklyn home, "buckled Patricia [her daughter] into her stroller and set out to see 1717 West Sixth Street."
On her way, she noted the things that make childhood memories in Southern Brooklyn so interchangeable with the time of Sendak's youth and today.
"Two boys on scooters paused to whisper before zipping into a driveway," she wrote. "A young girl peddled furiously on her tricycle. Her mother walked briskly behind, a baby on her hip…My daughter babbled in her stroller. It seemed, in that moment, that this is where the children are—where Sendak had been—and where they always would be."
When she reached the destination, there was no plaque at his old address notifying fans that this is where Sendak the young boy would become Sendak the illustrator and children's author.
Johnson found a silence protruding from his old apartment windows.
"The only sign of activity stretched from the top floor on the right side of the building: clothes pegged neatly onto a line, arranged by size, from baby to adult. The pulley at the end of the line seemed to hang mid-air. I wondered about the children who wear those clothes. When they look out the window towards the Coney Island shore, what shapes emerge in the clouds?" she asked.
It seems that for Johnson, the spirit of the neighborhood remains the same. The people may have changed, condos replaced family homes and apartment keys changed hands, but for children in Bensonhurst, there is still magic.
Sendak was a staunch defender of childhood, giving children every opportunity he could to relish in that magic with every imaginative book he released.
Johnson adds, "In Sendak's own words, 'There's nothing respectable about childhood, nor should there be.' To think that as a boy, he raced and rebelled and dreamed on these streets, too."