An Amusement Park In Jamaica Bay? That Was The Plan In 1910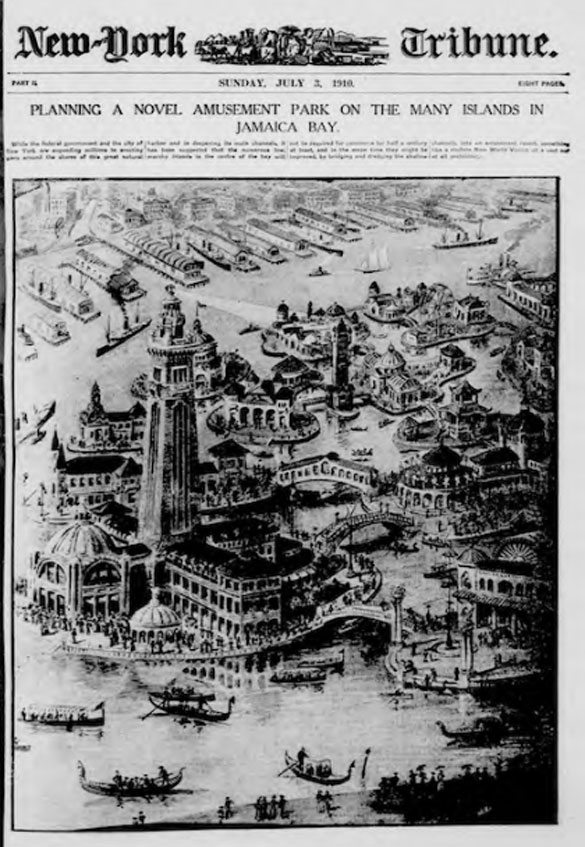 Flavorpill published this great piece yesterday, listing some of the worst development ideas for New York City that never materialized. One of them was this nifty little amusement park, a Coney Island on the islands of Jamaica Bay, and boasting a Venetian theme.
Apparently, in the years around 1910 the government was spending boatloads of money "erecting piers around the shores of this great natural harbor," the blurb above the caption states. "It has been suggested that the numerous low, marshy islands in the centre of the bay will not be required for commerce for half a century at least."
And, shoot, if no one else is using it other than some pesky birds, fish and other wildlife, why the heck not turn it into an opulent resort and amusement park, a la Coney Island?
That was the thinking of these planners, who envisioned "something like a modern New Word Venice, at a cost not at all prohibitory."
At least according to the illustration, the plan would have built up a dozen or so of the marsh islands, connecting them with footbridges and spurring what I assume is the world's second largest gondola industry. And, hey, two or three phallic structures just for the heck of it.
Have we mentioned that many of these islands have eroded away over the last 100 years, and the Army Corps of Engineers is routinely shoring them up for both coastal storm protection and wildlife habitat?
I can't help but wonder what Sandy would've done to something like this if it was built.
Our friend Dan Hendrick was the first to point it out to us on Twitter:
But, you know what? Hendrick might be glad the plan never materialized, but I think the environmentalist in him should see the benefits this would have brought.
For example, I doubt they'd put a natural gas pipeline and metering station in an amusement park…
Images via Chronicling America