An American Tale: Former Sheepshead Bay Resident Makes It Big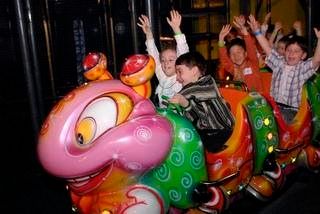 Elvira Grau (née) Kucherwhat was nine years old when she moved from the Ukraine to Sheepshead Bay. Aside from the language difficulties one faces when moving to another country, she also had to overcome learning with dyslexia.
Grau made it through school, assimilated as best as possible and went to a community college. Finally, after years of hardship, she started to see the light at end of the tunnel when she started a job selling TV and radio commercial spots for Blair Television.
"I had a learning disability, but I knew I was smart and I had a big personality," she said to Crain's New York.
Here's how Crain's described how Grau ended up rocketing to success by launching an enormous play space in New Jersey:
That "it" girl quality and her tenacious spirit caught the eye of Jim Grau, the man who hired her to sell advertising space for the Russian-American Broadcasting Co. in 1996. Two years later, they were married, and their daughter was born in 2001.
Not long afterward, Ms. Grau launched Space Odyssey USA, a 26,000-square-foot Englewood, N.J.-based party space filled with high-tech video games, laser tag, paintball, glow-in-the-dark bowling, a three-level indoor playground, a train ride and a nightclub. Space Odyssey USA books 30 parties per weekend, for an average of $600 for 15 children.
Ms. Grau likes to say necessity is the mother of invention—or in her case entrepreneurship. After Ms. Grau's daughter was born, she often found herself caring for three children under 5 (in addition to her daughter, her husband shared custody of two children from his previous marriage) and her son, who was 9.
Thinking of ways to entertain the four children simultaneously was a bear.
"I'd take my daughter to Gymboree, but my son wanted to go to Dave & Busters," said Ms. Grau, referring to the restaurant and arcade. "Why not put all these things and then some in one giant space, I started thinking?
And the rest, as they say, is history. But it's a history that may be documented, as Grau has caught the eye of reality TV producers, who are considering Grau for a show. She's also considering new business ventures. Check out Crain's for the full story of this rags to riches story that kicked off in Sheepshead Bay.