Almost 3 Years After Sandy, Coney Island Cathedral Gets The Repairs It Deserves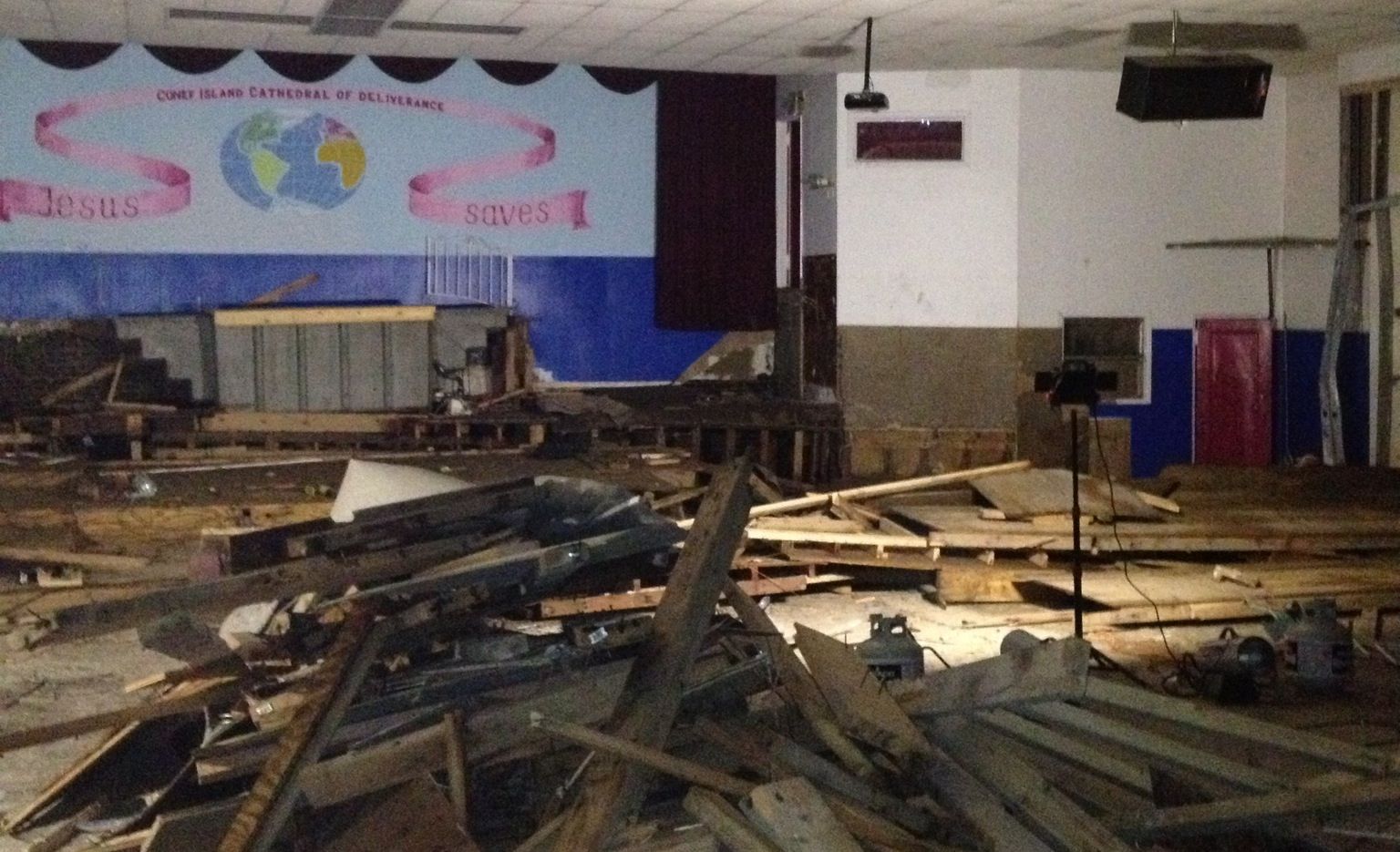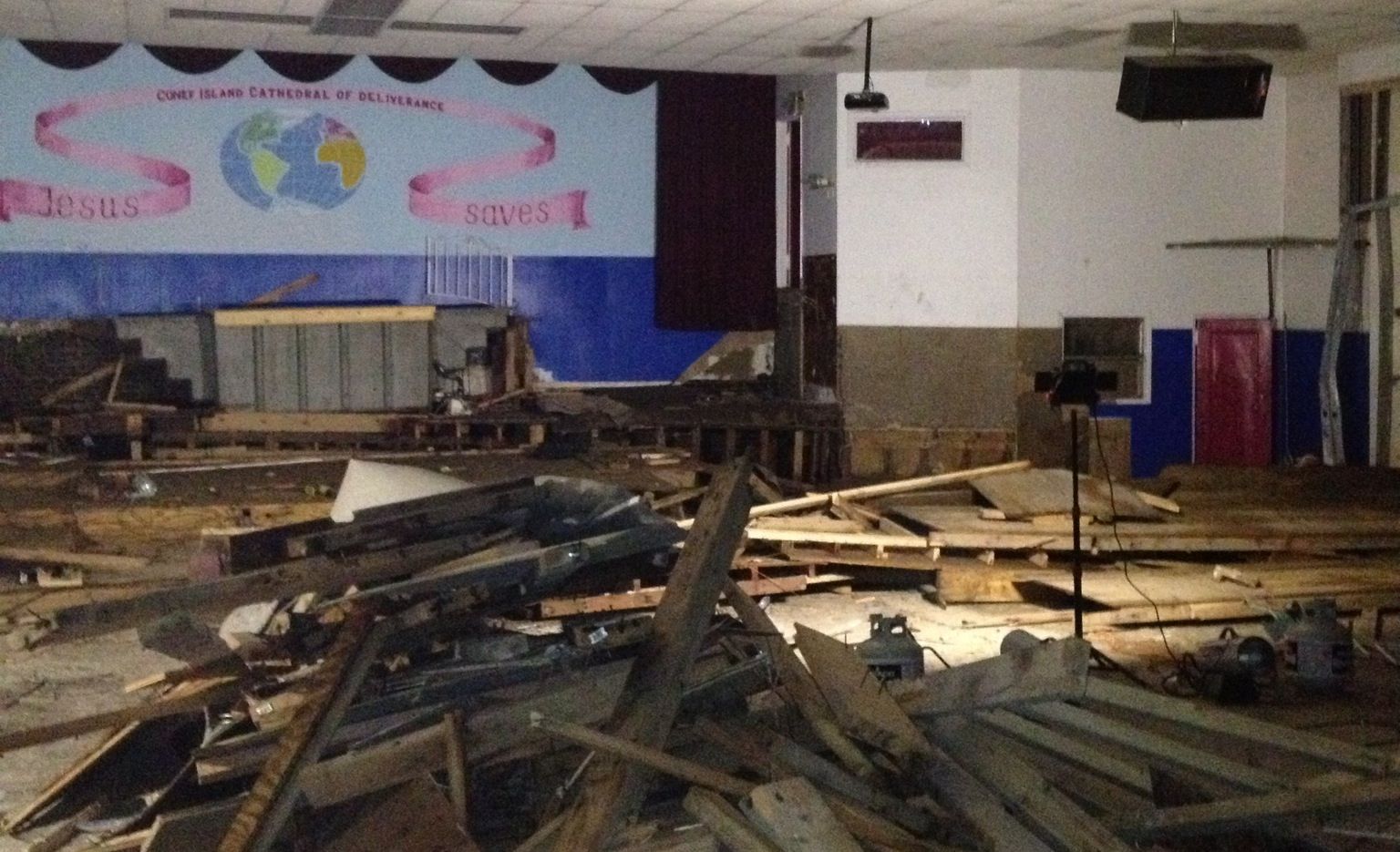 Despite serving as a hub for disaster relief efforts in the desperate months after Superstorm Sandy, Coney Island Cathedral, the neighborhood's largest church, was denied government assistance to help rebuild. Due to federal laws that prohibit FEMA money from going to religious groups, the congregation has been holding weekly services for almost three years among the bare walls and exposed wiring of their ruined church.
"I've always been determined that, even after the storm, I wouldn't close down the church. We would continue to be open for services, and continue to be there for the community," said Coney Island Cathedral's bishop, Waylyn Hobbs.
After years of holding Sunday services with folding chairs and a portable stage, Coney Island Cathedral can finally rebuild thanks to $280,000 provided by the Christian relief group Samaritan's Purse. Hobbs said the money will go towards restoring the walls and floors, putting in new doors, and installing better plumbing and electrical wiring. The work should be completed by mid-September.
Laws requiring the separation of church and state prevent FEMA from providing relief money to religious organizations. Congressman Hakeem Jeffries, who represents the area, wants government assistance to be made available for houses of worship destroyed by natural disasters, New York 1 reports.
Jeffries partnered with City Councilman Mark Treyger and New York Disaster Interfaith Services (NYDIS), a faith-based nonprofit, to secure the money to rebuild Coney Island Cathedral.
"It's hard for nondenominational churches, that don't have a national church office to help them, to rebuild after a disaster," said Peter Gudaitis, chief response officer for NYDIS. "The odd aspect of this is that FEMA pushes what's called whole community doctrine and whole community resiliency. But a community can't be resilient and cannot recover from disasters when houses of worship remain destroyed."
Despite having no electricity and being badly damaged by Sandy's floodwaters, Coney Island Cathedral distributed critical aid to the community. They handed out blankets, clothing, and heaters, and provided hot meals and canned goods for people in need.
"In a city as diverse as New York, which has people from all over the world, often their congregation is the only place they can go where people speak their native language or understand their family and needs and culture. They are so much more than a place to worship," said Gudaitis.
Gudaitis noted that many congregations incurred enormous costs from their efforts to aid communities devastated by Sandy.
Treyger has established a task force to look into the role houses of worship play during disasters and understand how the city can partner with religious organizations to bolster recovery efforts.
"I think it's morally wrong to ignore that many of these houses of worship played a critical role in recovery before many government entities did," Treyger said. "If we are to deal with another Sandy-type storm, these are the organizations we can turn to and it should not be a guessing game about what they can do."