Algenio Continues Reign as Artichoke Pizza Contest Champion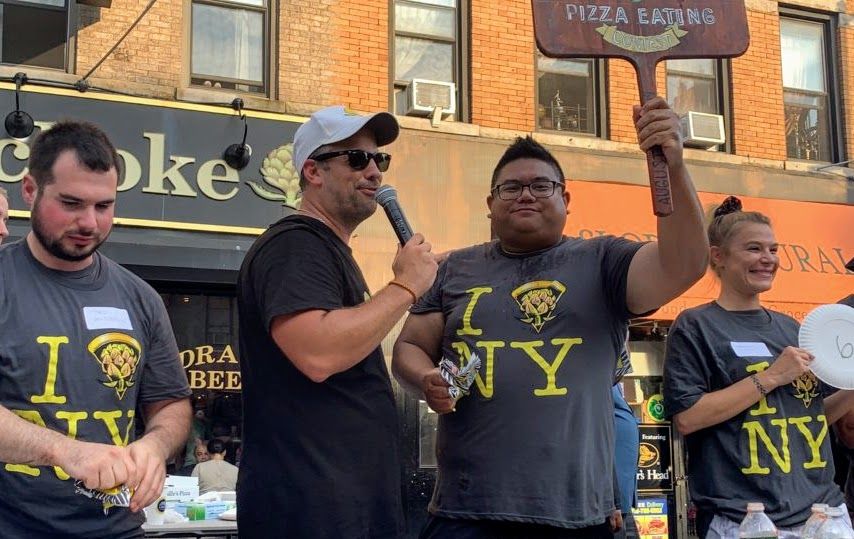 PARK SLOPE – Contestants at Artichoke Basille's Pizza eating contest dripped with sweat as they shoved yet another slice into their mouths. And then, another. When you thought they were going to burst, they ate another.
The fourth annual contest took place last Saturday, the 17th, on Park Slope's 5th Avenue during the Summer Stroll series, organized by the 5th Avenue Business Improvement District (BID). There was also salsa dancing, a bouncy castle, and live music.
The scene was a joyful one, with the Park Slope Parents blowing bubbles for the many children in attendance, and the dancing going late into the evening.
To start, Artichoke Pizza owner Peter Leonforte thanked the 5th Avenue BID, saying "we couldn't have done it without" their support, saying that "they [BID] keep the businesses alive."
The head of the BID, Mark Caserta, was present and walking through the crowds in a large pizza costume.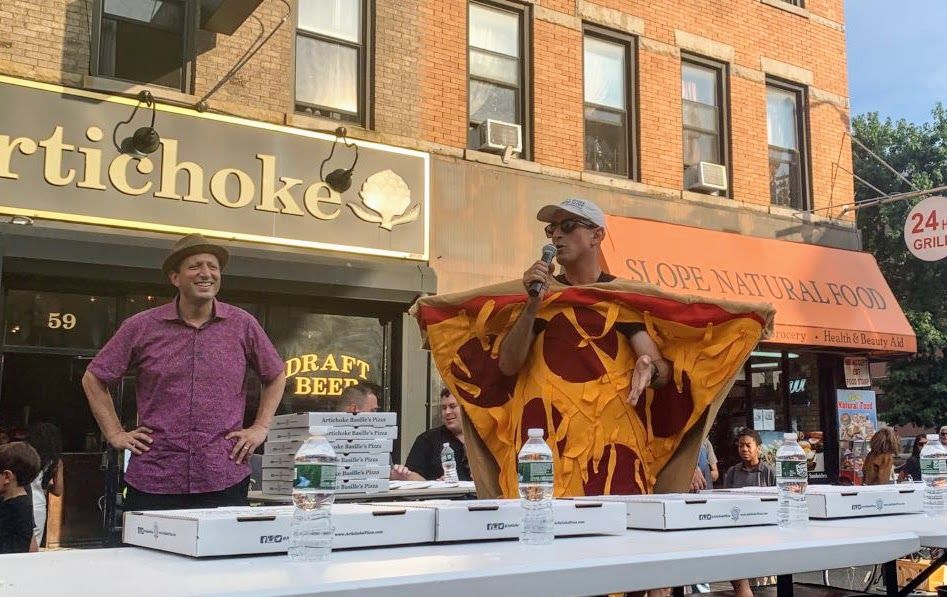 Out of nine contestants, Wayne Algenio emerged triumphant, eating 17 slices of pizza in the allotted 10 minutes, nearly two slices a minute. Algenio has held the winner's title, which includes a golden paddle and a slice a day for a year, for the last two consecutive years. Last year, he ate 14 slices.
He streamed the whole thing to his Instagram page (@wayneywonder29), where he showcases his eating to nearly 4,000 followers. The feat was truly something to behold as Algenio danced and wiggled to the music all throughout his eating, dousing the pizza in a pink drink he had brought along as well as the provided water.
This reporter was also, regretfully, close enough to smell the burps.
Other contestants couldn't keep up with Algenio. When he had eaten 15 slices, the next closest was 10, and he just kept soaring ahead. The community came out in droves to cheer on the contestants, and heckled those who were not their favorites.
Leonfonte thanked the crowd for coming and promised that they would be back next year, for the fifth consecutive time.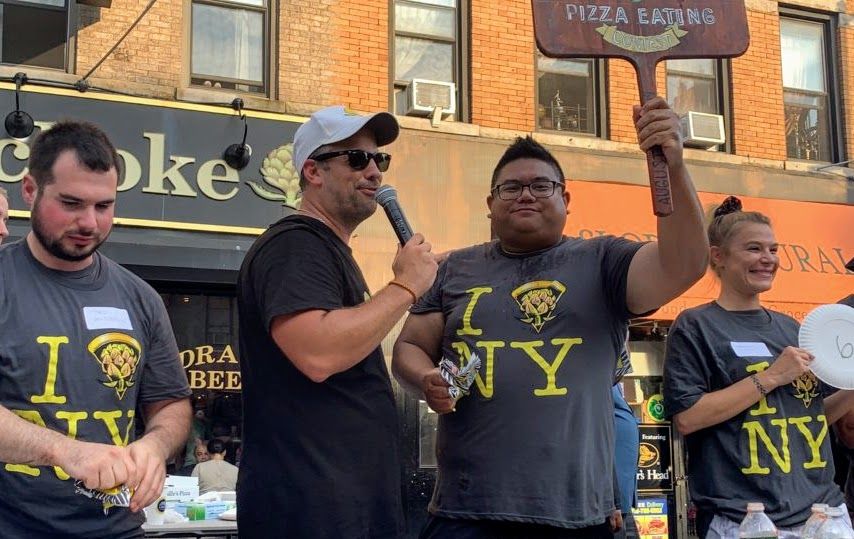 After his win was declared, Algenio said to the crowd with a smile "Yeah, I need a napkin!"