Alexandra Collier Plays for the Gods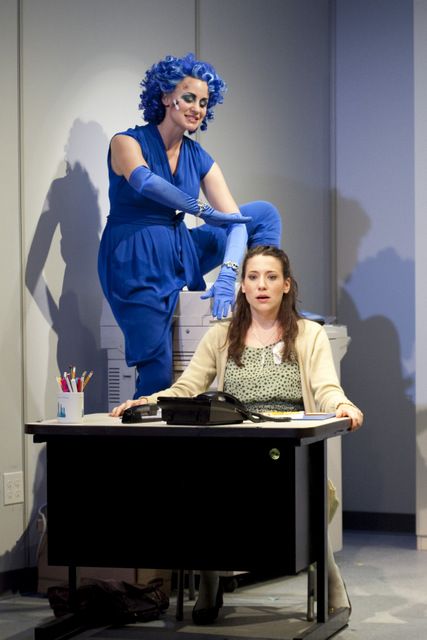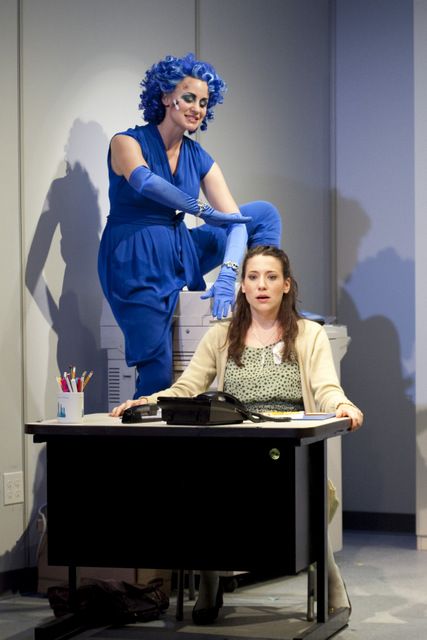 Alexandra Henrikson and Irene Sofia Lucio in We Play for the Gods/photo credit: Chasi Annexy
Every two years, the Women's Project, the nation's oldest and largest theater company dedicated to developing and producing work created by women, invites a class of early- and mid-career playwrights, directors, and producers to join its Lab program. And with the 2010-2012 residents, the WP team decided to take an unprecendented leap: they handed over one of the theater's main stage production to the crew of artistic fellows — before those artists-in-residence has even been picked. Last week, those artists — a team of 7 playwrights, 4 directors, and 3 producers — opened the finished product: We Play For the Gods runs now through June 23rd at Cherry Lane Theatre in the West Village. (Check out a trailer here.)
Park Slope's Alexandra Collier is one of the playwrights behind the project. We caught up with the Australian expat (and Brooklyn College MFA candidate) to her take on artistic collaboration, becoming a New Yorker, and the best steak tartar on 5th Avenue.
What is the play about?
We've come a long way. We started with the question from [producing artistic director] Julie Crosby: "Who's shoulders do you stand on?" and were urged to look back at our past, and the women who came before us in the theatre. Of course, [experimental theater pioneer] Ellen Stewart was invoked, and the title of the play comes from something she said: 'We play for the gods and in turn they play for us." Through numerous writing prompts, workshops and brainstorming, we created four characters and a world for them to inhabit. I don't know if the play matches our initial ideas but there was a broad enough inspiration to jump off from and I think that was the point. We flew from there.
The play is about four women going to work on an ordinary day and being interrupted by a trickster God who throws their lives way off kilter.
They play is the collective project of 7 playwrights, 4 directors, and 3 producers. How did you all navigate working as a group? What happened in the rehearsal room?
The process evolved but was helmed brilliantly by Stephanie Ybarra, one of the producers, who gave us an articulate and thorough way to enter the room and talk together. We had to create a collaborative language together, which we did over numerous workshops. So we had to talk about how we would talk! The process was a huge learning curve: you have to be willing to let go of your ego, and drop your ideas and words in a flash. That old adage holds true: hold on tightly, let go lightly.
We each brought in a lot of material. The writers were given exercises to take away and work on. Initially we started with a symphonic structure of four movements but that fell away eventually as the play started to take on its own form.
How would you characterize your usual work — the kind of work you produce when you're not writing in a group? How is this different (or not)?
I write absurd, dark and funny plays — which I think is mirrored in Gods.
Let's talk a little bit about your background: my understanding is that you began as an actor?
I moved to New York six years ago to train with the SITI company. I was acting and writing in Melbourne and had been writing for a few years. Living in New York really cemented my desire to write: you have to have a purpose in New York, otherwise you can turn into flotsam on the tide.
That was 6 years ago. What is it about NYC that's kept you here? And more specifically, if there is anything specific, what is it that gets you about Brooklyn? About Park Slope?
I love Brooklyn. In some parochial way I am drawn to the clean, the green, the easy life of Park Slope which reminds me of living in Australia. I love being near the Park. I run there most days and it makes me feel sane.
Roughly, where are you in the neighborhood?
I live near Red Horse cafe!
So are you someone who writes in coffee shops?
I write at the Brooklyn Writers Space — which is brilliant, it's silent and you have no reason to procrastinate and it gives me a sense that I am going to work each day. I find coffee shops tricky because you never know what weird soundtrack is going to be playing (music, human or otherwise). So I don't tend to write anything important there – but I occasionally do some copywriting in Red Horse or Sweet Wolf.
I feel like — and I'm curious if you feel like this is at all true — Park Slope is on the one hand totally full of artists and writers, and then on the other hand, has a reputation for being so much less artistically vibrant or edgy or interesting than north Brooklyn. Thoughts on the Park Slope arts scene?
I'm don't think I can comment on the Park Slope arts scene as I never see work here. I write plays in Park Slope that get workshopped and performed in Manhattan. I know a lot of writers here and I heard once that there's more writers per capita in this neighborhood than anywhere in the world. If that's true, it's both terrifying and inspiring. I'm happy to live here and not somewhere hipper or allegedly artsier like North Brooklyn because I don't want to have to feel like my outfit is always cultivated when I leave the house.
One last question: perfect Park Slope weekend?
I like brunch at Applewood: such good biscuits with your omelette, so buttery, mmmm. Then I would probably wander over to the park and lie in the sun with my local friends. For dinner, I love Blue Ribbon on 5th ave, their steak tarter is awesome. Union Hall is always fun and you can meet and chat to random Brooklynites there while playing bocce.
We Play for the Gods runs Mondays at 7:00pm, Tuesday-Friday at 8:00pm, and Saturdays at 3:00pm and 8:00pm at Cherry Lane Theatre, 38 Commerce St.