Aldi To Be Half The Size Of Nostrand Pathmark, But Pols Say That's Okay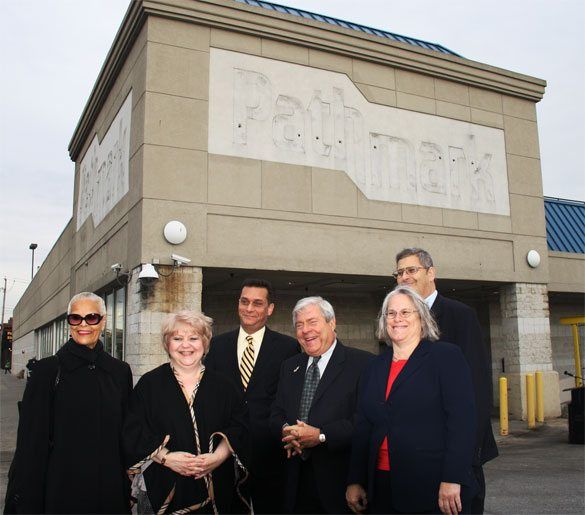 Aldi Food Market, slated to replace the defunct Pathmark at 3785 Nostrand Avenue next October, will be only half the size of its predecessor, but local pols say that it will still fulfill their promise of bringing in a notable anchor tenant to revitalize the commercial corridor, restore shoppers' options and revive jobs in the community.
Sheepshead Bites has learned that the former Pathmark location, which occupied 35,000 square feet, is being subdivided into two storefronts, with Aldi filling 18,000 square feet of the property. The second tenant has not yet been signed. Both will have Nostrand Avenue storefronts (as opposed to Pathmark, which had its entrance on the south side of the building), and rooftop parking will remain at the location.
But the smaller size doesn't mean it will fall short of achieving the goals local officials sought in bringing back a supermarket to the location, though it's not ideal, said Councilman Lew Fidler.
"I would be happier, of course, if every square inch of the old site is going to be used, but I still think this is a win-win," Fidler said. "It's the first chain that seems to be moving into New York City [in a while]. They're pretty aggressive; they're planning on 40 more stores in the New York Metropolitan area … It will be a major name in the next five to 10 years."
Fidler explained that the kind of growth Aldi is expecting will be accompanied by major marketing initiatives, and, regardless of size, will turn it into a destination establishment. Shoppers, he said, would then patronize other local businesses, helping to uplift the entire strip.
Fidler also noted that, at 18,000 square feet, it's still larger than the Key Food at 2213 Gerritsen Avenue, which comes in at 15,500 square feet.
Assemblywoman Helene Weinstein said that, though it'll be smaller, it will still be a fully-loaded supermarket.
"I understand they operate on a smaller footprint but are still a fully stocked supermarket. I think they manage that by having less brands," Weinstein said. Aldi is known for spartan stores stocked largely with store-branded products. "There'll be a nice new store there and an additional retail space that I assume will likewise be a nice modern store. So it will be helpful [in reviving the shopping strip]."
Both elected officials said they were not aware that Aldi was going to be half the size of Pathmark when the announcement was made, but that it's still a sweet relief after a nearly two-year initiative to replace Pathmark.
"Now I can walk the neighborhood without people asking when and where we'll have a new supermarket," said Weinstein.
Whether or not the size of the location falls short of expectations, it may fall short on jobs. A customer service representative for Aldi noted that many of their operations employ approximately 18 people, just a fraction of the approximately 100 employed by Pathmark. Aldi's public relations team did not answer repeated inquiries regarding the estimated number of jobs this specific location will create, or the number of employees at comparable locations elsewhere in New York City.
Weinstein noted that any jobs are better than no jobs and an empty storefront, and added that the location's second tenant would also bolster the job numbers.
Despite the reduced size, Borough President Marty Markowitz, who helped lead the charge for a new supermarket location, bristled at the idea that signing Aldi was anything less than a victory for the community.
"The arrival of Aldi Food Markets is absolutely a great victory for this neighborhood," said Markowitz. "The Aldi markets that have already opened in New York City are getting rave reviews and are all comparably sized to this store. The residents of Sheepshead Bay and the surrounding community will benefit greatly from this Aldi Market and its high-quality, low-cost groceries."