After Two Men Killed In Shooting Outside Flatbush Avenue Church, Community Leaders Call For Action To Curb Violence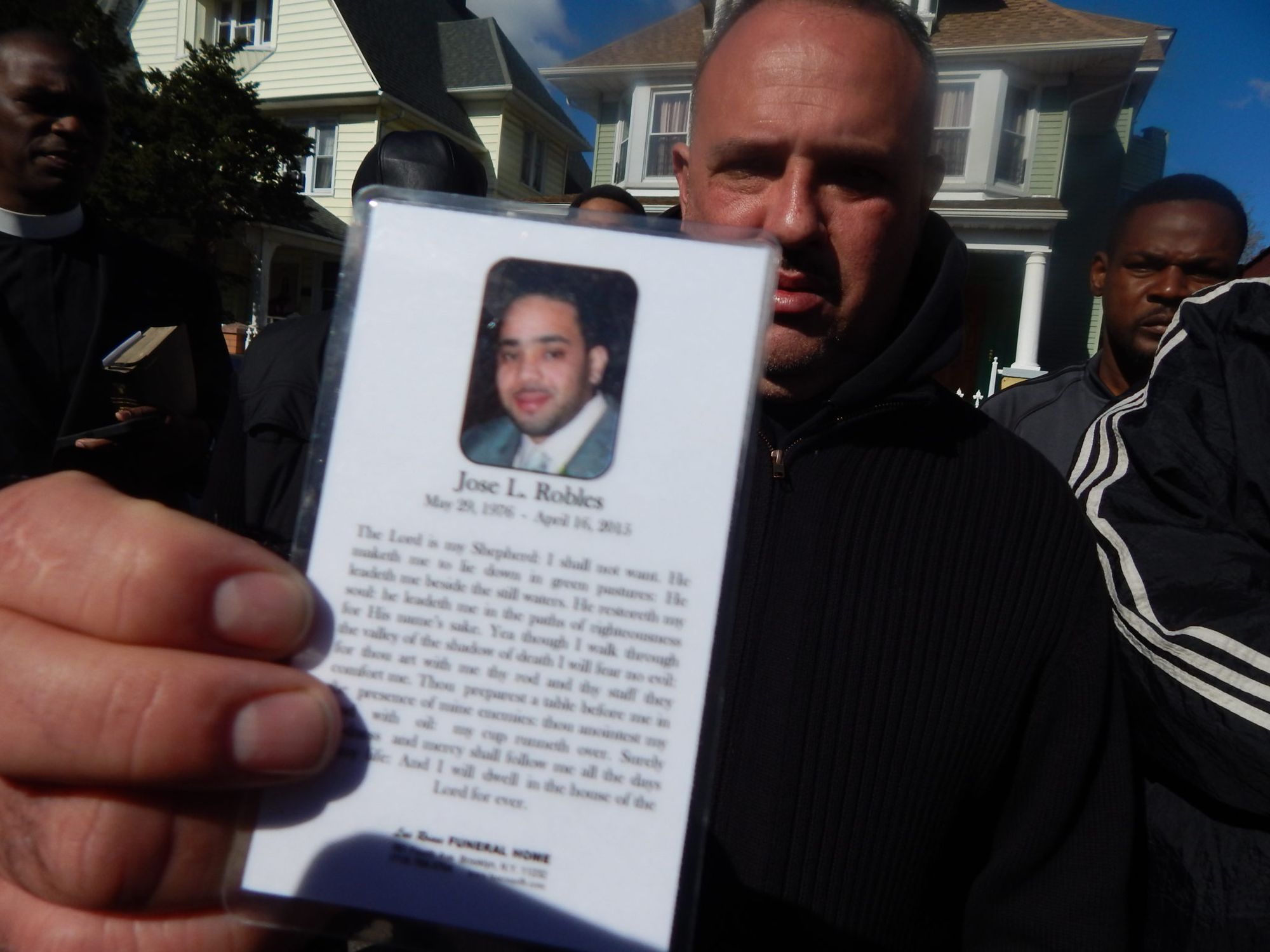 When gunfire erupted outside Emmanuel Church of God (1365 Flatbush Avenue, near Foster Avenue) Monday night, leaving two men dead and four others hospitalized, Raul Marroquin, 43, immediately dove to to protect the numerous children who had been attending a wake for Jose Luis Robles — a man Marroquin had grown up with near the Parade Ground and considered to be like a brother.
"There were kids everywhere — lots of little kids, six-year-olds, seven-year-olds," Marroquin, who spent most of his childhood with Robles and was raised by Robles' mother, said following a Tuesday morning press conference held by Borough President Eric Adams, Councilman Jumaane Williams and other area leaders near the church. "I covered them on the ground.
"Now my brother's body is inside," Marroquin continued, pointing to the Emmanuel Church of God, where hundreds of mourners had gone to attend Monday's wake for Robles, a 38-year-old father of two who died April 16 of a heart attack. "His body is still there. We were supposed to take him to the cemetery today. Now there's this — there's this war."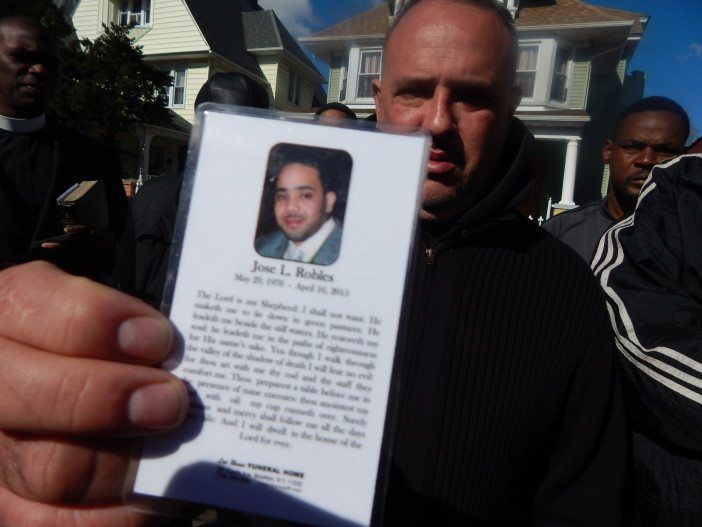 According to police, numerous gunshots were fired into the large crowd congregated outside the church just before 8:30pm. Sharieff Clayton, 40, of the Bronx; and Ronald Murphy, 44, of East New York, were pronounced dead after being transported to Kings County Hospital, the NYPD said. Clayton, who Marroquin said was a writer, had sustained a gunshot wound to the abdomen, and Murphy was shot in the chest, according to police.
The others who have been hospitalized are listed in stable condition, including a 40-year-old man with a gunshot wound to the left hand, a 38-year-old woman who was shot int the left leg, a 29-year-old woman who sustained a gunshot wound to the left leg, and a 40-year-old man who was shot in the torso, the NYPD said.
Police said they do not have descriptions for the suspects at this time. According to Marroquin, there were three men, all of whom were wearing hooded sweatshirts, who were responsible for the gunfire. Prior to the shots being fired, he said there was a physical altercation involving the three men and said the dispute involved tension over a homicide that had occurred about 20 years ago. Police said they could not confirm or deny this report. Other elected officials, including Councilman Williams, said they too had been told the fatal shooting stemmed from a longtime dispute.
There have been no arrests, and the investigation is ongoing.
Elected officials said that while police are investigating whether or not the incident is gang related, they said as of now there is no evidence that it is — a point that numerous community leaders urged the media to print, as they said they did not want any retaliation to occur because gang members believed this to be a gang-related crime.
"I don't know the right words to describe what we're feeling — distressing, numbness come to mind," Williams said at Tuesday's press conference. "It's appalling you'd go to a funeral and this happens — a funeral should not spawn additional funerals."
While some reported that the shooting occurred following a funeral for Robles, Robles' family said Monday night was his wake and the funeral had been scheduled for today. It was unclear as to whether or not the funeral was going to take place Tuesday.
"We want people to understand violence only begets violence … this is not acceptable," Williams continued. "At what point do we raise a banner and say enough of the gun violence? …Your right to the second amendment does not take away people's right to live."
Both Williams and the borough president stressed that violence has dropped in Brooklyn, but Adams said that "for a shooting to take place a funeral is a wakeup call for the entire city.
"We don't want to return to the days of drive-by shootings," Adams said in reference to last night's crime, which officials had originally said was a drive-by shooting, although police said today they could not say whether or not the shots had been fired from a vehicle. Marroquin said he wasn't able to see from where the shots had been fired.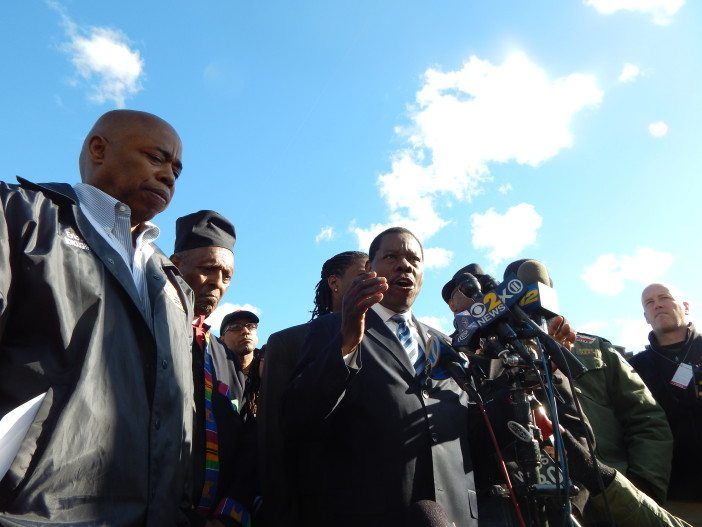 "This is not acceptable," Councilman Mathieu Eugene said at the press conference. "But my question is how many times will we have to come back together to condemn a shooting?"
Many of those who spoke during the press conference said there needs to be a more proactive approach to addressing violence, including funding groups such as Gangstas Making Astronomical Community Changes (G-MACC), which works with various community groups around the Flatbush area to work with neighbors and address issues before they spiral into violence.
"We have to change the behavior in our communities — violence is a learned behavior," said Shanduke McPhatter, the executive director of G-MACC.
Like Williams, community activist Tony Herbert said yesterday's shooting was more incentive to remove guns from the city's streets.
"We have to pool our resources to defeat the devil, which is the gun," Herbert said.