After Three Year Delay, Checkers Opens In Coney Island
After three years of waiting, and several false alarms about opening day being just around the corner, the Coney Island Checkers finally made its debut Tuesday on Surf Avenue. The Florida-based burger chain — known for its Baconzilla and Big Buford burgers — joins an increasingly crowded field of fast food franchises moving into the neighborhood, including Popeyes, Subway, and the recently opened Wahlburgers.
The franchisee of the new Checkers, Ahmadullah Tokhi, who also owns the Popeyes across the street, said the decision to set up shop in Coney Island was easy.
"Coney Island gets over 200,000 people every weekend in the summer. It's a really nice place and it's one of the most famous amusement parks in the country," he said.
But readying the store for business turned out to be a tough task. Tokhi said opening day was delayed due to difficulties dealing with the MTA, from whom Tokhi leases the space. The shop is located on MTA property in a cramped storefront at one of the entrances to the Coney Island subway station, at the corner of Stillwell and Surf avenues.
"It takes a long time for them to do all the inspections and everything and then for them to approve the plan. That was the reason it took so long," Tokhi said.
On the Checkers' first evening of business, the shop seamed to be doing well. A steady flow of customers kept arriving to place orders in the to-go window. The restaurant does not offer indoor seating.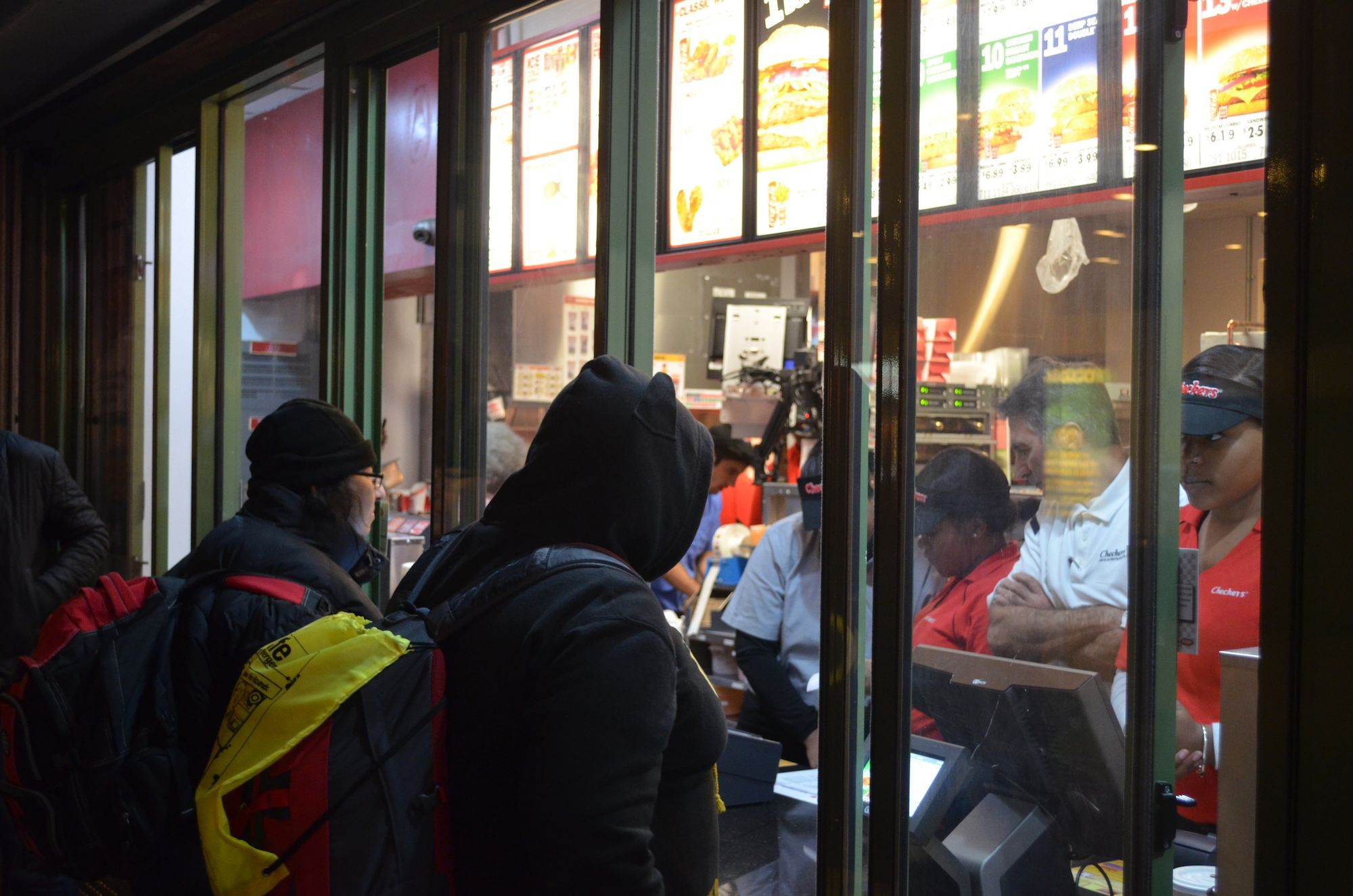 Atreyel Ransom, a 17-year-old student who lives nearby, said he noticed the Checkers had opened while walking home from school. He returned later in the evening to order a Bacon Roadhouse burger, which comes with two beef patties, crispy onions, BBQ sauce, and of course, bacon.
"I've been waiting for a long time for this," he said. "I'd always walk by and look over to see if it's open yet."
Tokhi said his favorite item on the menu is the Big Buford, Checkers' signature burger.  "It's one of the best," he said.
Checkers also offers three different hot dog options, putting it in what some might consider a very uneven competition with the original Nathan's Famous, located right across the street. When asked whether he thought his fledgling fast-food joint could muscle in on some of Nathan's business, Tokhi said it was good for Coney Island to have many food options.
"Nathan's is a landmark. It's the original Nathan's. But it's good we have a Checkers right across the street. I think the people in Coney Island will love our prices and our food. I'm sure the people will be happy," he said.