After Initially Supporting Syria Strikes, Grimm Changes His Mind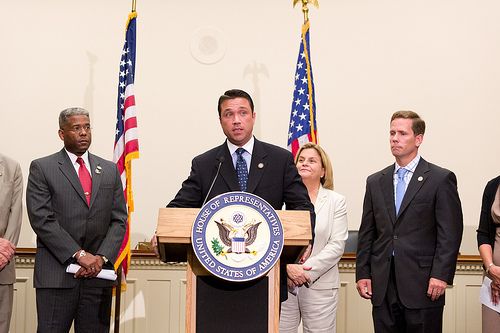 Representative Michael Grimm changed his mind regarding his previously expressed support of President Barack Obama's proposed military strike in Syria. According to a report by WFUV, Grimm reversed his position, joining a growing number of New York politicians who oppose intervention in Syria.
After evidence came to light that the Syrian regime, led by Bashar al-Asad, had used chemical weapons in their ongoing civil war, Grimm backed President Obama's plans to strike, announcing his support on CNN. Now, in a statement, Grimm expressed the opinion that an intervention would be unwise:
"Now that Assad regime has seen our playbook and has been given enough time to prepare and safeguard potential targets, I do not feel that we have enough to gain as a nation by moving forward with this attack on our own," Grimm said in a statement, released Thursday.Grimm told CNN Thursday evening he was not asked by anyone to shift his support.He added in a statement: "I have heard from many constituents who strongly oppose unilateral action at a time when we have so many needs here at home. Thus, after much thought, deliberation and prayer, I am no longer convinced that a U.S. strike on Syria will yield a benefit to the United States that will not be greatly outweighed by the extreme cost of war."
According to WFUV, the majority of New York's 27 elected federal officials have remained undecided when it comes to casting support for Obama's war plans. WFUV broke down a list of politicians that has either expressed their opposition or support for the planned strike:
FOR MILITARY STRIKE:Rep. Peter King (R)Rep. Eliot Engel (D)AGAINST MILITARY STRIKE:Rep. Brian Higgins (D)Rep. Nydia Velazquez (D)Rep. Chris Gibson (R)Rep. Greg Weeks (D)Rep. Charles Rangel (D)Rep. Michael Grimm (R)
Interestingly, the split of those for and against the strikes do not fall on partisan lines.