After Hundreds Of Petition Signatures & Lobbying For Community Support, Parents Win Battle For A Healthier Menu At PS 217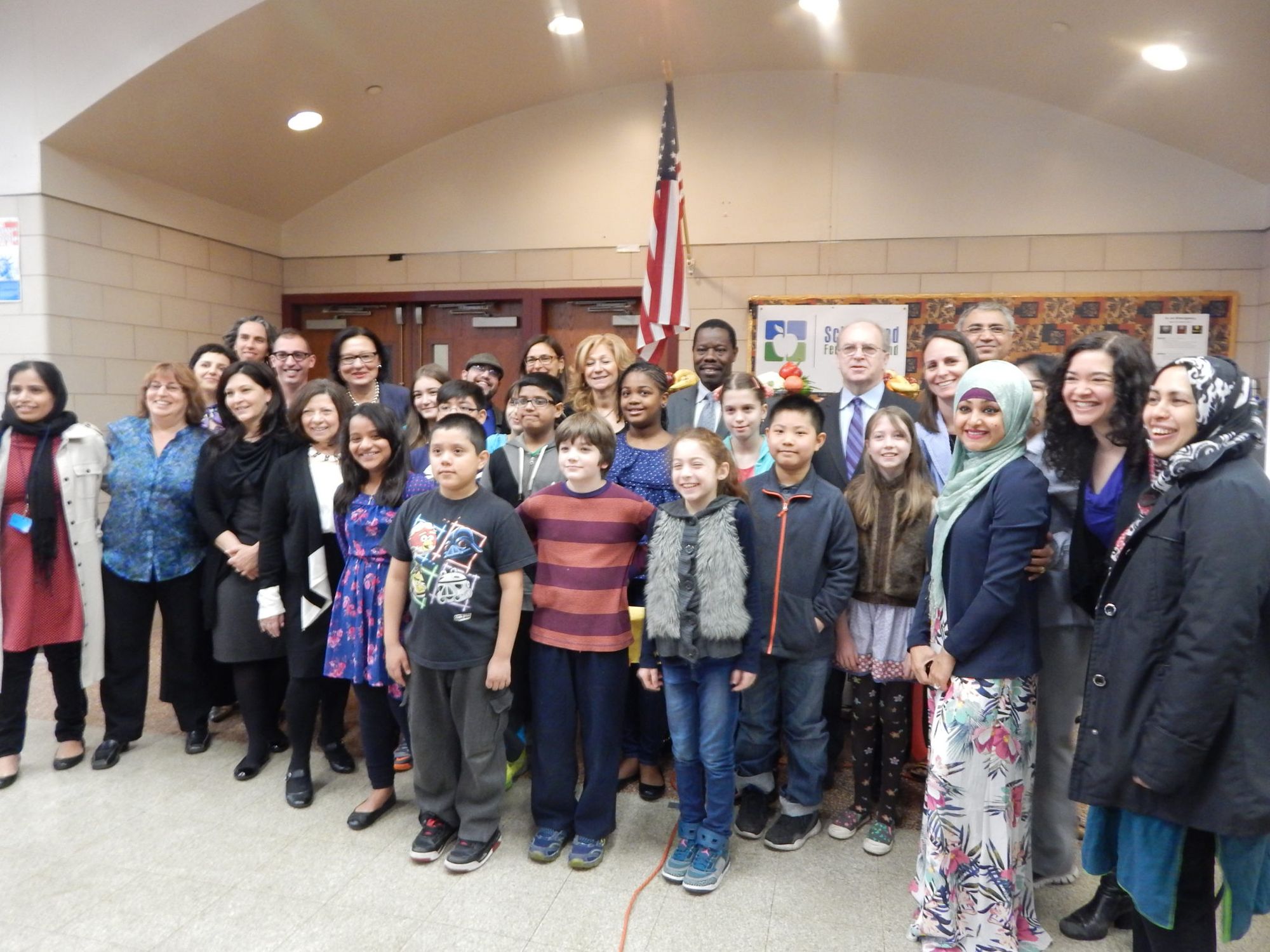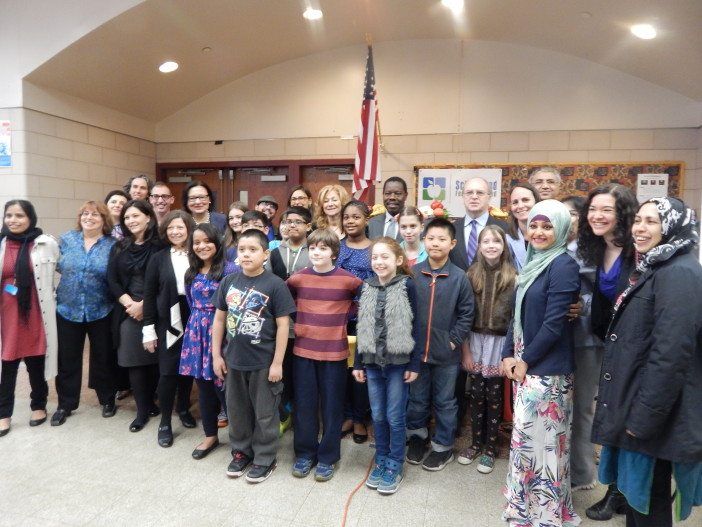 As neighbors filtered into PS 217's cafeteria Friday morning — women in brightly colored hijabs, men in kaftans, mothers and fathers with surprisingly patient toddlers in tow — they maneuvered their way past the sea of coffee and bagels to various tables upon which signs indicating various languages spoken by the school community were perched: Urdu, Bengali, Arabic, Spanish, Russian.
There, they greeted fellow parents, many of them quickly making the transition to which so many immigrants are accustomed, sliding from English into the language of their home country, their conversations navigating topics of family, of education, of problems with supermarkets and praise for their children's teachers.
And, of course, they spoke about the reason they had taken time off from their lives to gather at 1100 Newkirk Avenue, between Westminster Road and Coney Island Avenue: they had come to celebrate what, for many, is seen as a greater respect for the public school's multi-cultural landscape from the city Department of Education. They were there to mark the launch of a new, healthier lunch menu for PS 217's more than 1,350 children who represent one of the most diverse elementary student bodies in the city — a victory for our neighborhood's parents who, for years, have wanted a more halal-friendly, and all-around more nutritious, menu for a student population that is about 50 percent Muslim.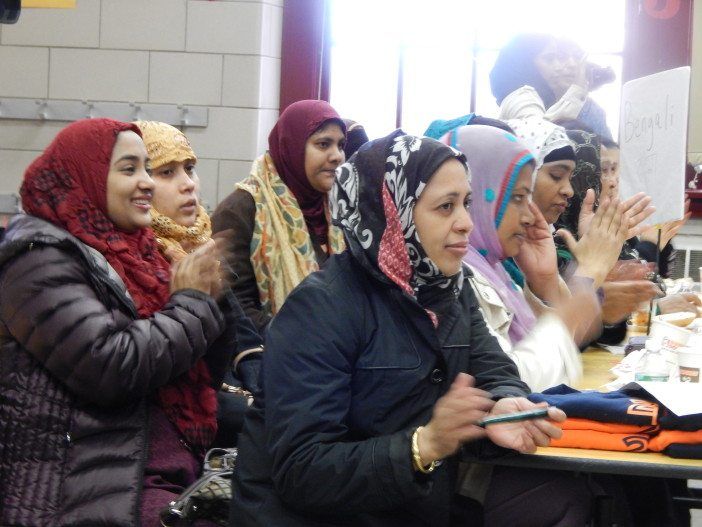 "The previous menu was all red meat, all the time," said Tazin Azad, a PS 217 parent and member of the school's Parent Association (PA) who helped to organize efforts to launch the menu, which begins today, Monday, at the school. "This new menu, it happened because of our efforts on the ground. People who speak Arabic, Urdu, Russian, Spanish, and Bengali — they asked people on the ground what they wanted to see."
Overwhelmingly, what people wanted to see was better food for their children, some of whom very much rely on the meals at the school for much of their day's nutrition.
"There not being halal meat was a big deal — they were just eating pb&j," said Megan Hester, another parent who helped spearhead efforts to change the menu. "… Now, they'll be eating healthier, and parents feel respected and part of the community."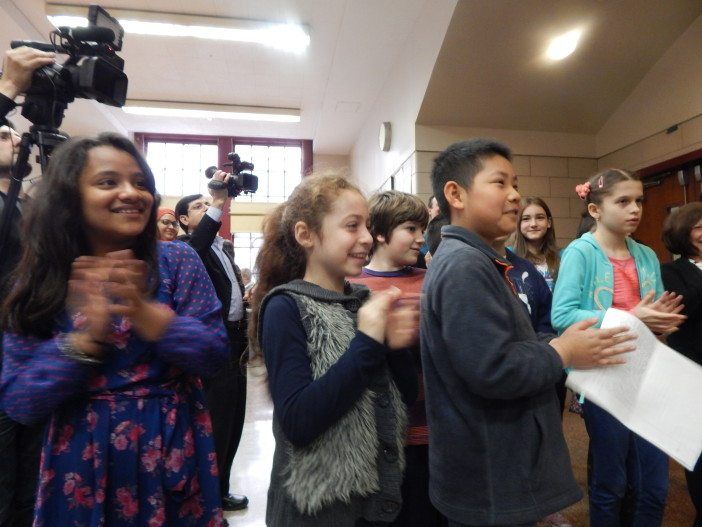 Neighbors have, for years, wanted this change, but it wasn't until September that there was an official push to have an altered menu. Parents collected more than 400 signatures advocating for the new, vegetarian-friendly menu, as well as a salad bar, with the about-to-debut meals including such items as Kung Pao tofu, vegetarian chili, curried tofu rice bowls, kale salad, braised collards, and more. Additionally, to ensure the new menu would become a reality, parents landed endorsements from elected officials and other community leaders, including Assemblyman Jim Brennan and Councilman Mathieu Eugene, both of whom attended the menu kickoff celebration on Friday. Other leaders who were there included PS 217 Principal Franca Conti, Democratic District Leader Jacob Gold and a representative from Councilman Jumaane Williams' office, also named Jacob Gold.
"This is tremendous, and it's setting a trend," said Gold, of Williams' office. "Hopefully more schools around the city can follow suit."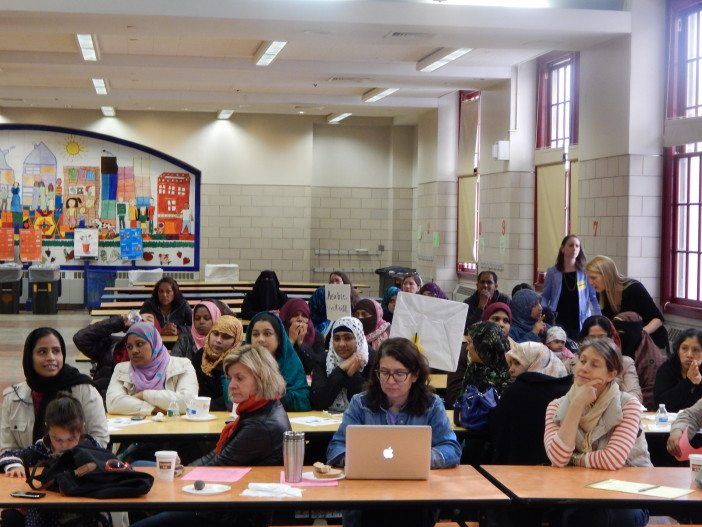 PS 217 is one of 100 schools in the city (out of about 1,800 public schools in the five boroughs) to offer this menu — and the first school in School District 22 to have the new meals, which Agnes Molnar, the co-founder of Community Food Advocates who worked with PS 217 parents to land support from the DOE for the menu change, said seems to be a promising indication that the city is becoming more lenient in its often strictly uniform policies.
"Years ago, it was decided that school food needed to have the same menu citywide to save money," Molnar said. "It's good that parents have raised this issue that not everybody eats the same food every day."
Still, the new dishes aren't a complete win, with parents noting that they're hoping the school will eventually offer halal meat — something it doesn't currently have.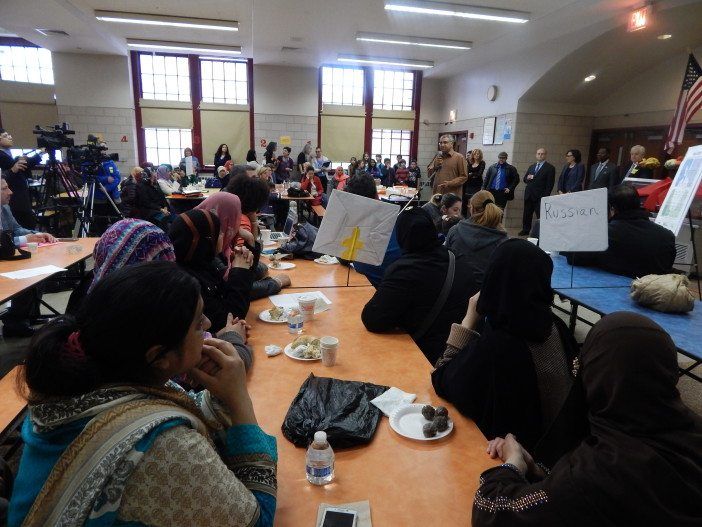 "We're starting with vegetables, vegetarian nutrition, and that is very good," said Shahid Khan, a parent and PA member. "There are many more options now. Then, we'll go towards halal food."
While it isn't everything they hoped for, parents and community leaders had plenty of praise for the change, saying a more well-rounded diet will likely translate to better performance in the classroom.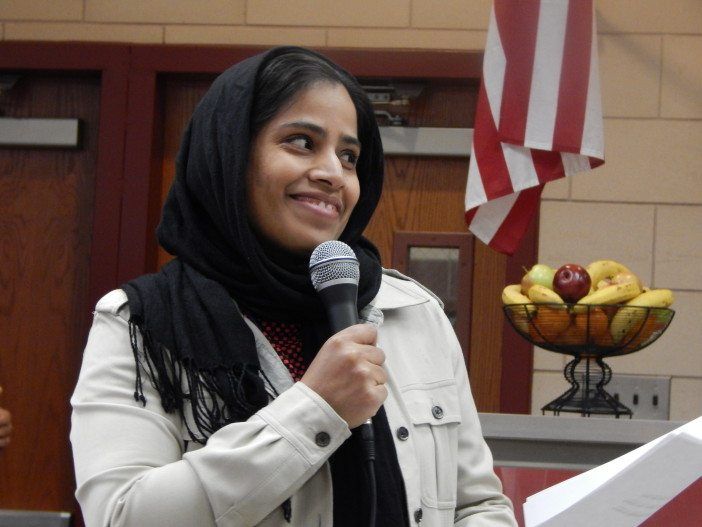 "The children will get a healthier meal, and they'll be well focused for the whole day," said Mukta Begum, another  parent who helped to launch the menu initiative and the co-president of the PA.
Begum, as well as many of the other parents, spoke about how the push for healthier food has changed much of PS 217's landscape, making it more inclusive for mothers, fathers and other guardians who once felt on the fringes of the educational community.
"More people feel very involved now — they used to not come to the [PA] meetings, but they do now," Begum said.
Hester too noted the PA's growth, saying that, thanks to the menu drive, the organization now offers translations in five languages (Urdu, Arabic, Bengali, Spanish, and Russian) — and they're looking to expand further in the very near future, with Hester saying they're hoping to add Uzbek and Nepali translations.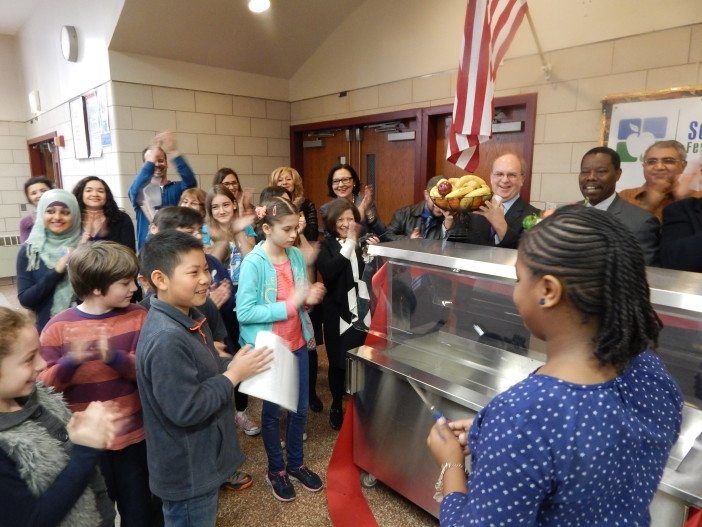 "This menu change was driven by our Community Engagement Committee — we wanted to include all the communities in our school," said PA member Julia Davis. "Food was the issue that brought us all together."
With a PA that's far more reflective of the school's diversity, parents said they're ready to tackle other issues as a cohesive group, including potentially launching a homework help program.
"People feel comfortable here now — that makes a huge difference," Azad said.