After Death Of Delivery Man, Bensonhurst Residents Fight For Traffic Light At Bay 25th St, Benson Ave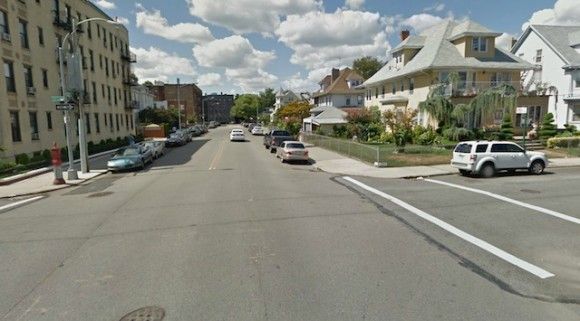 The accidental death of a delivery man on a bicycle on Bay 26 Street and Benson Avenue has renewed a community push for a traffic light on that corner.
Mai Zhang, a 74-year-old bicycle delivery person for a local restaurant, was struck and killed by an SUV on May 27. And now Bensonhurst residents have resurrected requests for a traffic light in the intersection, where they say they see calamity on an almost daily basis.
(UPDATE [June 10, 2013]: The Department of Transportation reviewed – and rejected – this intersection for a traffic signal in 2012.)
A neighbor who lives on Bay 25 Street, Lorenzo DiBenedetto said that locals have repeatedly asked for a traffic light and not seen results.
He added that the city keeps denying their request.
"The whole thing behind it is that we need to put a traffic light there. There's been numerous accidents and now there's been a fatality. It is sad and there's not much we can do," said Lorenzo DiBenedetto. "For something like this to happen today, they know it's a fatality and they really should do something about it now."
Though DiBenedetto had yet to reach out to Bensonhurst's local Community Board 11, he said that he did not foresee immediate action from the Department of Transportation (DOT).
Community Board 11 District Manager, Marnee Elias-Pavia, said that the Board has yet to receive any traffic light requests at that location from neighbors. She encouraged the community to reach out, noting that the Board would be happy to put in a formal request on behalf of Bensonhurst locals.
"We hope that everybody is aware and follows the rules of the road," Elias-Pavia said. "We need to be aware of our surroundings and be safe."
Elias-Pavia said the process of inputting a traffic light could take up to seven months, adding that the DOT does not count the number of fatalities when making the decision on whether or not a light will be added.
Any resident can request a traffic study for a potential light by calling 311, contacting their City Council representative, or reaching out to the Community Board. The DOT then studies traffic patterns of the location to determine if it meets federal standards. If so, a light is installed.
DOT did not respond to a request for comment on this story.