After Cleanup, Sheepshead Bay Road Still Disgusting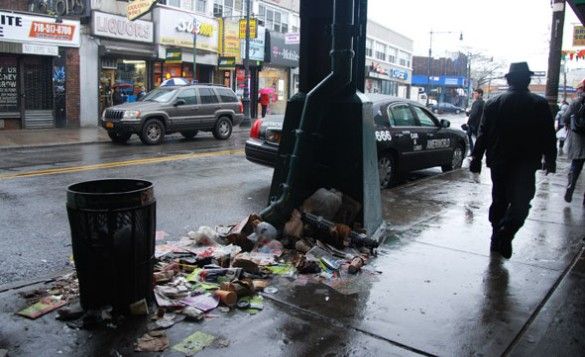 Garbage Gazette: It's been a while since we've had a Garbage Gazette, but it's certainly not because there hasn't been anything to write about. Our local Sanitation Department garage continues to leave a mess in its trail – we just got tired of harping on it. The condition of Sheepshead Bay Road today, though, definitely warrants it.
You see, early this morning, Sanitation workers crept up Sheepshead Bay Road, supposedly emptying garbage cans and cleaning the area around them – fulfilling their job description. Or did they? When we wandered down the road this morning, what we found was that they only emptied every other can, leaving several spots with cans overflowing with garbage and debris. At the locations that they did pick up they left the surrounding areas untouched, and they remain piled with putrid filth.
What we also found is that claims the Sanitation Department has used in the past to excuse its negligence are patently false.
We took photos of all the cans on the south side of Sheepshead Bay Road, between East 14th Street and Jerome Avenue.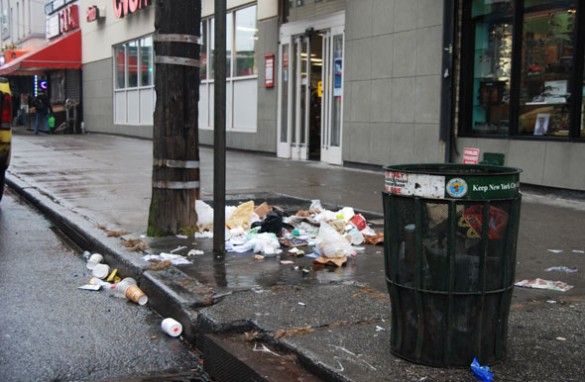 Above is the corner on East 14th Street, in front of CVS. This is the same corner we complained about in our last Garbage Gazette, when Sanitation workers emptied the can but left a mountain full of trash clogging the gutter. As you can see, their practices have not changed. What's more is that the can is only half-emptied. Is it possible that pedestrians re-filled the can in the few short hours between the can being emptied and when we took these photos? Sure. But we've been hearing complaints from readers in the past few weeks that their household trash was treated in the same manner – either emptied halfway or left for the next pickup if not completely filled – and the following picture shows, lo and behold, that workers were not being particularly meticulous this morning: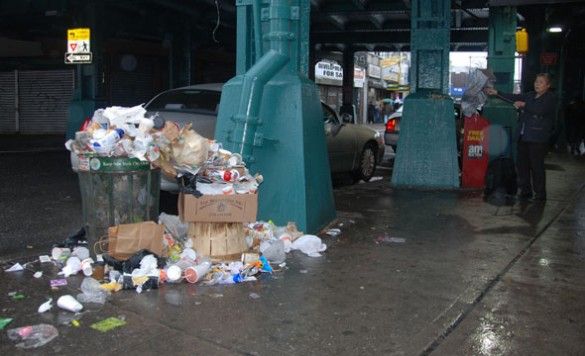 That's one of the two cans (previously, there was a total of seven cans – four on the south side and three on the north side) left underneath Sheepshead Bay train station. Since this is also right next to the B36 bus stop, it may just be the neighborhood's most used garbage can, evidenced by the presence of three cans worth of trash. And, yet, Sanitation workers determined it did not need to be emptied, and the area didn't need to be cleaned.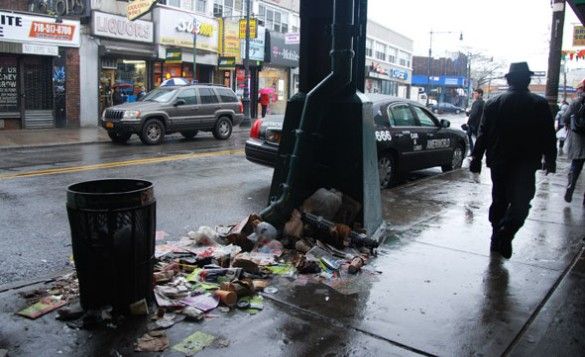 Just mere feet away from the garbage can by the B36 stop, this other can was emptied. But another can's worth of garbage sits on the ground, turning into sludge in today's wet weather.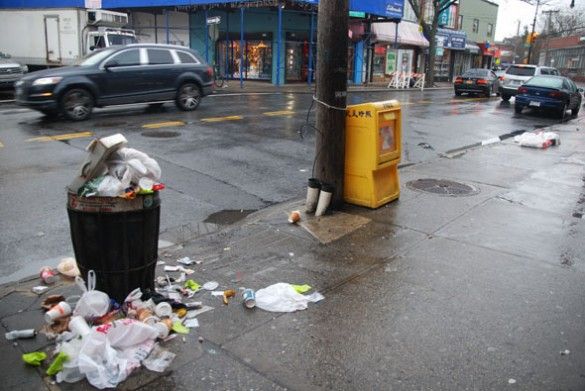 Are you beginning to see the pattern here? All of the above photos are shown in order as we worked our way down the road. One emptied, one not. One emptied, one not. It almost feels like they did it on purpose, doesn't it?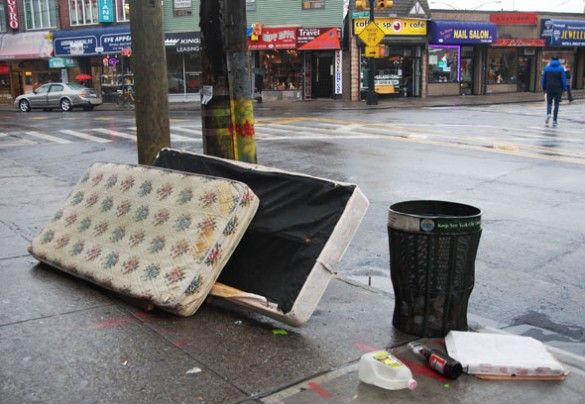 The Sanitation Department can't be blamed for everything. Some jerk – probably whoever lives in the apartments above the storefront – dumped a mattress and boxspring on the curbside. Sure, the law requires you to wrap it, but screw that, right? And, yeah, the law also says that if you live on a commercial street, the property owner should be providing private pickup. Regardless, Sanitation should've chucked this in the truck, cleaned up the area around the can, and delivered a hefty fine to the property owner.
This is just disgusting. And you know what? There's no excuse for it. Even a superficial examination of Department of Sanitation's response shows that the agency may be as full of shit as our streets.
When a reader of ours complained to the department at our urging last year, this was the explanation he got from Henry Ehrhardt, the agency's director of customer relations:
The Department makes every effort to keep New York City clean for all New Yorkers. However, current economic conditions have had an impact on the City's adopted budget. Litter basket collection is a priority, and in spite of a painful $80 million budget reduction in FY 2010, we have devoted all available resources to servicing baskets in high-density, heavily trafficked areas as often as possible. In an attempt to service the area to the best degree possible, Deputy Chief Ricci from our Brooklyn South Borough Office reported that additional litter baskets were added to Sheepshead Bay Road. These baskets are currently serviced seven (7) times a week. Deputy Chief Ricci also reported that he attempted to contact you several times, but you were not available.
Overflowing litter baskets are often the result of improper use of litter baskets. Many people put commercial and household refuse in and alongside the litter baskets. The result is even less accessibility for the people for whom these baskets were intended in the first place – pedestrians. We are enforcing the law against this abuse, which should help to reduce its incidence. District and Enforcement personnel will continue to monitor the area.
First of all, let's give some credit where it's due. Around the time of our complaints in 2010, Sanitation did indeed appear to increase collection to seven days. However, that has since been cut. Sheepshead Bay Road's cans had not been picked up since last week.
But let's examine Ehrhardt's two claims:
The Sanitation Department is struggling to meet demand in the face of budget cuts
Overflowing litter baskets are a result of abuse from residences and businesses
Well, I took a look at the city budget for the last four years. What did I find? Every fiscal year from 2009 to 2011, Sanitation Department's expanded, not contracted. In 2009, the received $1,290,995,104. In 2010, it was $1,300,550,564. And for this year, 2011, it went up to $1,343,958,906.
Only for fiscal year 2012 has the Sanitation Department seen a true budget cut from the year before. They received $1,298,364,296, still nearly $8 million more than in 2009.
Is this an exact science? Absolutely not. It doesn't break out the numbers by service or by garage, nor does it count for increasing costs for necessities like fuel. But, you know what? As a taxpayer, I don't give a damn. With $1.3 billion going to one agency, they should be able to afford some brooms to sweep around the garbage cans.
And, for the most part, that's all you really need. Some brooms and some extra effort, because on Sheepshead Bay Road the Sanitation Department's second excuse doesn't make much sense, either.
The department claims that the cans fill up too quickly because apartment dwellers and business owners are illegally dumping their garbage into the public cans. Residents of commercial streets and business owners must provide their own private garbage carting – they are not allowed access to the city service. And, yes, there are a few instances of that on Sheepshead Bay Road (the mattress on Jerome, the box and crate next to the B36 stop).
But the majority of the garbage, through which we must swim in order to get around, is regular run-of-the-mill litter. It's newspapers and coffee cups; it's shopping bags and candy wrappers. It's exactly the kind of crap that's supposed to be tossed in these cans, but Sanitation continually fails to empty them, causing them to overflow and be taken by the wind. Or to turn into muck on which we can slip.
That's exactly what happened to me when I went to take these photos (a damn newspaper tripped me up in front of CVS. I didn't fall, but I did look silly). It's also what happened to Yuliya Chernova, a neighbor who frequently writes to me about our garbage problem. Here's what she sent me this morning:
Yesterday I picked up my and my neighbor's kids from dance practice on Sheepshead Bay and they stumbled twice on garbage strewn on the street. I was thankful they didn't fall face first in it. The situation is dangerous and embarrassing, and I blame the Sanitation Department which is clearly not doing its job. Why am I paying them? My city taxes are definitely not decreasing but the level of service is poor. I have never seen such unsanitary conditions in Park Slope or some other Brooklyn neighborhoods.
Please, before any more kids and bloggers get hurt, send an email off to the following people:
Borough President Marty Markowitz
718-802-3700 – askmarty@brooklynbp.nyc.gov
State Senator Martin J. Golden
718-238-6044 – golden@senate.state.ny.us
State Senator Carl Kruger
718-743-8610 – kruger@senate.state.ny.us
State Assemblyman Steven Cymbrowitz
718-743-4078 – CymbroS@assembly.state.ny.us
State Assemblyman Alan Maisel
718-968-2770 – MaiselA@assembly.state.ny.us
State Assemblywoman Helene Weinstein
718-648-4700 – weinsth@assembly.state.ny.us
City Councilman Lewis A. Fidler
718-241-9330 – LFidler@council.nyc.gov
City Councilman Michael C. Nelson
718-368-9176 – nelson@council.nyc.ny.us
CB 15 Chairperson Theresa Scavo
718-332-3008 – BKLCB15@verizon.net
Sanitation Department's Overflowing Trash Bin Complaint Form.