Recent Affordable Housing Roundup, Part II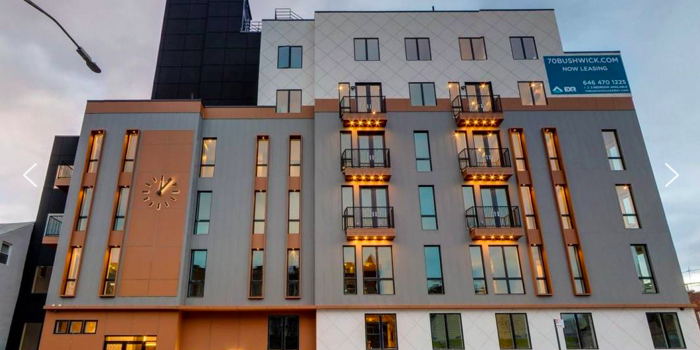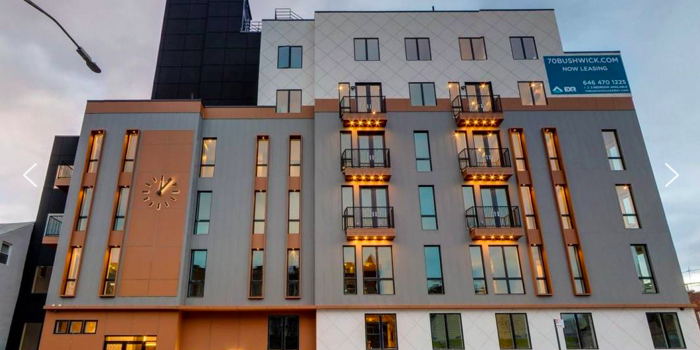 All across Brooklyn, major luxury rental developments are rising—and so are rents. Many Community Boards are fighting for higher and higher percentages of affordable housing units in new developments, and though the brass ring of 100% affordable development remains elusive, here's a roundup of relatively affordable units that have recently hit the housing lottery.
This list focuses on units that are slightly above the Area Median Income (AMI) that have shown up on the city's Housing Connect page in the last two weeks.
18 Stanhope Street, Bushwick
A bold modern design at 18 Stanhope Street shows small balcony units on four floors between Bushwick and Evergreen Avenues. Most notable are the large, almost neon green features on the facade, which break up the design and certainly draw the eye—no telling if they'll keep tenants up at night with their glow!
There will be 8 affordable units in the building, evenly split between one- and two-bedroom apartments. Naturally, the development comes with a finished roof deck, a gym, a bike room and a lounge, as well as laundry facilities. There's no listed preference for renters by Community Board, so anyone making enough money has an equal chance with their application.
The apartment is located between the Kosciuszko J and Central Avenue M stations, with B38, B47 and B54 buses running nearby.

The deadline to apply is November 23, 2018. More information can be found here.
70 Bushwick Avenue, Williamsburg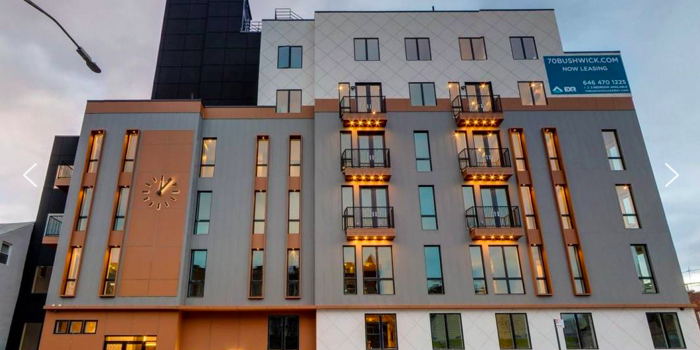 Located at the corner of Powers Street, 70 Bushwick Avenue has units up for grabs in a mid-rise building boasting balconies, multiple exposures, and a fancy clock right there on the front.
The six available units consist of two each of one-bedrooms, two-bedrooms and slightly-more-expensive-two-bedrooms. One couldn't live without a roof deck, gym and laundry, so the developers graciously included them, though the latter will cost renters to use. Once again, no preference has been granted to local Community Board residents.
Just a block from the Graham Avenue L stop and right next to a Citi Bike dock, the development is well situated for transit—provided the L doesn't shut down anytime soon… Otherwise, it's a 7 block shlep to the G train. The Q54, Q59 and B43 buses also run in the area.

The deadline to apply is November 26, 2018. More information can be found here.
1552 Myrtle Avenue, Bushwick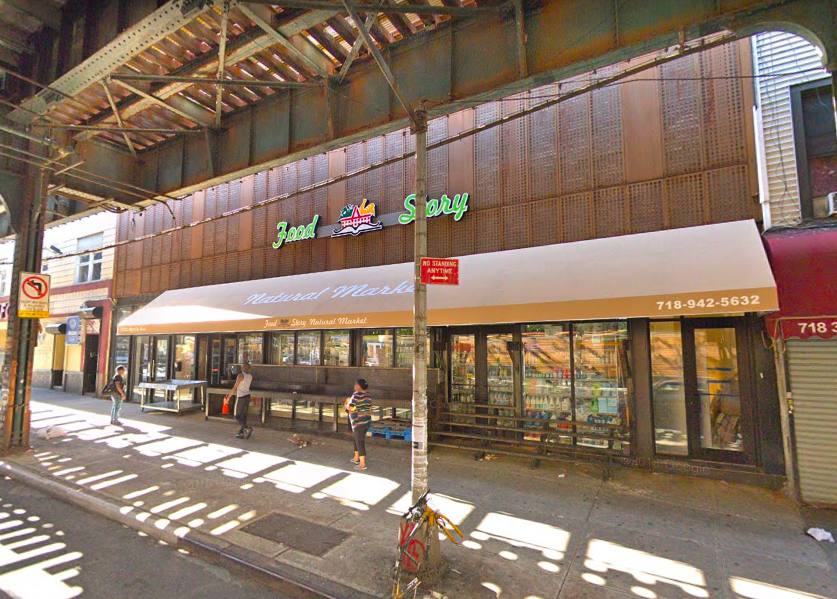 Located directly across the from Myrtle-Wyckoff subway station, this building features a wild copper-colored grate across the facade—probably to cut down exposure to the elevated M train that'll be roaring by with some regularity. Of course, you can't beat being that close to transit, and with ground floor occupied by a natural market, you can at least eat healthy, right?
Three one-bedroom units are up on the housing lottery, though whether or not they're close to the tracks remains unknown. There's a laundry room in the building, and at least one realty website boasts about a roof deck, but the lottery page can't confirm.
Transit options are myriad: obviously, the L and the M, but also B26 and Q58 bus stops right outside the door.
The deadline to apply is November 26, 2018. More information can be found here.
1605 New York Avenue, East Flatbush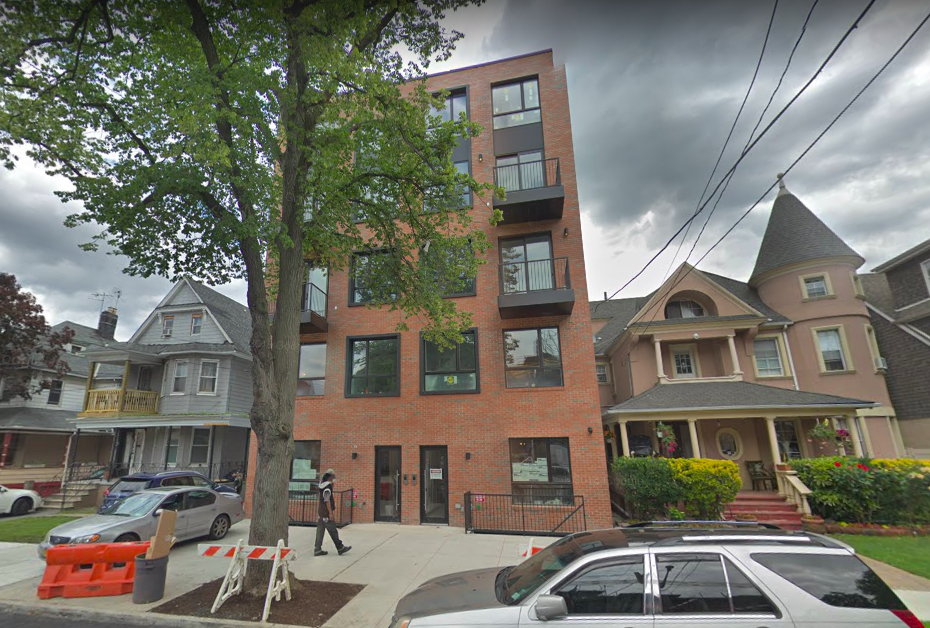 This newly constructed building in East Flatbush is located off Glenwood Road, just a few blocks from Brooklyn College—but undergrad incomes probably won't cut it for renters. Less architecturally adventurous than some North Brooklyn developments, it's a perfectly standard four-story apartment building, though it does look a bit out of place on the block, rising above the regular homes on the avenue. Whether or not residents will resent new renters remains to be seen…
In the lottery are five new units: three one-beds and two two-bedrooms. Laundry facilities are on site, and residents can gaze down at their neighbors from a finished roof, according to the flyer.
A few short blocks away is the Flatbush Avenue 2/5 station, with a host of bus lines: B41, B44, B44-SBS, B11, B103, B6 and BM2.

The deadline to apply is December 5, 2018. More information can be found here.
522 Evergreen Avenue, Bushwick
Finally, there's 522 Evergreen Avenue, at Woodbine Street next to the Thomas Warren School and directly across from the Evergreen Church in Bushwick. Another newly-constructed building with a no-nonsense exterior, it features brick work and what appear to be big balconies.
There are three one-bedroom apartments listed, and while they cost a pretty penny, it's what's inside that's precious: washers and dryers in every unit! There's a rooftop that surely has a lovely view or two as well, but who cares when you can be mesmerized by the spin cycle in the comfort of your own apartment!
The Gates Avenue J is just a couple blocks down, but the B52, Q24 and B60 buses also serve to keep the location connected.

The deadline to apply is December 6, 2018. More information can be found here.
Of course, if these properties are a bit outside your budget, you can always apply to those listed in our earlier round-up, which have rents based on 60% of the AMI. Good luck!