Advance Auto Parts To Replace Nostrand Ave Strauss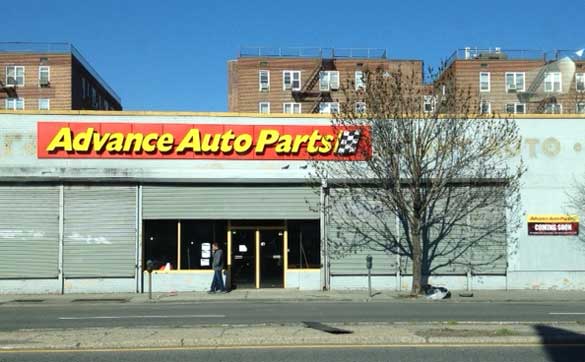 Advance Auto Parts – "a leader in the automotive aftermarket" – is coming to 3720 Nostrand Avenue, the location of the shuttered R & S Strauss Discount Auto.
The storefront has been empty since last June, when Strauss declared Chapter 11 bankruptcy and shuttered all stores overnight – a story that Sheepshead Bites was the first to report nationally. More than 700 were left without a job, and patrons of the two local stores – here and at 2570 Coney Island Avenue – were puzzled to find the buildings locked.
The Coney Island Avenue location is slated to become a seafood restaurant operated by the owners of Chateau De Alik (1223 Avenue U).
Advance Auto Parts is a Fortune 500 company with more than 3,500 stores nationwide, the nearest being in East New York. They are based in Roanoke, Virginia.
UPDATE (5/28/2013 @ 12:00 p.m.): This store opened today, May 28. Here are the store hours, from the company's press release:
The store is open Monday through Saturday from 7:30 a.m. to 9 p.m. and on Sunday from 9 a.m. to 8 p.m. Other area stores are located at 832 Pennsylvania Avenue and 2686 Atlantic Avenue in Brooklyn.
UPDATE (6/3/2013 @ 11:30 a.m.): Reader Bart E. tell us Advance Auto opened last weekend.