Adorn Me: Artist Tanda Francis Unveils Monumental Sculpture At Fort Greene Park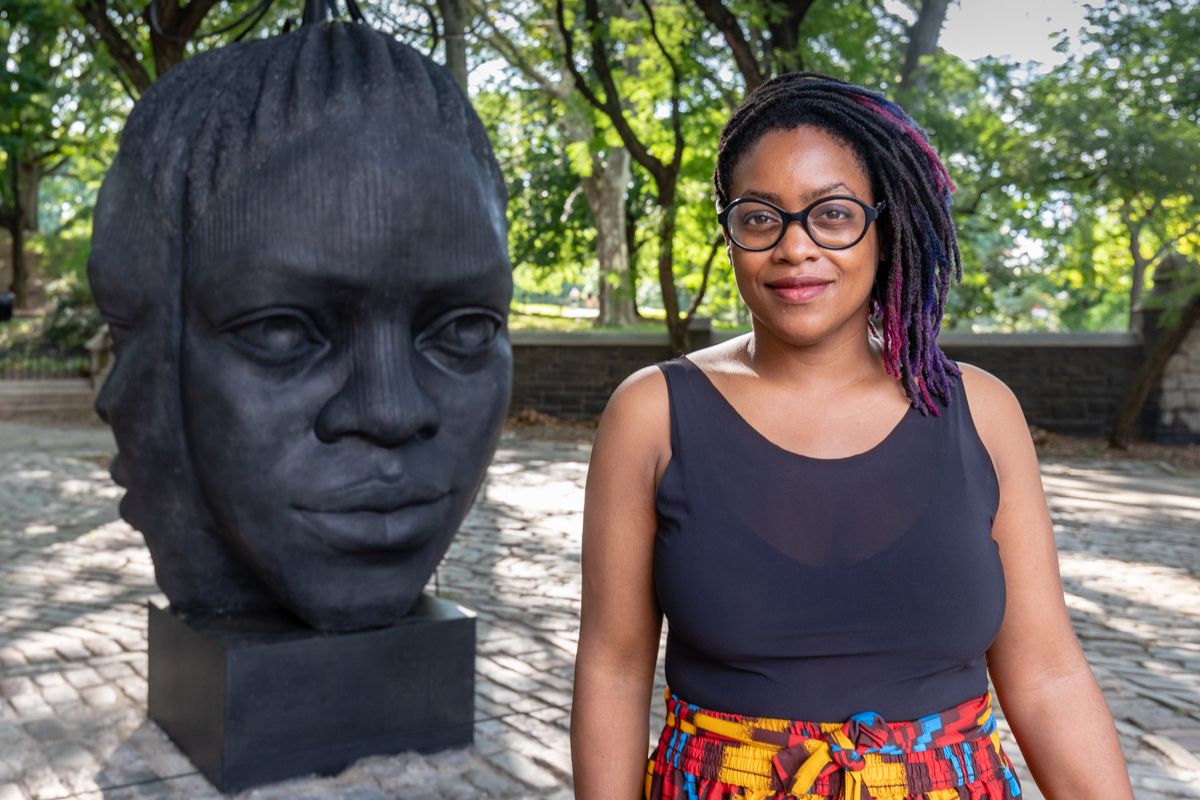 FORT GREENE – Visitors entering Fort Greene Park at the corner of Myrtle Avenue and Washington Park will be greeted by a trio of regal, large-scale African heads.
The 8′ x 15′ concrete and steel sculpture, Adorn Me, created by Brooklyn-based artist, Tanda Francis, was officially unveiled at the park on Saturday afternoon.
"I decided I wanted to put a piece here because I'd been doing these African heads and I wanted to put [one] in this spot, a site where there are a lot of people who are of African descent," Francis explained to BKLYNER. "I felt it was important to show something with some kind of majesty for our people."
Originally from Washington, D.C., Francis studied graphic design at Drexel University in Philadelphia. She moved to New York City about 15 years ago to pursue a career in design but her interests shifted to fine art. "I always liked to do portraiture [and] I wanted to know about anatomy," she said, so she studied at the Art Students League in Manhattan where along with anatomy, she was selected to participate in a now defunct program called "Model 2 Monument" which led seven artists through the process of creating monumental works of public art. It was during her time at the Art Students League that Francis created Everyone Breaks which was exhibited at Riverside Park in 2016 and is currently on view in the Florida Keys. She also has a memorial to Biggie Smalls on display at the Medgar Evers College library.
Explaining her latest work, Francis said, "When you enter from Myrtle and Washington, there's sort of this canopy [of trees] that enshrouds the whole [sculpture]. It's very mysterious. You kind of have to walk up to it and see these faces looking out." The three visages represent the artist's alter ego.
As in her earlier work, Everyone Breaks, Francis incorporates tribal markings onto the three faces of Adorn Me. "[The markings] really show people where you're from," she explained, "This is the purpose, traditionally, of these markings—[to show] this is my tribe…."
"I wanted to talk about the superficial adornment and the ornamental adornment as opposed to something that's cut deeply into your skin and speaks of who you are," she said. "But as you can see, I didn't go all the way down," she noted of the vertical marks that stop halfway down the faces. "Usually with the marking, it goes all the way down, but I wanted to show a transition."
Another transitional element found in Adorn Me is represented in the high headdress resting atop the three figures. Inspired by a Victorian chandelier, a "symbol of colonial influence," the crownlike piece illustrates transition as well, "speaking to our gentrification," the artist explained. "The history or demographic of this area [Fort Greene] being black and lower income, and transitioning into a really gentrified area—I wanted to bring that story together into this piece."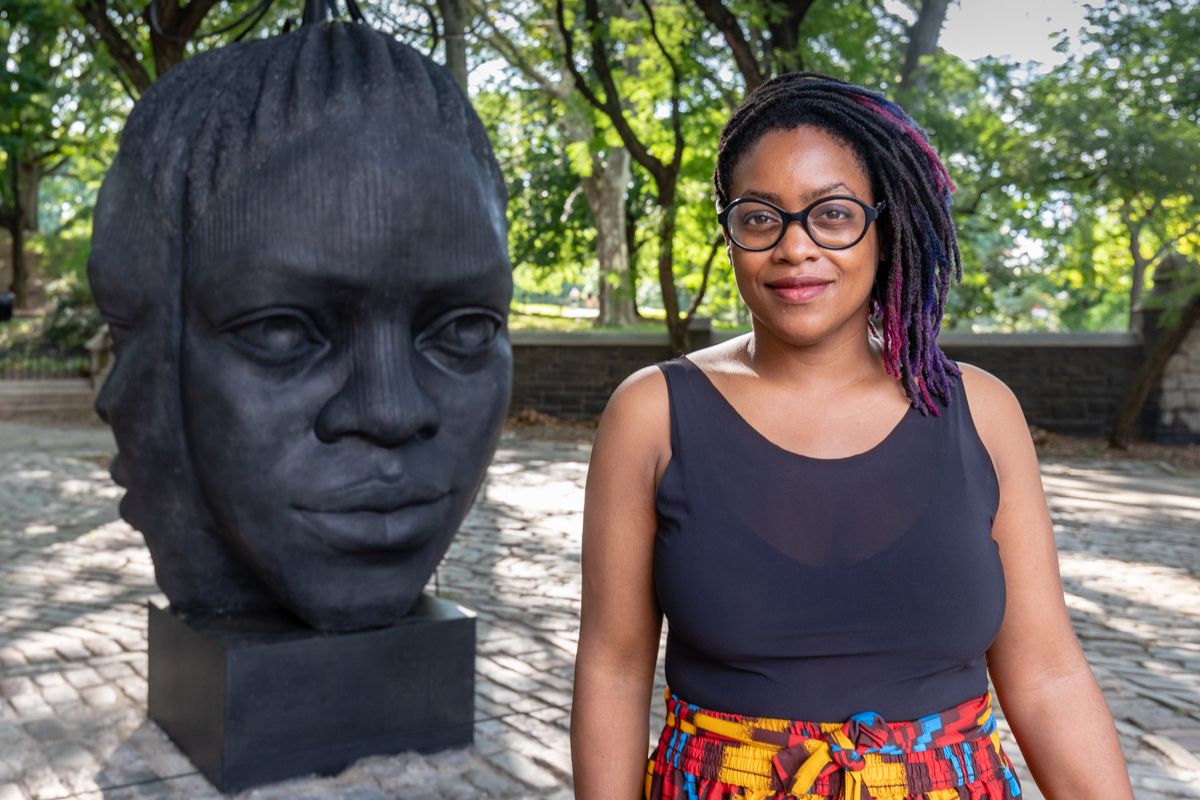 The response to Francis' public artwork has been positive. "Collectively what I've been hearing [is] it speaks about Fort Greene," she said. "This is my interpretation of what this area is…. I feel like it's a unique voice of Fort Greene, encapsulated into a sculpture for everybody to come and see."
Adorn Me is presented by the Myrtle Avenue Brooklyn Partnership, Art in the Parks, and Uniqlo Park Expressions Grant, a program that supports the creation of artwork by emerging NYC-based artists at ten NYC parks that are underserved by cultural programming. The Uniqlo grant program will present a series of public art installations and community events through 2019. Adorn Me will be on view through August 2019.
See more of Tanda Francis' work at the artist's website.