Adams Calls For Officer Who Punched Teens To Be Placed On Desk Duty, Williams Does Not Want More Cops on Subway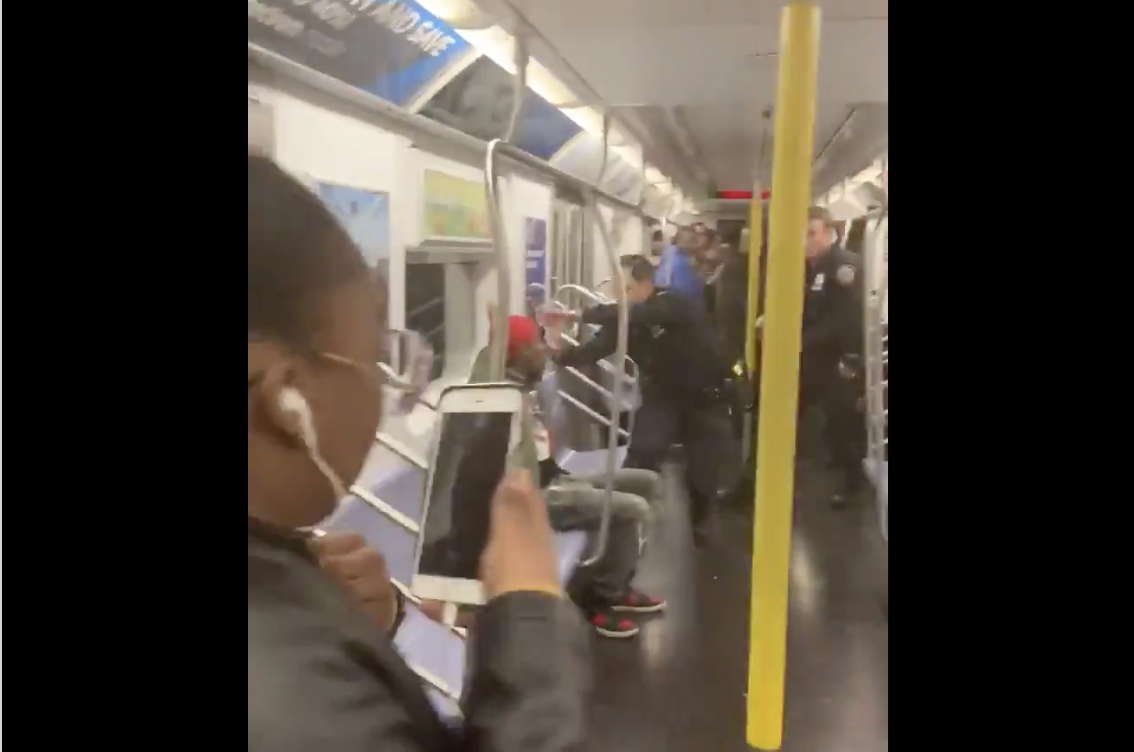 More cops on subways seem to be leading to more trouble, but local politicians disagree on solutions.
There were two incidents this weekend that were caught on camera, that bring into question how we are policing our subways.  Back in June, Governor Andrew Cuomo deployed 500 officers to MTA stations with high number of fare beaters to help rein in fare evasion. It has been a terrifying experience for many.
A video from this weekend shows cops rushing onto a train at the Franklin Avenue station and aggressively tackling a man who was sitting on the train and had put his hands up already.
On Saturday, a video captured officers brawling with teenagers at the Jay Street-Metrotech station on Saturday, with one officer punching two different teens in the face.
The video from Jay Street shows the officer, whose name has not been released, rushing up to punch a teenager as other officers and teens tussle on the ground. Later on, the officer rushes at another teen, who was walking on the platform amidst the commotion, and punches him in the face as well. Later, officers restrain him and an onlooker says "he didn't even do nothing."
Today, politicians were holding press conferences across the city.  Brooklyn Borough President Eric Adams called on the NYPD to place an officer who assaulted teenagers this weekend at a local subway station on "modified assignment pending further investigation."
Adams, a former cop, said that the officer's actions an "embarrassment" to the department and that the district attorney should examine the situation.
"He took a chaotic situation that police had under control, and almost made it a riot situation," Adams said. He later added, "I don't want that officer patrolling here."
Black Lives Matter Brooklyn President Anthony Beckford said that the officer should, in his opinion, be fired. "He needs to be removed from duty," he said at a press conference earlier today.
"If it was anybody else committing these acts, who was not a police officer, he would be locked up and he would be on Rikers," Beckford said. He said that these incidents continue to occur because officers do not face accountability for their actions.
Other Brooklyn politicians, including Public Advocate Jumaane Williams and City Council Members Brad Lander and Antonio Reynoso, held a separate rally at City Hall Monday. They argued that the videos demonstrate why the state should not add 500 new police officers to patrol the subway, a stance Adams disagrees with.
"We need more funding put into the subway," Williams said in a subsequent tweet, "not more officers w/o body cameras."
Update: police told Bklyner Monday evening that the officer will remain on duty while the investigation proceeds, in a "non-enforcement assignment."