The founder of digital currency service Liberty Reserve, who once lived in Brighton Beach and whose alleged accomplice lives in the Oceana condominum complex, said that the United States government kicked off a witch hunt against the company's owners after they refused to turn over the source code for their proprietary system.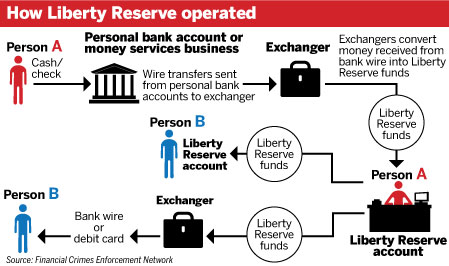 The Liberty Reserve bust is being painted by prosecutors as the largest international money laundering case ever prosecuted. Authorities  allege that it was created, structured and operated to help users conduct illegal transactions anonymously, aiding them to launder the proceeds of their crimes. Liberty had more than one million users worldwide and conducted approximately 55 million transactions before it was shut down in May 2013. It served to launder more than $6 billion in suspected proceeds of crimes, including credit card fraud, identity theft, investment fraud, computer hacking, child pornography and drug trafficking.
The founders of the service included two Brighton Beach residents, Vladimir Kats and Arthur Budovsky.
Kats, 41, was arrested in May 2013 and pleaded guilty in October to his role in laundering the estimated $6 billion.
Following previous charges against the two for a similar but unrelated operation, Budovsky fled the country to Costa Rica and renounced his American citizenship. There, he incorporated Liberty Reserve. According to US and Costa Rican investigators, Budovsky used shell companies in Costa Rica, Cyprus, Russia, Hong Kong and other countries to hide the business' operations.
In an internationally coordinated bust, Budovsky was arrested in Spain last year, while others in the case were arrested in Costa Rica and New York and several properties on different continents were raided.
Now, Budovksky is fighting extradition from Spain to the U.S., telling a Madrid court that the investigation is a witch hunt resulting from his refusal to turn over the source code that made their system function.
"I refused. It's like asking Coca-Cola for their secret formula," he told the court, according to the Associated Press. "The truth is that the U.S. wants to protect its monopoly on financial transfer platforms."
He also claims that he sold his share of Liberty Reserve in 2007, and only served as a consultant. According to American authorities, Budovsky was the principal operator of the service, with Kats as his second in command until a falling out in 2009.