Abandoned Home On 78th Street Causes A Neighbor's Concern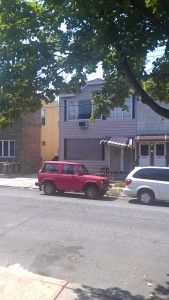 We received a note from a local resident regarding a long-standing abandoned home near on her 78th Street block. Izabella C. mentioned that many of her neighbors had been wondering what the story was.
"There is this abandoned house with cemented windows and doors," she wrote. "I've been wondering what's up with that. Many are asking questions and perhaps that would be a interesting story."
Izabella also said that there is trash piled up in the backyard and a feral cat colony squatting there.
When a home on our streets stands abandoned for a while, naturally questions arise. Will this home ever be repaired, does it devalue the price of my home and is it a blight on the block?
After some digging through public records, we were able to uncover some of the story, though certainly not all.
Here's what we've got:
The home, located at 1638 78th Street was built somewhere around 1920. It is a  it's a 20×70 foot two family, two-story building. It has no recent sales records attached to it, thus meaning that it may have been in the hands of a single owner for a lengthy period of time.
In May 2011, there were complaints made to the Department of Buildings of  that the home was vacant, but not properly sealed. The doors and windows were not boarded up. Shortly after, the site was inspected and deemed unsafe. The owners of the property were served with a violation.
Currently, there is no repair work planned, thus the house may continue to be as is for an undetermined amount of time.
If you've seen this home or others like it in the neighborhood, let us know what your thoughts are. Are abandoned homes a concern?