A Valentine For Park Slope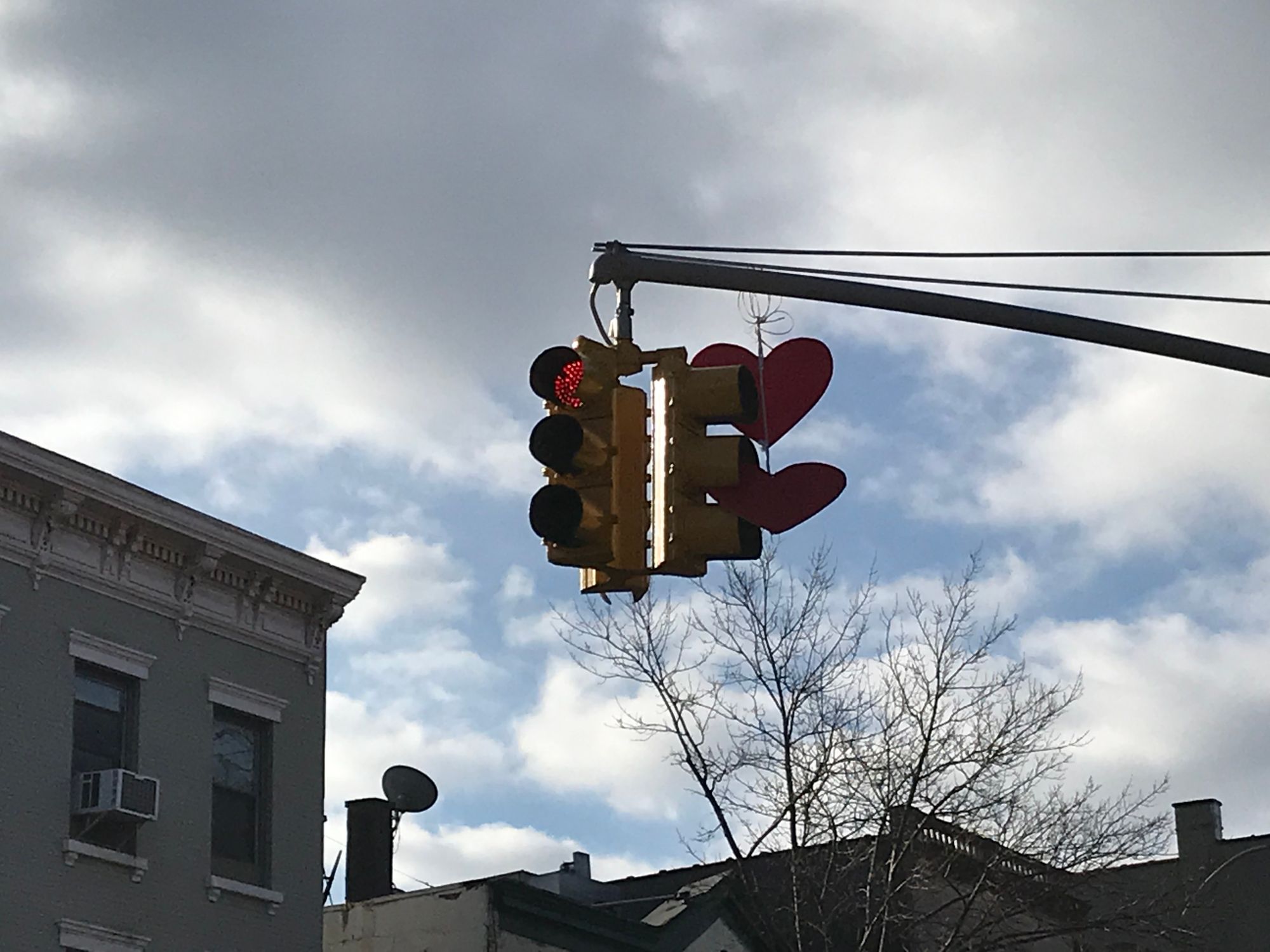 PARK SLOPE – When Kathy Park Price first moved to 7th Street in 2012, she was smitten by a pair of red hearts dangling from a wire above the street at the intersection of 5th Avenue.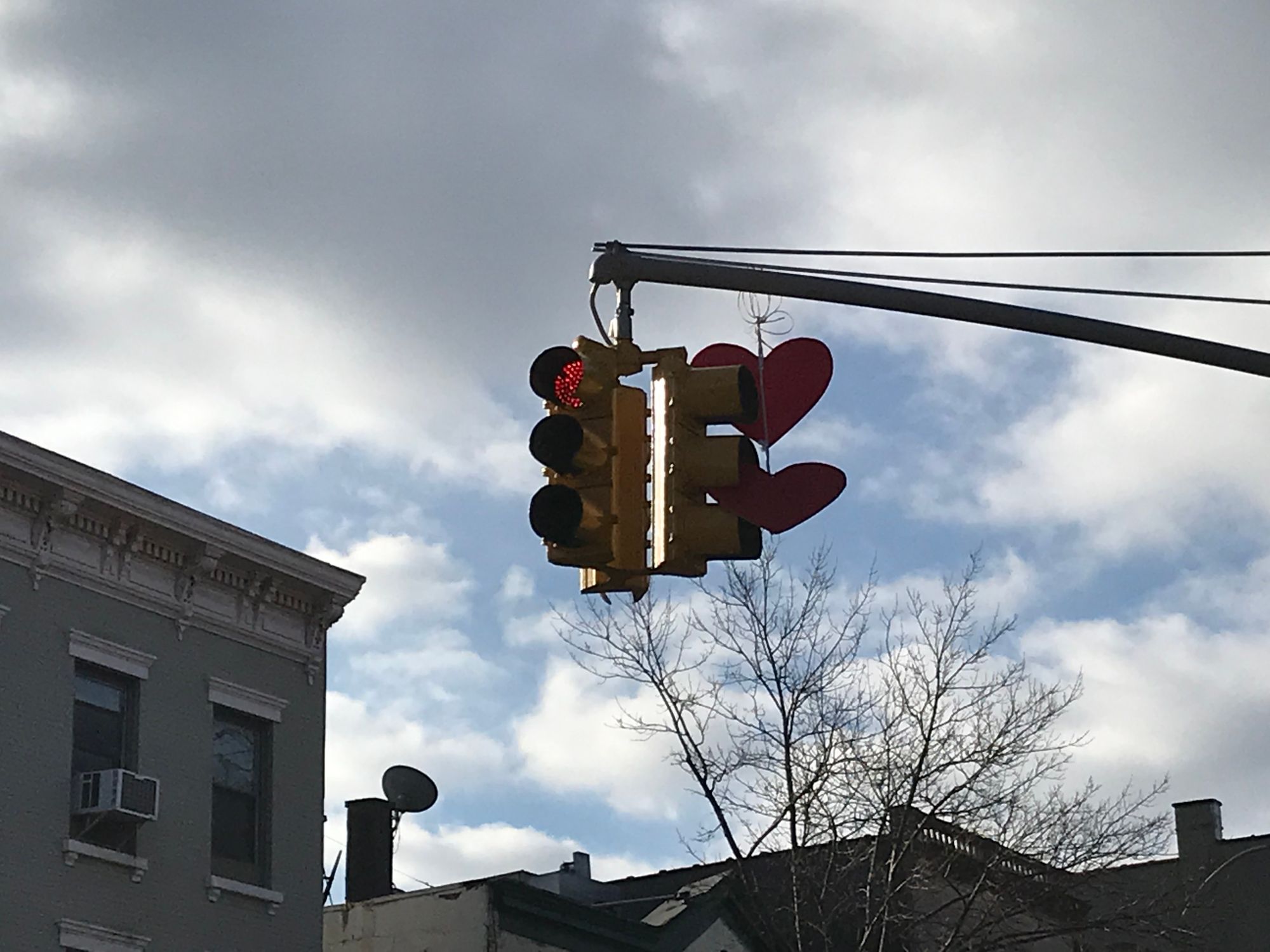 Unsure of the origins of the hearts or how long they'd been there, Price described them as "a happy fixture on our street" in a blog post.
"It was such a sweet element of the street when I moved [here]," she told Bklyner on Wednesday. "I loved that it was a play on shoes on a wire which is a reflection of Brooklyn street life to me. I thought it was really whimsical, D-I-Y and had a small town feel to it."
"The hearts [suggested] someone who loves this neighborhood, loves their block," Price added. "I can only guess, but that is what I had in mind."
After the hearts were torn down by winds in 2013, Price decided to keep love alive and replace them. She fashioned her own using red nylon and heavy-duty webbing and filled them with batting. In the middle of the night on the eve of Valentine's Day 2015, Price and her husband each took turns tossing the homemade hearts up in the air until they were caught by the wire. She says it took them about ten tries each and it was her husband who made the successful throw.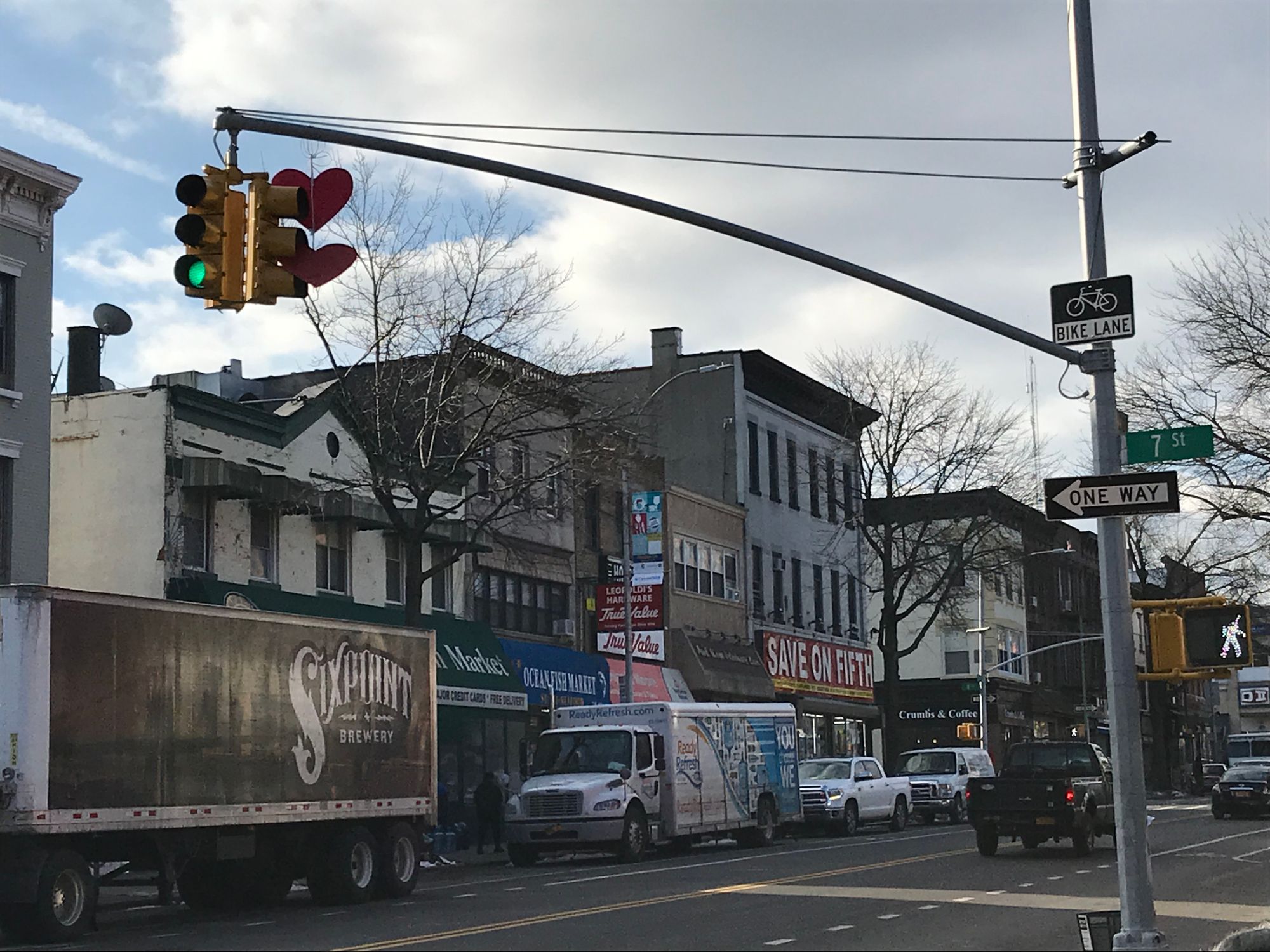 The hearts stayed on the wire for a couple of years, Price says, greeting neighbors as they passed by. But much like the original hearts, this pair didn't last either, mysteriously vanishing about a year ago. "I didn't see any wear and tear and then suddenly they were gone," Price said.
"I missed the hearts, just like I did the first time," she said of her plan to display another pair above the busy streets. "With Valentine's Day coming up, it was like maybe now's the time to do it."
"There's a lot of thought that went into the design because I wanted it to be weather proof as much as possible," she explained, noting that she consulted with friends, including a weaver and a knot enthusiast. Her latest set of hearts are composed of plastic and gator board wrapped in red duct tape and connected with a clothes line.
Price tried to hang the new hearts on the original wire east of 5th Avenue, but it has lost some tension and is now too low. She then tried placing them on a corner lamppost but decided against that location as well. She ultimately settled on the traffic light that extends over 5th Avenue from the southwest corner at 7th Street. She and her husband installed them at just about midnight Wednesday, just in time for Valentine's Day!
Price says while working on the project she was "definitely thinking about love and community this Valentine's Day." Price left her full-time job shortly after the 2016 election to focus on working for the community. Along with serving as Vice President for the Community Education Council District 15 and on the board of Brooklyn Community Board 6, the mother of two has also founded Garden Train, a consortium of school gardens in Brooklyn, and Citizen Squirrel, a group that encourages civic engagement in elementary school students and their families.
Citizen Squirrel sends members a daily tip—a Daily Acorn—on how they can contribute to their community. A recent tip suggested recognizing "someone who is under appreciated in the neighborhood, whether it's your school nurse, a custodian, a crossing guard, your bodega worker, a sanitation worker…" Price said.
This Valentine's Day, as well as serving as a love letter to the neighborhood, Price says she "would love for these hearts to remind people about those unrecognized people in our community and give thanks to those folks." She adds, "Start with your block. It can start with something small."